Q&A with Wellness Design Consultant Jamie Gold
---
It seems there are some product shortages around the home improvement industry. A staff writer for The Atlantic suggests that it appears "millions of Americans had simultaneously decided the same thing: If we're going to be inside, it might as well be the inside we want."
Streamlining and updating to improve functionality and comfort around the home isn't a new idea, but it has been central to 2020. While we're spending more time at home and embracing a heightened focus on health, wellness will very likely be a predominant idea in interior design for years to come.
The September 2020 release of Wellness by Design: A Room-by-Room Guide to Optimizing Your Home for Health, Fitness and Happiness (Tiller Press) by author Jamie Gold, CKD, CAPS, MCCWC, a wellness design consultant, seems perfectly timed to this global trend, though Gold says the relevant, helpful design book was planned far before any mention of the pandemic and social distancing. Rather, Gold has spent years studying how to make spaces practical and beautiful for all kinds of ages and abilities. Tackling design problems and solutions room-by-room, she offers insights into remodeling tips and ideas that make a more comfortable, highly livable home, including tips for better bathroom design.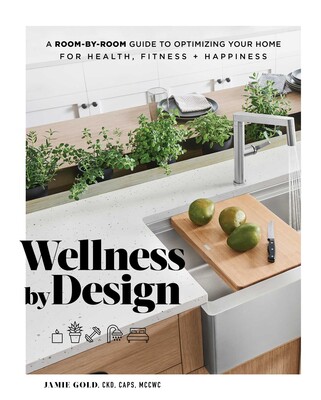 Curious about bringing wellness into your home? Explore more through this Q&A with Jamie Gold and MrSteam.
MrSteam (MS): When did you first make the connection between wellness and design?
Jamie Gold (JG): I first made the connection years before I became a designer, when my grandmother expressed frustration with her apartment. She stayed despite it not being right for her because it was the only one in the neighborhood that had a step-in shower. That was my initial encounter with the need for accessibility and aging in place. When I did move into the kitchen and bath profession, I wanted to help seniors like her be safer at home.

I later realized that the ideas I was sharing with my older clients benefited people of all ages – myself included – and expanded my focus into other areas and other rooms.
MS: Are there common design practices you've observed in the industry that you'd like to see shift to better incorporate wellness?
JG: I think there's a growing awareness in the industry of the importance of healthy, safe, functional, low maintenance and accessible spaces that make people feel great to be in them. Those fit into what I call the Five Facets of Wellness Design:
Health & Fitness
Safety & Security
Accessibility
Functionality
Comfort & Joy
I see them in colleagues specifying porcelain slab and engineered stone more regularly and trending toward lower maintenance cabinet styles and finishes. I also see a strong trend toward nontoxic paints and furnishings, ergonomic home offices, accessible bathrooms and biophilia. All of these contribute to wellness.
MS: Your latest book,

Wellness by Design,

offers a room-by-room breakdown of wellness design tips for the home. Why is the bathroom an important room to consider renovating with wellness in mind?
JG: Bathrooms are where we typically start and end our waking hours outside of bed. They should be safe sanctuaries for personal hygiene. They're also potentially recovery spaces for illness and injury. If you think about it, the original spa bathrooms were designed as wellness facilities. We've simply brought the concept to single family homes.
MS: Your work blends a sense of functionality with spa-like luxury. What are some tips for homeowners with smaller square footage, such as a condo or townhome, to achieve that functional and spa-like feel?
JG: When you're working with a small space, you're compelled to prioritize. You may not have room for both a large soaking tub and spa shower, for example. Which will add more functionality to your daily life? For many people, that's the shower.

At the same time, smaller bathrooms allow you to splurge more easily on quality, as you have less square footage to clad in your preferred tile, a smaller premium vanity, perhaps one sink and faucet set instead of two. Less can definitely be more!
MS: You've been a longtime advocate for steam showers at home. Would you describe your introduction to steam and explain a little more about why you continue to advocate for it?
JG: I've experienced steam at spas and salons over the years and have always found it relaxing and restorative. It has many health and wellness benefits, including opening pores, supporting circulation, soothing joints and sore muscles (my favorites!) and reducing stress.
Ready to improve your wellness through design? Gold's latest book, Wellness by Design: A Room-by-Room Guide to Optimizing Your Home for Health, Fitness and Happiness (Tiller Press), is available from major book retailers now.