New Wireless Steam Shower Control is Easy to Install; Easy to Use
---
Wireless technology has come to steam. The new, user-friendly AirTempo Control from MrSteam offers users exceptional functionality and flexibility, while also providing substantial time- and labor-savings to installers.
Ease of Installation
Powered by replaceable, long-lasting lithium batteries, the AirTempo Control communicates wirelessly, eliminating the time, hassle and expense of connecting the steam shower control to the steam generator.
Installation is largely a matter of deciding where to locate the AirTempo, which mounts in seconds with no tools required. No need to cut holes in the shower's marble, tile or granite walls. It can even be mounted to a glass wall. There is no longer a need to route a cable to the control.
>> See this video showing How to Install AirTempo Surface Mount Shower Control from MrSteam
If you prefer to flush-mount the AirTempo control, all that is required is to use the Flush Mount Kit.
>> See this video showing How to Install AirTempo Flush Mount Shower Control from MrSteam
Not tech-savvy? It's okay. The AirTempo includes a large and easy-to-read LED display with a pleasant blue readout against a black or white face. Simple icons indicate the current status of the AromaSteam and ChromaSteam lighting. The touch-activated glass screen panel responds quickly to user inputs. But if left idle, the panel reverts to sleep mode automatically to save energy while still maintaining the programmed temperature.
User-friendly, Flexible Operation
The AirTempo is untethered to any equipment, allowing for greater flexibility. You can remove it from its dock for use as a remote control outside the steam shower for up to five minutes. This allows you to activate the steam bath remotely in advance of entering the shower. If you activate the control, but can't make it in the shower on time, the steam generator automatically shuts off within five minutes to avoid wasting energy.
The control has a transmission range of 60 ft. with an option to extend to 90ft (when using an extended 30 ft. cable - Part number #104117-30) or even to 120 feet (when the 60ft cable - Part number #103990-60 is ordered separately).
Note: If you plan to extend the range, we recommend that you speak with a MrSteam representative to confirm that you have properly sized your steam generator.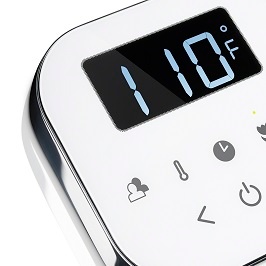 Flexible Steam Room Wall Mounting Options
Because the control needs no wires, it can be surface-mounted to almost any steam room wall, even on glass, which is not possible with conventional wired controls.
Flush-mounting the AirTempo is also possible, with MrSteam providing a plated, forged-brass bezel for mounting in the wall. The control can be mounted inside or outside the steam shower. If the latter option is chosen, a remote temperature sensor must be installed inside the shower enclosure.
Highly sensitive to even slight changes in ambient temperature, the AirTempo sensor technology and its proprietary software regulate the steam and maintain optimal steam room temperatures.
AirTempo Surface Mount Control - Quick demo from Mr.Steam on Vimeo.
The AirTempo Control makes enjoying the health and wellness benefits of steam easier than ever. It joins all the other devices in your home that communicate wirelessly and grants you even greater control and flexibility over your busy life.