New Sales Reps Bring Steam Showers to the Northern US and Canada
---
This winter, you'd be hard pressed to find a demographic more appreciative of a soul-warming steam bath than those living in the Northern United States and in the Great White North itself, Canada. Thanks to the help of five brand new sales agencies in these regions, the warmth of MrSteam is making its way into more Northern homes — just in time for winter.
While each of these five sales agencies has its own unique personality, they all share one thing in common: a passion for what they do and a dedication to their customers. We'll take you inside each company for a brief look at what makes them who they are, as well as their insights into the world of steam therapy…
Allan Forrest Sales
Allan Forrest Sales – Over 250 years combined experience – Representing: Alberta, Canada
Allan Forrest Sales was founded in 1974 by Allan Forrest, who started the company at the age of 56, after spending years in the plumbing wholesale business. He slowly began adding employees, including his son Jack. Of the 18 staff members today, many have more than 30 years in the industry, and combined, they bring over 250 years of experience to the table.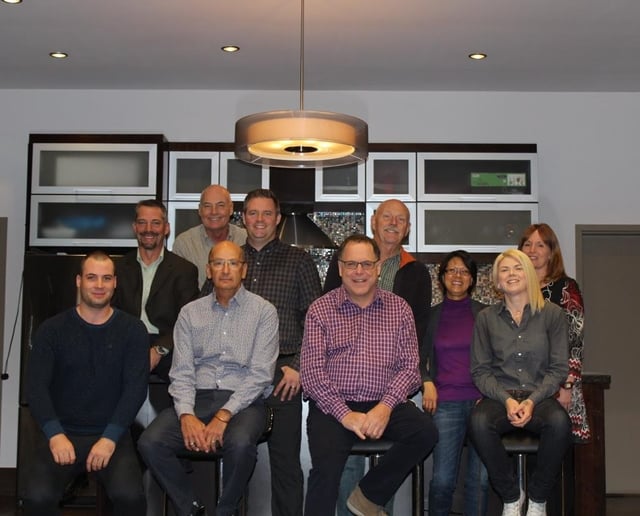 The company represents many of North America's leading plumbing and heating brands, including MrSteam, and prides itself on adding value to the construction process. Says Don Samson, a veteran of over 30 years, "If it was easy, you wouldn't need us!" Samson says the MrSteam line adds to his company's offerings by bringing a "high-quality, best-in-class brand name, and the most complete product line, as well as being a leader in innovation."
Samson sees general demand for steam growing. What's behind the growth? "Consumers are placing more emphasis on showers, and have more of a desire to make the master bath into an oasis retreat," says Samson. In addition, he finds that customers appreciate the health and relaxation benefits of steam showers.
He cautions that the many steam choices can be overwhelming for consumers. "With remote steam shower controls like iGenie, and options like AromaTherapy and ChromaTherapy, it can be tough to choose!"
>> Read these tips on installing a home steam shower
Viper Mechanical Marketing
Viper Mechanical Marketing – A passion for building materials – Representing: Manitoba and Saskatchewan, Canada
Viper Mechanical Marketing opened its doors in 2015. Founder Russ Blanco has worked in the industry for 15 years, but got his first taste of building materials as a kid in high school, working for a contractor supply house. "I always had a passion for building materials, and I guess it stuck with me through the years," he says.
Russ's passion shows in the way he does business. "There are a few things I like about the job," he says. "One of them is problem solving with the mechanical contractors and providing them great customer service. The other is presenting new products and ideas to them."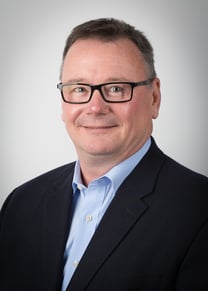 Among the products Blanco will now be presenting are those from MrSteam. He sees consumers showing interest in some old favorites like iGenie, AromaTherapy and ChromaTherapy. There's also interest in the Linear SteamHead. "It's a low-profile steam head about the width of a grout line. It's very appealing aesthetically," says Blanco.
>> Learn more about the Linear SteamHead
Blanco is also a big fan of MrSteam's Virtual Spa online steam shower-building application. "MrSteam has the best in the industry as far as I'm concerned. All you need to know is what size your space is and what type of surface your shower walls have. The system will tell you what size steam generator you require," notes Blanco. "From there, the Virtual Spa app walks you through steam control package options, accessories, and other choices. You can even print your online quote. This is such a great tool!"
>> Check the Virtual Spa to see how you can best enjoy the health benefits of steam showers
Mind.Full Connections
Mind.Full Connections – Built on Service – Representing: Iowa, Minnesota, North Dakota, South Dakota, Wisconsin
Michelle Drenckhahn and Eric Lovestrand met in college and launched their sales agency, Mind.Full Connections six years ago. They began the business selling stone and tile, but expanded to include a commercial division and then, two years ago, a plumbing division.
The two pride themselves on service, and their clientele agrees it's their strong suit. "Everyone calls us when they can't figure something out, or when they don't know who can get them a product. They say, 'Ask Michelle and Eric. If they can't get it for us, they'll know who can,'" says Drenckhahn.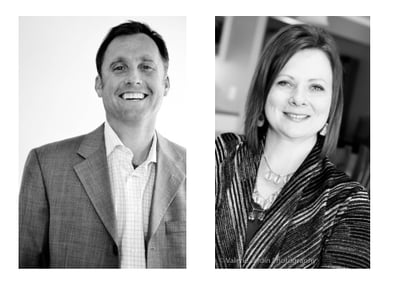 Serving the luxury niche, the duo are admittedly "very picky about what products we choose to represent," says Drenckhahn. But MrSteam fit right into the types of products they love best. "MrSteam really understands what the market wants and needs," says Drenckhahn. "From being a designer myself, I know what drives luxury clients. MrSteam understands that as well. So it was a no-brainer for us. We wouldn't have taken on a steam line if it wasn't MrSteam."
What do Michelle and Eric think consumers love most about steam? "AromaTherapy. They have a better understanding of the benefit because it's tangible. They smell it, it makes them feel better, so they're more familiar with it," explains Drenckhahn. "Then again, if you work with someone who wants music, that's a bigger deal for them." Rock on, Michelle and Eric.
>> Check out the steam bath benefits of AromaTherapy
Midwest Sales and Marketing
Midwest Sales and Marketing – Integrated, full-service representation – Representing: Wisconsin, Minnesota, Michigan's Upper Peninsula, North Dakota, South Dakota, Iowa, and Nebraska
Midwest Sales and Marketing has been in business for more than 25 years and has an experienced staff of 14, with over 140 years of combined experience. Their reputation for cutting-edge technology and representation of only the best manufacturers helped earn the company a 2012 Manufacturer Representative of the Year award from Plumbing & Mechanical magazine. Their reputation for integrated, full-service representation for manufacturers, and their ability to work with area wholesalers, contractors and engineers also contributed to that distinction.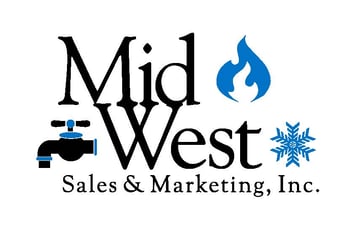 Outside sales rep Katie Brummund says the decision to carry MrSteam was easy, as it complements their other offerings. "We have exceptional relationships with wholesaler showrooms, kitchen and bath dealers and designers in our market. Steam showers are an excellent addition to our line card. We enjoy selling MrSteam because of the quality of product, ease of installation and user experience, and support materials available. We were impressed with the literature and website support for our customers."
>> See How-To Videos for Steam Generators, Steam Showers and Towel Warmers
Brummund anticipates growing demand for steam, noting, "Customers continue to want to create a spa-like experience in their own homes. Luxury customers are more interested in steam showers and that demand will continue to grow." She's noticed that customers are particularly interested in AromaTherapy and the easy electronic interface of steam shower controls like iSteam.
Midwest Sales and Marketing prides themselves on the products they represent. "We only represent high-quality products, so our customers always know they can rely on us," concludes Brummund. MrSteam is proud to be a part of that mix.
TPI Manufacturer Representatives
TPI Manufacturer Representatives – Representing the Best in the Northwest – Representing: Alaska, Northern Idaho, Oregon, Washington
TPI Manufacturer Representatives was founded by Stan Thompson in 1976. In 1994, Norman Pascoe brought his 15-plus years of industry experience on board and Thompson & Pascoe (TPI) was born. Today, TPI represents four states in the Northwestern region of the U.S.
The company quickly earned a national reputation for its dedication to manufacturers and customers alike, and became known for ,top-notch customer care and service.

The company's overall take on the kitchen and bath market is summarized in its vision: "The industry in changing constantly. To continue to help our manufacturers thrive as market leaders, we must look ahead, understand trends and ideas that will shape our business, and always look ahead for what's to come. We must start preparing for tomorrow, today."
TPI's website makes it easy for customers to make requests for parts and literature online, link to vendors, and get information on upcoming events. Helpful hint from Pascoe: "If we aren't on your favorites list, we should be."
Their slogan, "Representing the Best in the Northwest," speaks to their commitment to carry only product lines that they believe are worthy of their customers. MrSteam supports that mission fully, and is happy to be a part of TPI's offerings.