MrSteam and Sussman Automatic – One Hundred Years Young and Going Strong
---
Founded in NYC 100 years and going strong, MrSteam and parent company Sussman Automatic are still manufacturing in Long Island City, New York. Recently, Spectrum News NY1 took a close look at how innovation and automation help this company continue to provide good manufacturing jobs while delivering the best steam showers in the business.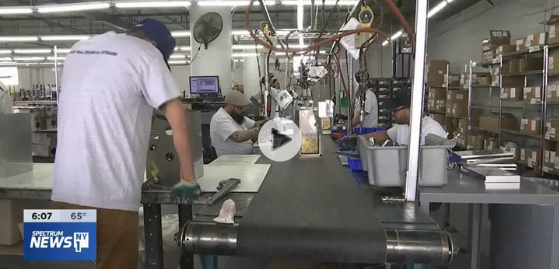 There are some sobering statistics which the video and accompanying article by Michael Herzenberg, "Manufacturing Company Credits Their Success to Adapting to New Technology," point out. The number of companies involved in manufacturing in the city has been declining for decades – from a million plus people working in the field in the middle of the last century, to fewer than 70,000 people, according to The Center for an Urban Future.
Yet Sussman Automatic, founded in Manhattan a century ago to supply an endless stream of steam to the Garment Industry, had to reinvent themselves when the Garment Industry itself "lost steam." Adapting to new market needs and with a nimbleness that allowed them to embrace new technologies, the company makes residential steam shower systems and commercial steam room systems under the brand name Mr. Steam, and also industrial boilers, used in hospitals, and by NASA. It's this willingness to reinvent and innovate that has kept the company thriving, even though difficult economic times.
While Sussman Automatic continues to receive offers to sell their Long Island City premises as real estate demand grows in Manhattan, they have no plans to go anywhere. With a long history and deeply engrained roots in the community, as well as an entrenched manufacturing plant that offers valuable middle-class jobs to local residents, the company is here to stay.