MrSteam Advanced Technology
---
As things get more technologically advanced, there's a perception that they become more challenging to use. While it may be true that some advanced technology is highly complicated, it doesn't have to be. Our tech products undergo intelligent, user-centric design and extensive testing, making them easy to use and created to last.
What MrSteam Products Incorporate Technology?
Virtually everything we do at MrSteam incorporates technology, from steam generators to controls and accessories. Our products combine the effectiveness of steam with the modern convenience provided by advanced technology.
Steam Generators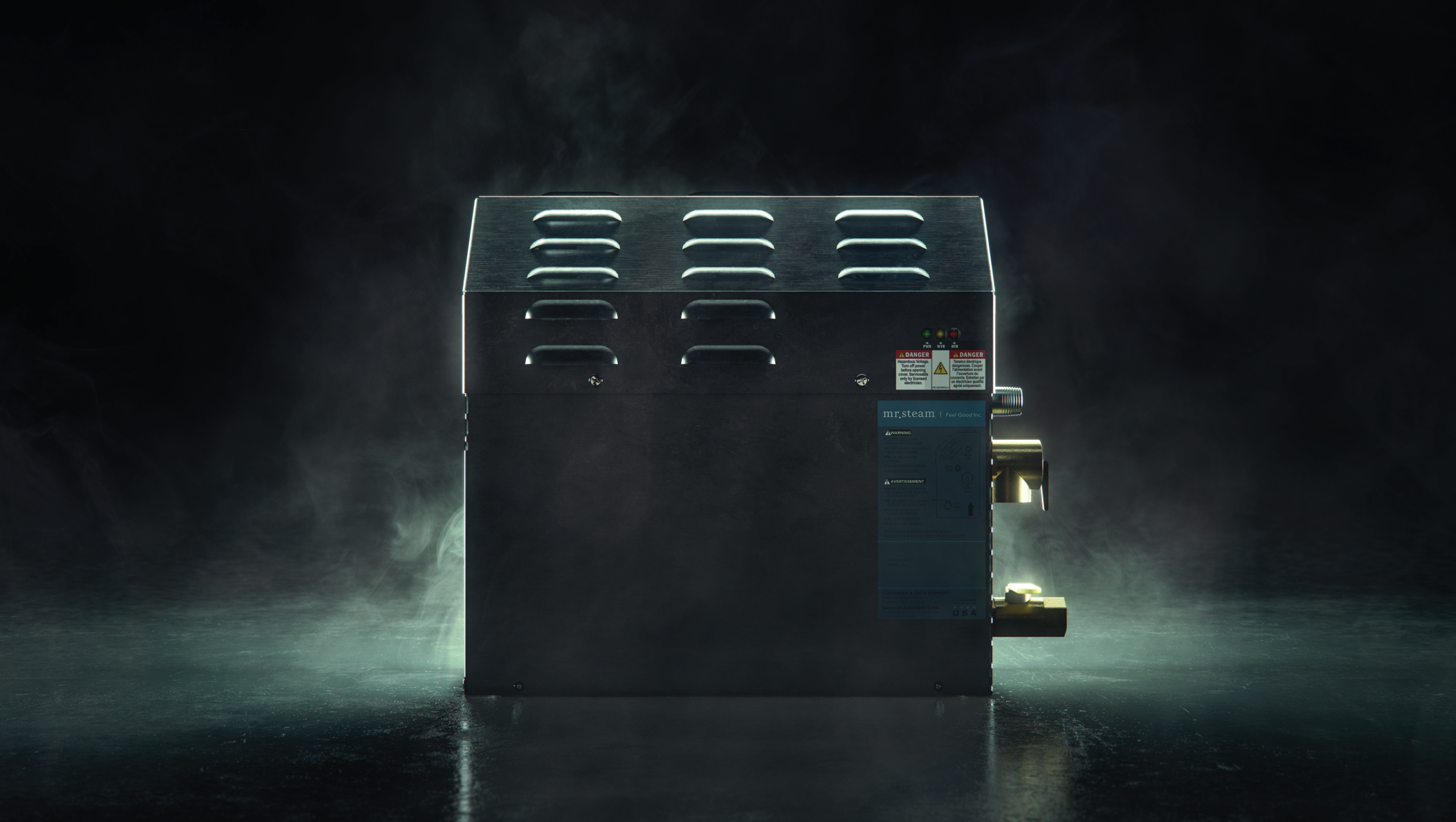 Our exclusive Steam IQ microprocessor powers our selection of steam generators. They are whisper quiet, take up only as much space as a briefcase, maintain consistent steam levels, and provide LED indicators for self-diagnosing any issues. All MrSteam generators are guaranteed for life to be free of material and craftsmanship defects for the life of the product. Each of our environmentally friendly and safety-certified generators is compatible with all MrSteam controls and our SteamLinx Mobile App.
Controls
MrSteam controls provide at-a-glance ease of use with the most advanced technology available. From traditional wired models to the wireless AIRTEMPO® model, you can be assured that you can operate your steam shower and any accessories from inside the shower or outside of it using your app.
Accessories
Even MrSteam accessories incorporate cutting-edge technology. Our customers are used to interacting with apps with most things in their lives, from their vehicles to smart home systems and everything in between, and they expect that convenience with new products. Accessories integrate seamlessly with the controls and SteamLinx Mobile App.

What MrSteam Tech Products Set the Company Apart From the Competition?
MrSteam was the first to introduce tech that lives in the shower. Our latest innovation, the iSteamX control, launches in January 2023. It is a significant advance, even for our high-tech iSteam line. We want you to have the same experience with our steam shower controls that you experience with your smartphones.
For our customers that want a simple turn-on experience, the iSteamX fits the bill. Despite being highly advanced, it is very user-friendly, providing one-touch steaming. For those who want to engage more with the system to fine-tune their settings, it allows them to turn it on and set temp duration, preferences, and more as programs. It can accommodate 8 different programs, so you can have, for example, one for getting back from the gym, one for after shoveling snow from the driveway, or one for starting your day.
Our accessories are also controlled by the iSteamX. The ChromaSteam turns on a color-changing light so you can set your colors to alter your moods while you enjoy a relaxing or rejuvenating steam shower. If you like to steam at the same time of day, you can even set an automatic start feature.
The AudioSteam with Bluetooth(R) amplifier is another accessory that lets you operate your music library directly from the control. It took significant development talent to make tech specifically designed for a wet environment, along with accelerated life testing. It fits with any decor and is made to last.
What Technology Is Used?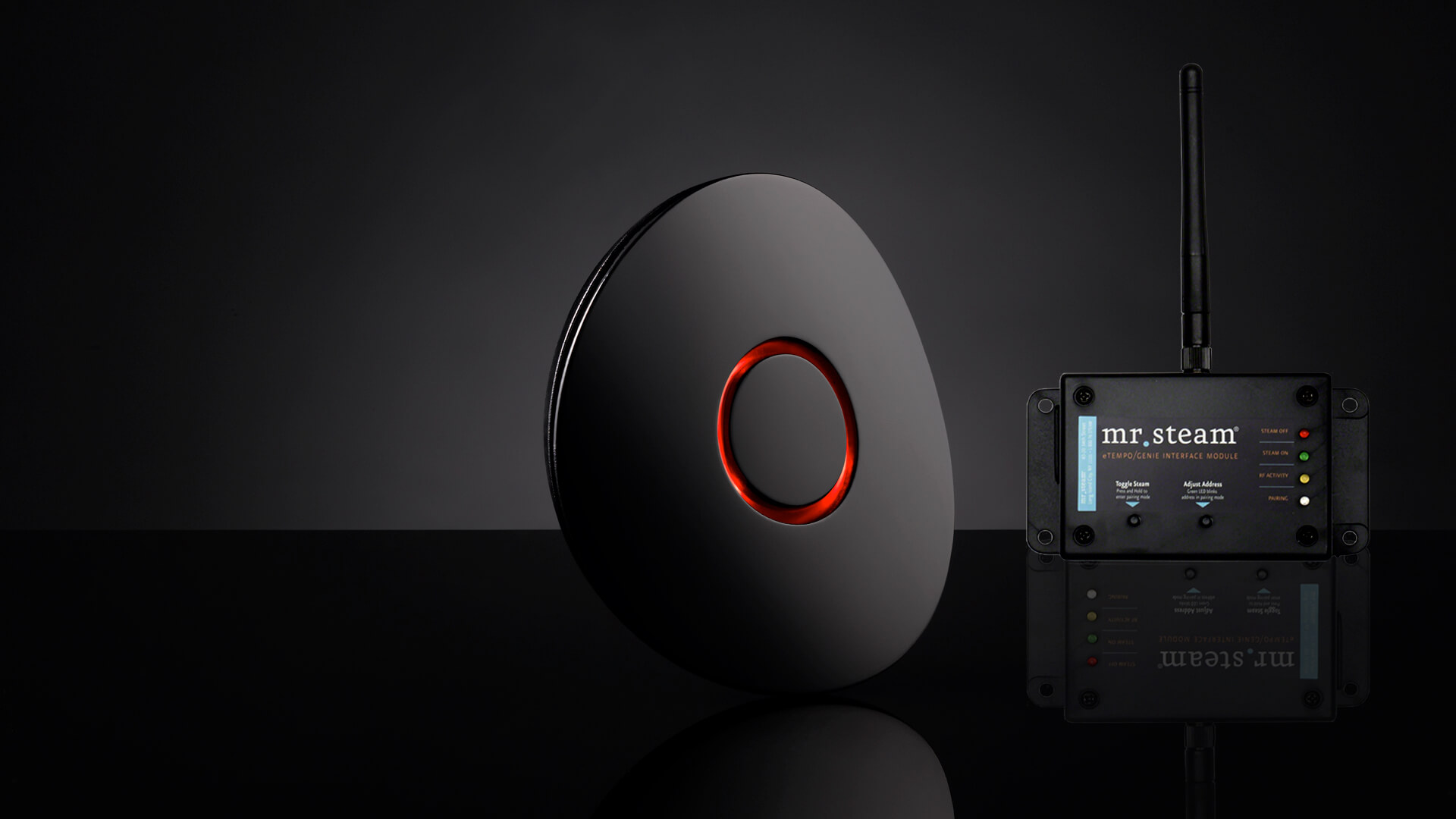 Our products integrate Bluetooth(R) and Wi-Fi technology for the plug-and-play convenience that is already familiar to most users. It requires no programming and is color coded, so there is no chance of anything being plugged into the wrong spot. The SteamLinx app provides more options for use and is compatible with all controls, although it doesn't take the place of the shower control. However, it does let you start the steam shower from your backyard, and by the time you get to your bathroom, it's ready for you.
Our Home Wizard integrates smart home automation. It simply plugs into the side of the generator to allow you the option of controlling it from outside the shower. The SteamLinx app works from anywhere, whether in the car, at work, or in the next room. It will allow you to run the shower for 10 minutes before shutting itself off.
If the homeowner, installer, designer, or other professional needs help, we have tech support and customer service available. You'll actually speak to a real person based in either our NYC or Los Angeles locations. We are here for homeowners, architects, designers, and electrical and plumbing professionals with answers to any questions to make it easy for everyone involved.
MrSteam Technology Proves That High Tech Doesn't Equate to Difficult Tech
As things get more technologically advanced, there's a perception that it gets more difficult to use. Combining design with ease of use, our VirtualSpa tool helps you decide the right amount of tech that works for your dream steam shower. From the start, we use technology to guide the customer through the journey and get them steaming, so they can relax and put their minds at ease.