When Martha Orellana, MrSteam's VP of Marketing, tackled a renovation in her own home, thoughts of changing the master bath weren't part of the initial plan.
"Originally, we were just going to do the powder room," she says. "But then it became a 'while we're at it…' project" – ending up with Martha and her wife, Susan Rosenbluth, needing to move out of their home for three months to accommodate the significant construction being done. "In the end, every single surface in our home was touched," she explains. "Had we planned on that, we would have said: 'let's just move everything out and put it in storage.' That would have been the smart way to do it."
But it took awhile to get to that point. The couple had the kitchen and foyer refurbished and were completing the powder room and the guest bathroom when they had the shocking realization that their guests were going to have a much nicer bathroom than they were. And for the woman known affectionately as Mrs. Steam, that would never do.
Designing an Exquisitely Styled Bathroom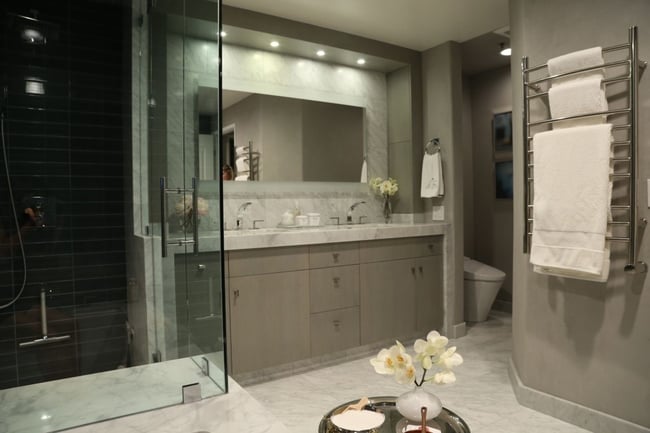 So what followed was an intense period of planning, conferring with their designer, Lori Gilder, to make sure the master bathroom was completed with all the bells and whistles and in the exquisite style that complemented their personal aesthetic. The couple did the legwork, walking through countless showrooms, in order to get a sense of what was possible. Martha says that she had never fully appreciated the value of a designer until she was faced with "the myriad of choices that one has to wade through when remodeling or building a new place." The expertise that designers bring to the project, she notes, is invaluable. Lori was able to boil down the thousands of available choices – overwhelming to most people – into three solid concepts. "I can appreciate three choices," says Martha. "I can make that decision."
Determining the Room's Focal Point
In the article, "Small Spaces, Big Changes" that appeared in the National Kitchen and Bath Association's (NKBA) November/December 2017 California Dreaming issue, Lori is quoted as describing the eventual design as "puzzle pieces put together," with each element flowing into the next. The shower enclosure is the room's focal point, which melds seamlessly into a 32"x60" marble soaking tub, which in turn serves as a seat for the steam shower. The white marble vanity countertop is decorated by a waterfall detail, and the vanity is constructed from rift-sawn oak with a gray stain. A rectangular mirror is flanked by two narrow counter-to-ceiling medicine cabinets, echoing the geometric confluence of the glass and marble intersections.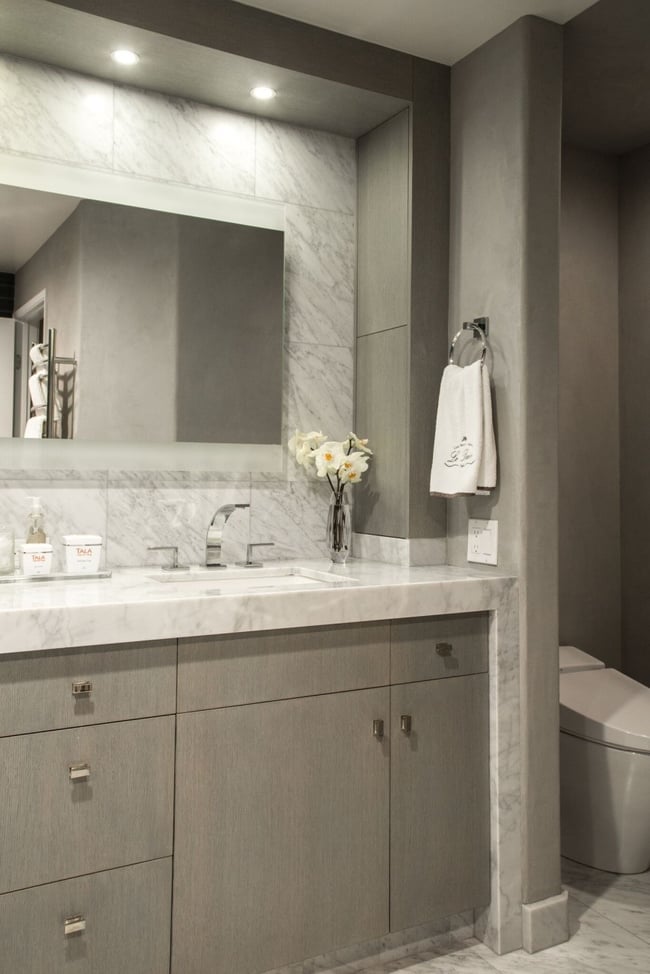 Bringing Style, Quality and Water-Saving Solutions to the Bathroom with ROHL and DXV
When it came to selecting faucets and the toilet, Martha knew which companies she wanted to work with – namely ROHL for the faucets and DXV for the toilet. "I know those companies personally," she said, bringing her many years of experience in the bath industry to bear. In particular, it was their style and quality that spoke directly to her, as well as the fact that both fit seamlessly into the final design. There is probably not a higher recommendation she could make than choosing to incorporate these companies' products into her own home, Martha adds.
ROHL offers the discerning homeowner a wide assortment of elegantly designed, beautifully crafted faucets and fixtures to transform the bathroom into a personal sanctuary – which was perfectly in line with Martha's plans for her master bath. These faucets are fashioned for the company, which works closely with artisans and manufacturers in Great Britain, Western Europe, New Zealand, and North America. In addition – and an important point for Martha, who is always "green conscious" – they also stress water saving solutions.
Again, water savings was on Martha's mind when it came to selecting the DXV smart toilet that nestles in a privacy niche in her master bath. Its streamlined design fits beautifully in the space. Martha chose a DXV smart toilet for both the master bath and guest bath. The intuitive design of the AT200 toilet pampers on every level with hands-free operation, a heated seat, soft night light, warm air dryer temperature control and the water-conserving performance of dual-flushing options.
The Masterful Centerpiece, the Steam Shower
The centerpiece of the completed bath is, naturally, the steam shower. It utilizes the sleek and sexy iDream Package with the iSteam3 Control as Steam Central command center, which controls not only the steam, but all the elements of spa therapy: aromatherapy infusing essential oils into the steam, the mood-enhancing lighting of ChromaSteam®, and Music Therapy supplied via AudioStream3®. Heated towel warmers add the finishing touch in both the master and guest bathrooms.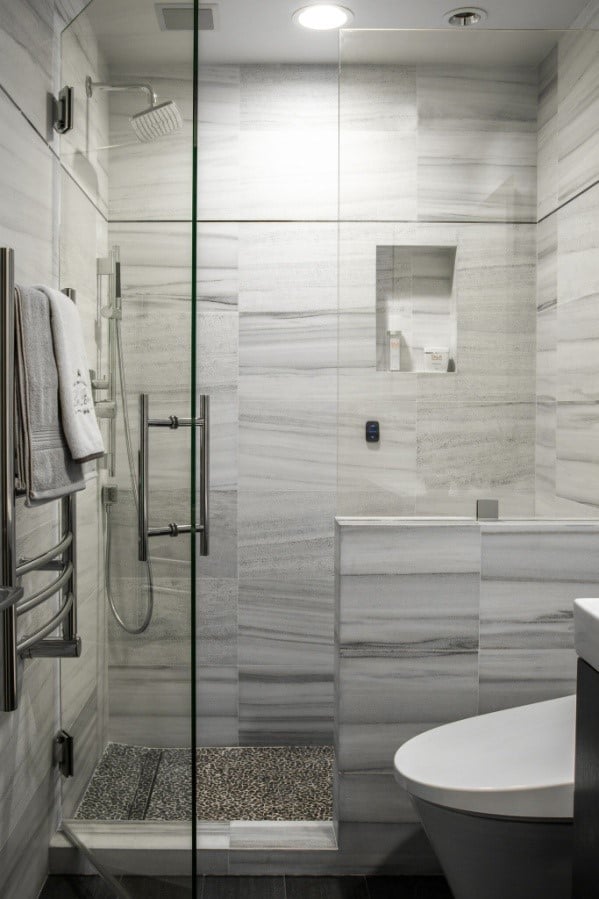 Using steam is a daily occurrence for both of these busy, hard-working women. Martha always starts her day with a combined shower and steam, along with aromatherapy to wake her up and get her moving. Then she switches on the AudioStream to listen to music. Susan also uses both steam and aromatherapy, while keeping one eye on the clock during the week – "because she has to be out of the house by a certain time," laughs Martha.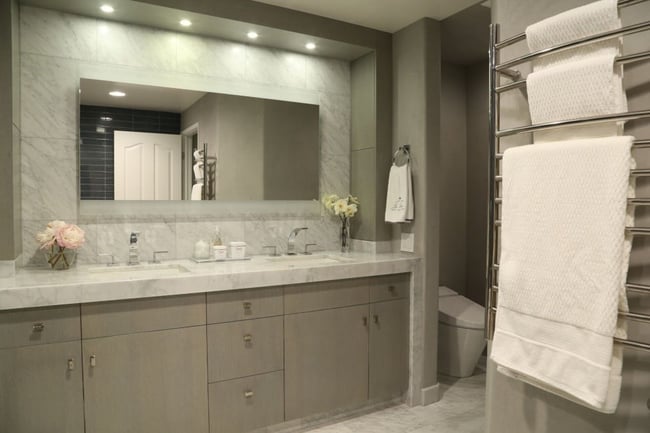 Both also enjoy the daily indulgence of a heated towel. "I use it every day," explains Martha. "It's like a little gift, because I can't help thinking, 'ooh, how warm and cozy' every time I wrap myself in the warmth. Underfoot is also toasty, because the couple indulged in heated bathroom floors as well.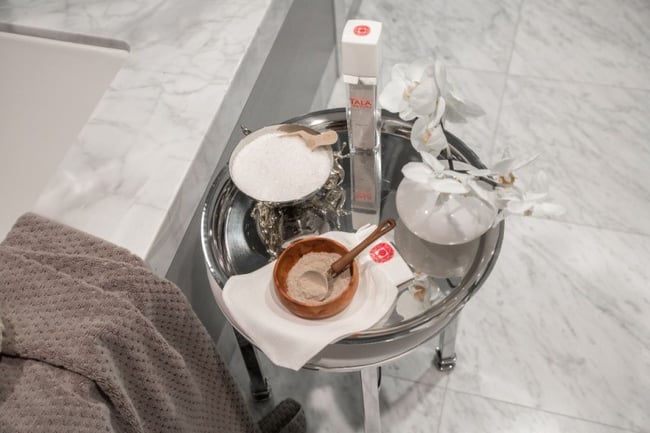 On Sundays, the two make time for what Martha calls their spa day. Taking advantage of the greater leisure they have to spend on themselves, they apply TALA® Bath & Body Rhassoul Lava Clay and enjoy a 15-20 minute full steam. During their Sunday retreat, they also switch on the chromatherapy, reveling in the mood-setting spectrum of lights.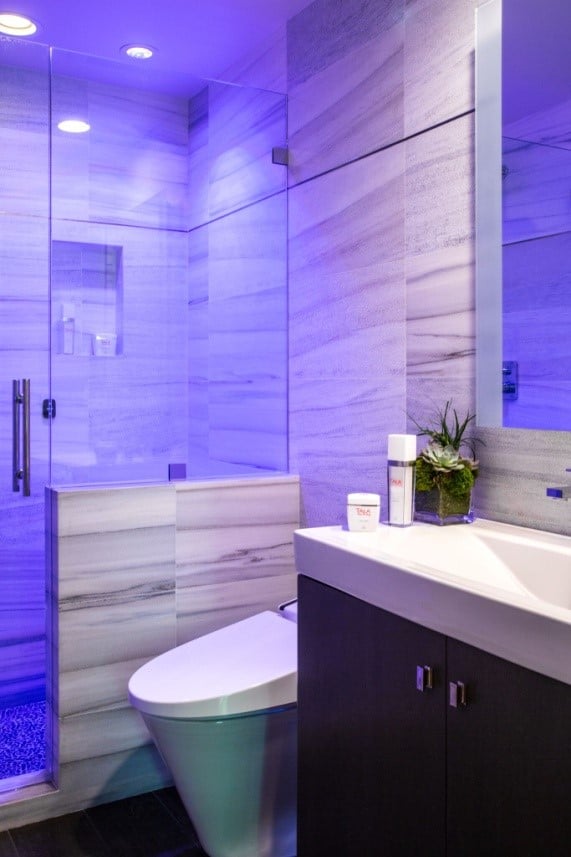 Martha and Susan's master bath sanctuary has clearly set a new standard for their personal self-care, making wellness even more a part of their everyday routine. The power of steam revitalizes them, the beautiful design and high functioning features of their bathroom making the space a place not only to face the workday, but also to withdraw and refresh and relax on their special Sunday spa days!