The International Man of Steaming
---
Around the world on steam power with Dan Reinert
When it comes to imagining a dream job—something less caloric than "Taster at a Belgian chocolate factory" and lower-risk than "Formula-1 race car driver"—you might land on what Dan Reinert does for a living: As VP of Sales for MrSteam, he travels the world experiencing spa treatments, meeting interesting people, and spreading the message of steam therapy. Often while wearing a towel.
In the early days of steaming...
Dan began his life in steam 35 years ago in customer service at Sussman, MrSteam's parent company.
In those days, steam bathing was gaining popularity on the west coast, but installing a steam shower into a private home meant retrofitting a bulky commercial steam generator and crude analog controls into a house large enough to accommodate the commercial-scale equipment.
In the ensuing decades, steam generators have shrunk in size, the controls have evolved from their egg- timer ancestry into a high-gloss touchscreen experience, and steam showers have become a desirable home add-on from sea to shining sea.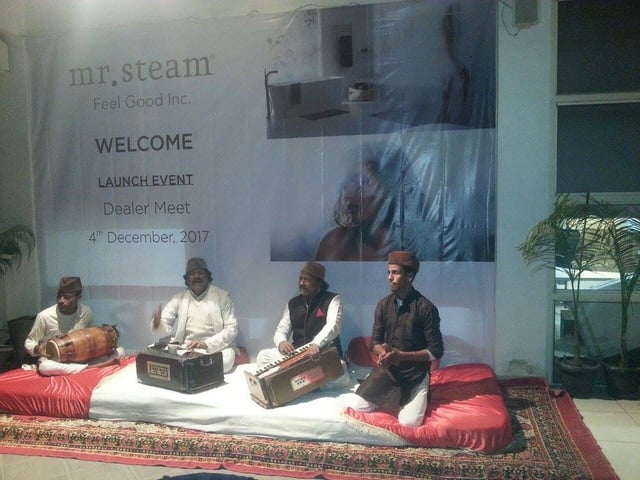 Discovering how steam happens in different parts of the world
Having conquered the U.S., Dan has been free to explore international markets for MrSteam. "We're selling now in upwards of 25 countries," Dan notes. "And it's interesting, because in many of these places the tradition of steam goes back much further than it does in the United States. It's an ancient concept that we're trying to bring into the modern world over here, but over there they've been doing it in their own, distinct ways for generations."
So the information exchange is mutual. While Dan's job is to introduce potential customers to a sleek, modern take on steam therapy that integrates seamlessly into even smaller homes, the fun part of the job is discovering how steam happens in different parts of the globe.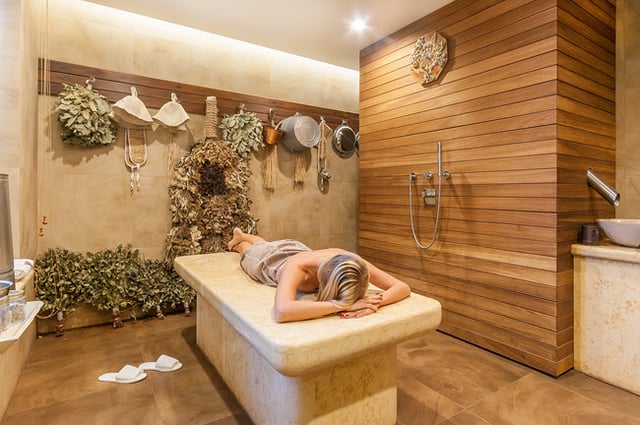 Steaming in Russia
"Recently we took a trip to Russia. They tend to be very avid sauna bathers, but they're also getting more into steaming, too. We sat in a Russian banya, which gets heated by burning wood up to as high as 240 degrees. They massage you—you could also say "beat you"—with leaves to increase circulation. Outside it might be 20 or 25 degrees. At a certain point you walk outside to the river and jump in. The contrast between hot and cold stimulates muscle recovery. It also closes your sweating pores, and that's really good for you and for your skin. When your body hits that cold water, though, all thoughts are erased. You're like a baby being born again." Maybe this is how Jason Bourne lost his memory.
As for Dan, having exchanged trade secrets with the Russians, been parboiled in a banya, flash- frozen in a Moscow river, and paused for a quick shirtless photo-op on horseback with Putin (okay, that didn't happen)—it's time to board the plane for parts East.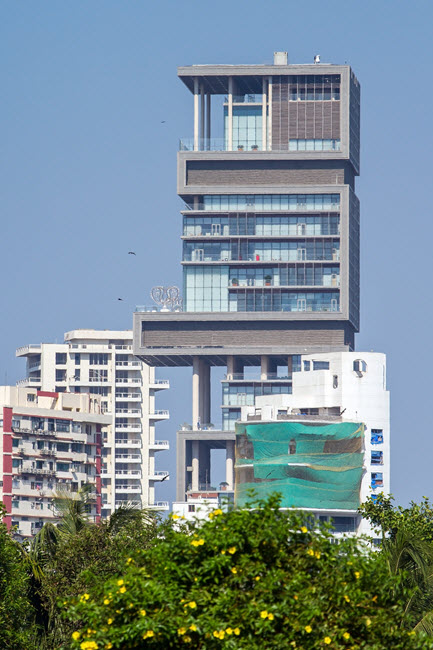 Steam showers by MrSteam in Mumbai's Antilia
Welcome to Mumbai. If you're wondering about that extravagant 27-story edifice on the world's most expensive block of real estate—the place with three helipads, two floors of hanging gardens, a "snow room," a swimming pool for when you get bored with the other swimming pools, and a staff of 600?—well, it's nothing more than the most expensive private home in the world, not counting Buckingham Palace. Dubbed Antilia and owned by billionaire Mukesh Ambani, this outrageous architectural wonder was designed by Chicago architects Perkins and Will, built by an Australian construction company, and cost over $1B to construct. And its steam showers are by MrSteam.
Homes in Hong Kong's The Peak feature MrSteam
2,600 hundred miles away in Hong Kong, Dan toured the construction site of a new development in the city's most affluent district, The Peak, where a collection of seven new homes—each 30,000 square feet and valued at over $100M—is being built. "It's the most prestigious project in Hong Kong, and they chose MrSteam, too."
A view of Hong Kong from The Peak
But, of course, most people in Hong Kong don't live in 30,000 square foot homes. A desire to live close to the center means that most Hong Kong residents are adjusting to life in smaller and smaller high-rise condominiums. But they haven't lost a taste for steaming. This calls for smaller steam generators adaptable to tighter spaces, and it also means thinking outside the box: "We're developing a concept in Hong Kong where the whole bathroom can double as a steam room."
Aromatherapy in Thailand
A good portion of Dan's travels are centered in Asia. "We have an extensive network of places we're selling in Asia. We're selling in the Philippines, in Taiwan, Hong Kong, Singapore." Travel in these countries has exposed Dan to regional traditions and trends. "In Thailand, for example, they have a tradition of aromatic steam baths. It's a giant kettle of water, filled with different herbs. A fire heats the water, which turns to steam, and you have an aromatic therapy experience. It's good for you both physically and mentally. Aromatherapy is something MrSteam promotes, of course, and it was interesting to see how it's been done for many years in Thailand."
Experiencing traditional a Turkish Hammam in Istambul
Making his way back to the western hemisphere, trailing a cloud of aromatic mist, Dan arrives on European continent. He observes, "There's an invisible dividing line in Europe. When you go north of Switzerland, they tend to be more of a sauna-focused group. Germany, Finland, Sweden, Norway. But south of this line, they're more accustomed to steam."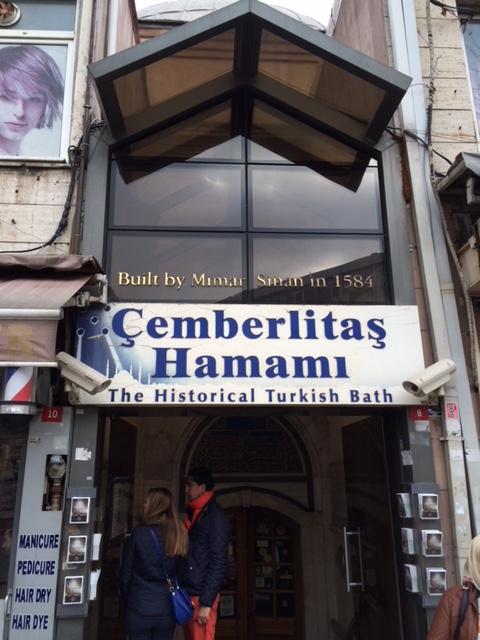 South and a bit east, in the Turkish capital of Istanbul, Dan was put through the ringer in a traditional hammam dating to the 1400s. "You enter a room with a big marble slab. You lie down on it, and it's heated, so you just sort of melt into it for a while, staring up at a big domed ceiling. And then after 15 minutes, a guy comes in wearing a bathing suit and gives you an intense scrub-down bath using all these different oils and things."
The tone of Dan's voice suggests that the experience occupied that sweet spot between relaxation and terror that characterizes the best massages.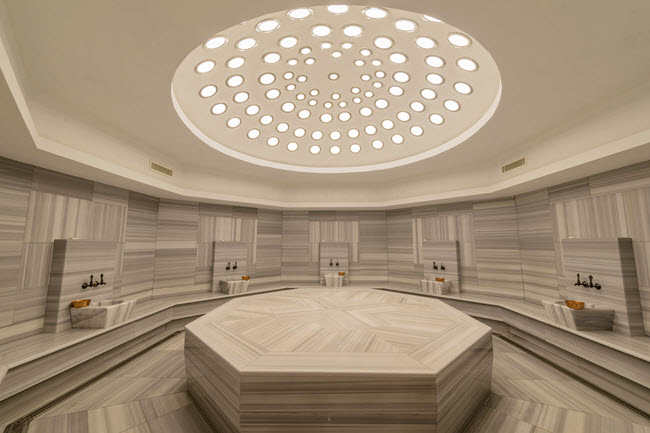 "They bathe you, scrub you, stretch you out, and then they throw water all over you. Hot water, cold water. You finish up in a steam room. It was a very memorable experience," and one of the highlights of his recent travels.
Touching down in Los Angeles' Koreatown for The Beverly Hot Springs Spa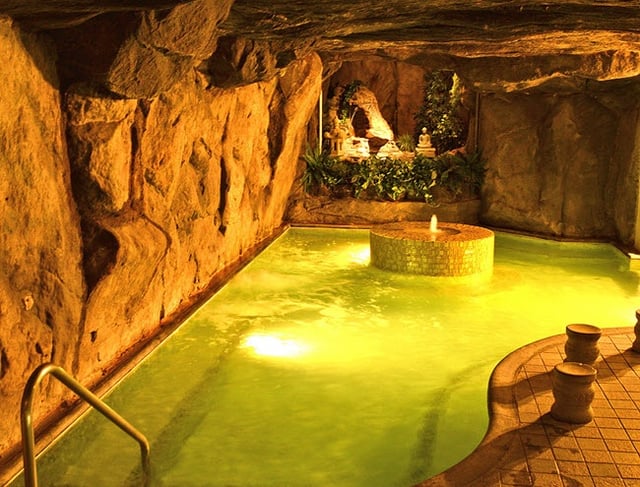 Dan's circumnavigation of the globe comes to a (temporary) rest in a not-very-exotic locale quite close to home: Los Angeles. In the city's bustling Koreatown, where spas of all kinds abound,
Dan finds a hidden gem: The Beverly Hot Springs Spa, which claims to be the only spa in Los Angeles fed by a natural underground spring. Water is drawn from a source 2,200 feet below the ground, and supplies two steam rooms (one for men, one for women) infused with a blend of herbs including the pandan leaf—highly regarded as a pain reliever in traditional Asian medicine.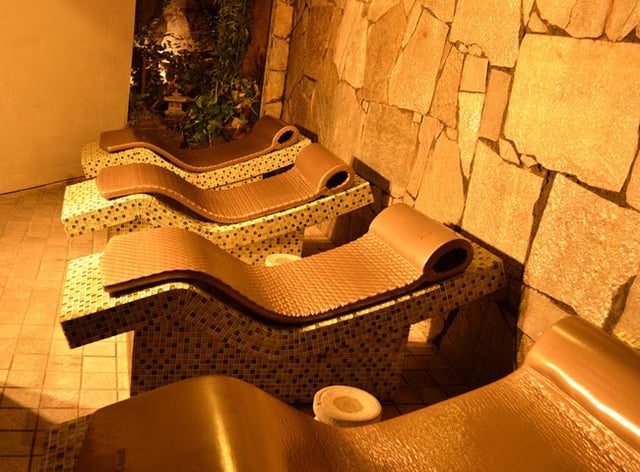 "After an hour of spiritual cleansing, I received a shiatsu-bamboo massage, which uses heated bamboo poles roled across your body to create a very deep, yet pleasing massage," says Dan. "I left a refreshed and renewed man."
Jealous yet? We can only imagine where the loose-limbed international man of mystery with the glowing complexion and zen calm will turn up next in his mission to bring in-home steam bathing to the wider world. Maybe he'll finally convince the Queen of England to install MrSteam at Buckingham Palace.