Choosing the Healthy Life with Steam: the Inland Valley Case Study
---
We all want to be healthier, don't we? After all, better health means we'll have greater freedom to indulge in all of life's pleasures – whether they be taking time for the pursuits we most enjoy, watching children grow and have children of their own, or celebrating special life milestones. It could also mean living more years with fewer aches and pains, looking like our best selves, and even mitigating debilitating illnesses through health-driven practices.
There's no question that adding a steam shower to your home spa can help you attain many of these life goals – as so many of MrSteam's clients have discovered. Perhaps they weren't initially planning to install steam in their homes when they were considering a remodel or building a new home from scratch. But once they discovered what steam could do for them – or considered that the lifelong benefits would outweigh both investment and minor inconvenience – it became a no-brainer.
A case in point is one of MrSteam's representatives. Originally, she was simply going to add a teak wall-mounted fold-up seat to her remodeled shower – a place where she could sit to easily and safely shave her legs. Her very small bathroom didn't give her the space she'd need for a permanent bench and she also felt that built-in tile benches were too cold and uncomfortable. Teak, she knew, would provide a warm, comfortable seat – and the fold-up, wall-mounted version that MrSteam offers would fit perfectly in her small space.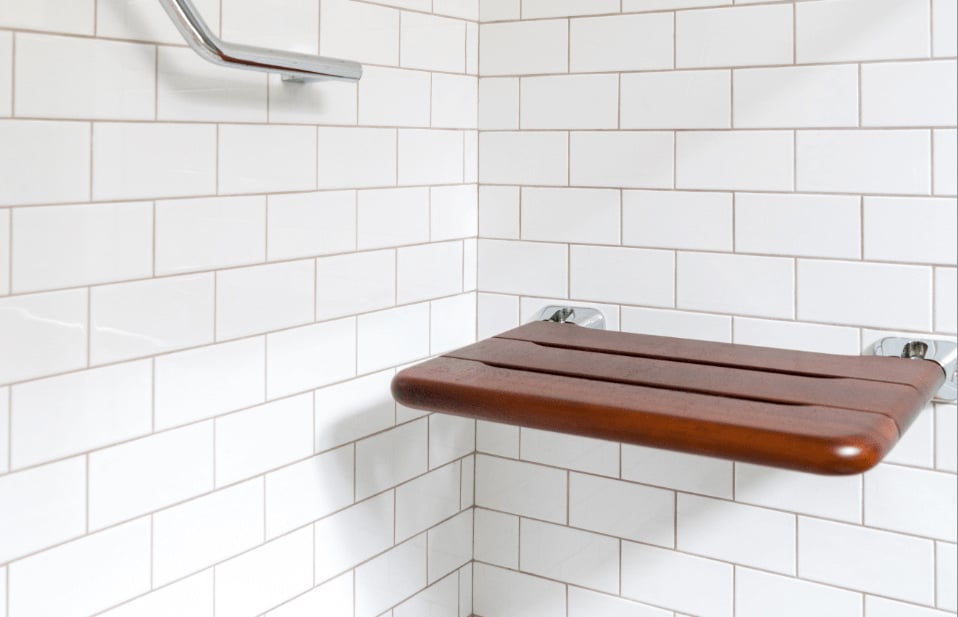 But then, the decision to add that seat started her thinking. Her job in the Southern California building industry is particularly fast-paced, not to say hectic. And, having repped MrSteam products for many years, she already knew what their steam showers could do in reducing stress in her clients' lives. Perhaps, she considered, she deserved the same healthy addition to her own home.
However, she still resisted the thought for a time. "In order to accommodate steam, I would have to knock down a wall and move a drain," she says, explaining her hesitation. So initially, all she planned to do was add that teak seat. But the thought of steam persisted.
Considering the Wellness Benefits of Steam
She recently had made some significant health changes, one of which was to turn vegan during the previous fall. Doing so, she says, "made my life a bit cleaner by getting all those toxins out of my system." And as she kept thinking about adding steam, her role as a MrSteam representative meant she was fully aware of how steam could augment her new dietary choices.
After all, steam can be a significant contributor to anyone who wants to eat clean. The high temperatures produced in a steam session can help increase metabolism, sometimes by as much as 20 percent. The steam aids our bodies in generating heat that keeps the chemical processes running and our physiological systems functioning and in good order. Steam also helps boost circulation, which helps flush toxins and harmful substances like cholesterol from our bodies.
And for anyone – like our MrSteam rep – interested detoxing their body, steam will remove toxins not only via sweat but also through increased circulation in the lymphatic system. Studies have also shown that steam can lower both mercury levels as well as sodium content. Certainly anyone who wants to eat clean already recognizes how many of our American food choices are overloaded with sodium – and steam is a welcome way to cleanse our systems of it.
In addition, steam showers can help anyone who is interested in losing weight. A steam shower burns 150 calories in a 15-minute session at 114 degrees F. It can even help you recover from a strenuous workout, because the heat enhances muscle regrowth and limits muscle cell damage after physical activity. And through a process called thermic conditioning, steam therapy may increase your physical stamina and exercise endurance. In a study in the Journal of Science Medicine & Sport, researchers discovered that two 30-minute sessions in a steam room per week increased endurance output by more than a third.
Adding Steam to Her Bathroom Remodel
So, with her newfound dedication to a more healthful approach to her life, particularly through new dietary choices, our MrSteam rep reconsidered her decision not to add steam – and is very glad she did! Yes, there was some minor inconvenience, but the end result was stunning. The design she selected perfectly complemented the small space she had, with classic white subway tile and taupe grout, and a neutral floor tile in beige and gray. "I didn't plan on the MrSteam teak seat fitting in so perfectly with the coloring," she adds. "That was a bonus!"
Another bonus that she may or may not have known about is that steam can even aid in shaving. So when she sat down on that comfortable teak seat to safely shave her legs, the addition of steam made the process less of a chore, as the steam softens and lubricates skin throughout the body.
The MrSteam products selected for this bath were part of the Air Butler Package with some additions. The size of the bathroom predetermined some choices, such as the wireless, mount-anywhere AirTempo® controls and the Linear Steamhead whose low-profile design sits flush with any wall and which is exclusive to MrSteam. In addition, she chose to install SteamLinx®, giving her the ability to start her steam shower from anywhere using her mobile phone or by a quick word of command to her Alexa-enabled speaker.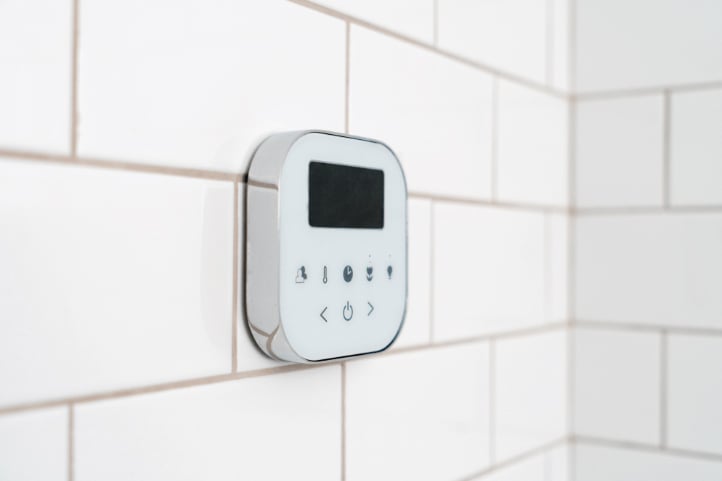 There's no question that she made the right choice when it came to completing her bathroom remodel with the addition of steam, despite the construction obstacles that almost made her decide against the project. It's not only been a contributing factor to her continued good health, but has given her hours of rejuvenation after long hours at work, in small but charming, classically-styled surroundings. As she says: "It feels divine. It's clean, it looks smart, but most importantly, I love having my own private spa!"
To learn more about other MrSteam clients that incorporated steam into their remodeled or new home projects, visit our case studies on our website.