How To Elevate Your Wellness Routine With Color
---
Color has the power to influence not only the look of a room but also the feel. Sage green can offer tranquility while orange may increase creativity, but research has shown color perception is also often personal and contextual, never meaning just one thing. While blue may read as traditional in some instances, it may represent the easy relaxation of the beach in others.
Good interior design will effectively capture personal style and help dictate the right mood for the room. For the wellness-seeking homeowner, designing the bathroom to be a highly functional, elevated space is often a top priority. Before diving into the nitty gritty of design such as choosing tile materials, homeowners should carefully consider what they need most out of their bathroom and then start with a general color scheme to get the design process started. Whether you're hoping to create a calming respite or an energizing space to begin the day, the color palette of your design may determine its success in supporting the needs of your daily routines.
Creating your at-home wellness oasis? Consider these different bathroom concepts to help marry color and intention:
The Rise and Shine Bathroom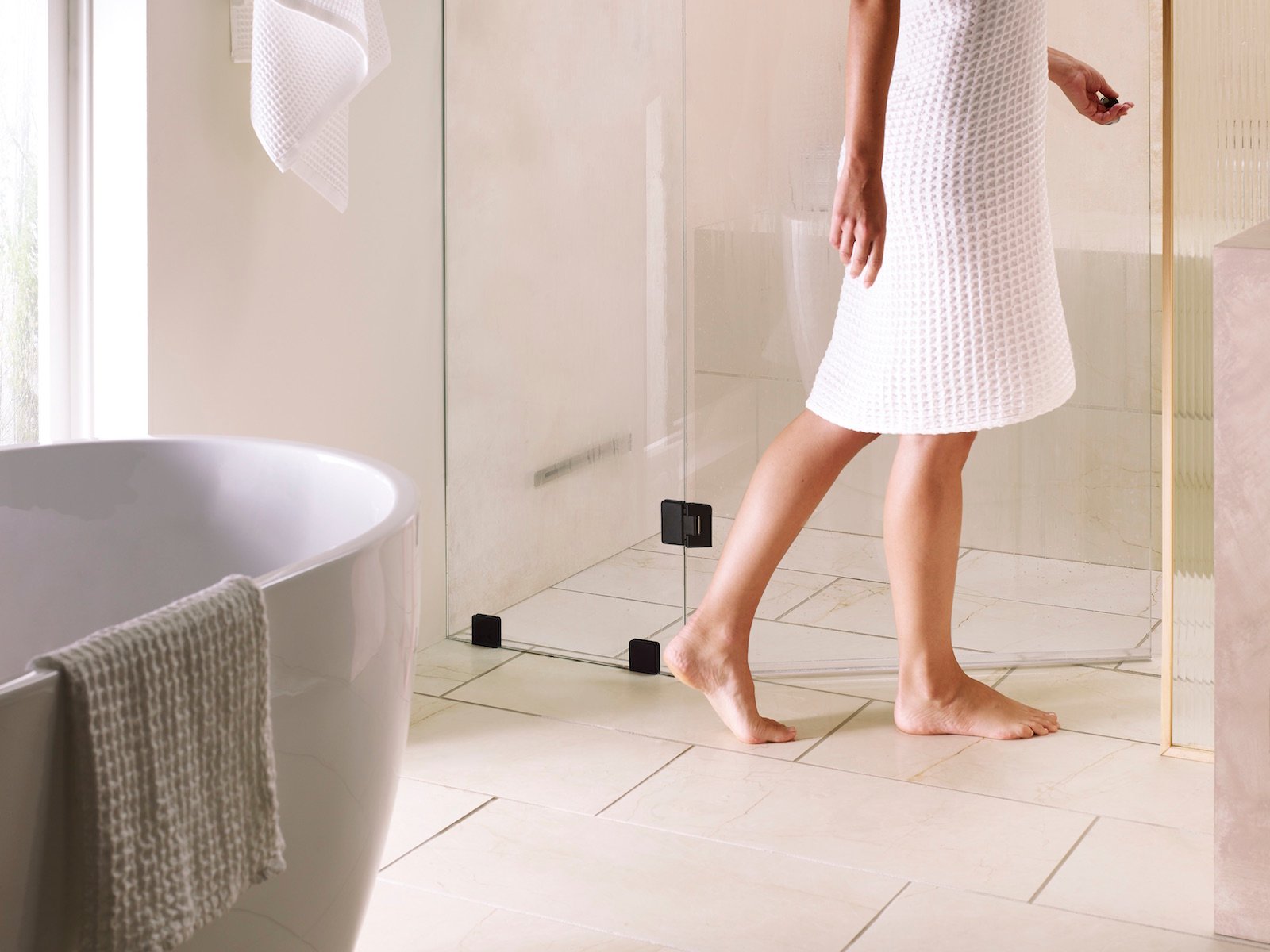 Looking for a burst of energy in the mornings? Start with where you prepare for your day. Consider creating a bright and light color scheme with shades of white paired with lighter hues such as a dusty pink. White is visually bright and may also project a sense of perfection and cleanliness, fostering a fresh, clear mind for tackling the day ahead. Lighter hues of bolder colors bring additional energy into the room while maintaining a high level of polish and sophistication. Highly versatile, this timeless color palette base works in a variety of sizes and textures in the bathroom, making it easily customizable and amenable to any routine.
The Bold Ideas Bathroom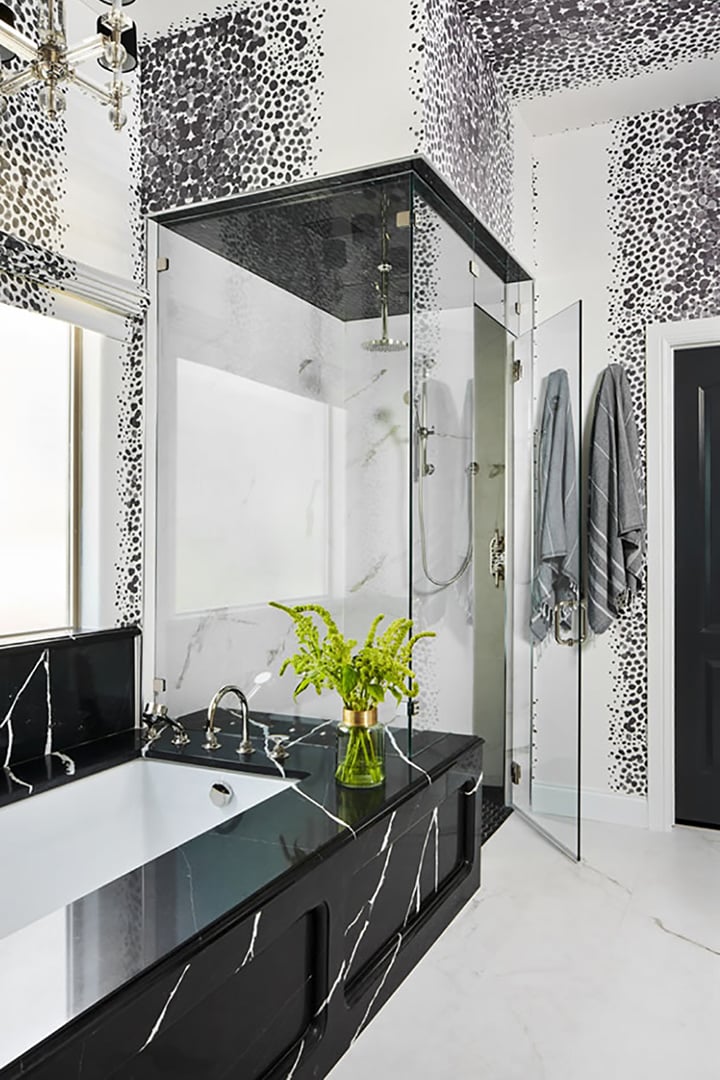 Bold contrasting color choices can be ultra-sophisticated and help stimulate creativity and relaxation. For designer Denise McGaha, a subtle, minimalist or muted palette wouldn't have brought the same sense of joy and calm as her abstract maximalist master bathroom outfitted in a patterned black and white with pops of color from greenery and art.
"I'm a designer," McGaha said. "I wanted fabulous wallpaper. I wanted art. I wanted color. This bathroom used to be a room that I would just go in for a shower and then get out. Now it's like another room in the house that happens to be for bathing."
While the colors may be classic, using pattern and texture create an energizing, exciting space that becomes a positive part of the morning and evening routine.
"Being able to prepare your mindset in the morning or unwind in the evening with a steam is so valuable" McGaha said. "My mental well-being is better, I get great ideas and I feel like I have done something good for myself before I leave for work."
Learn more about how Denise McGaha designed her master bathroom for wellness.
The Ultimate Relaxation Bathroom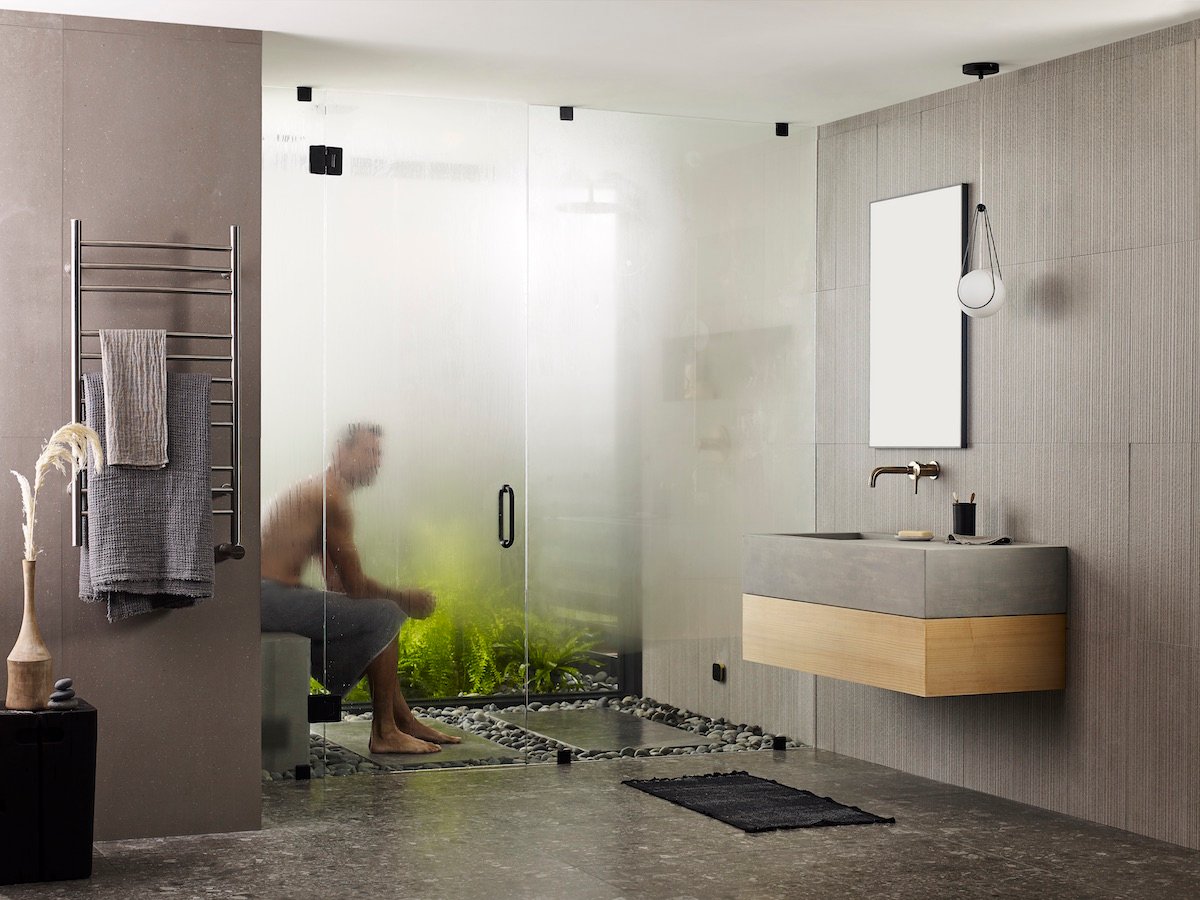 To create a more calming, spa-like environment in your bathroom, consider using colors that represent grounded balance. Earthy palettes with sleek cool browns ranging from light sand to deep taupe can offer tranquility at the end of a long day. Complete the look with brushed bronze hardware and wood accents for a serene design. While meditative, the scheme is far from boring. Incorporating plenty of organic texture and materiality keeps the design super contemporary and cool – and a beautiful space to relax, enjoy a steam and wind down from the day.
Elevate Your Color Choices with Light
After you've chosen the right color palette for your ultimate wellness-enhancing bathroom, take it to the next level by adding in a MrSteam ChromaTherapy system to your steam shower package. The color-changing lighting system allows you to transform the environment of your steam shower with light and color for an immersive steaming experience. Research has shown varying hues, saturation and brightness of colors may all stimulate the mind. Enhance earthy colors with low, warm light or stimulate your creativity with more unusual colors such as purple or green. Find your mood, find your center, relax and enjoy. From the right tools to the right colors, creating a bathroom that boosts mood and an overall sense of wellbeing is essential.