How to Create a Spa Experience at Home
---
Imagine yourself having this experience... every day: Relaxing and rejuvenating your body, releasing internalized stresses, clearing your mind and reflecting in your own private sanctuary. If you have spent time at a spa in a steam room, you probably know what this feels like.
Finding time to truly relax can be so difficult. You might enjoy a luxury spa now and then for a steam, a massage and a pedicure, but too often, it's part of an occasional vacation rather than a daily routine. One solution is to create a spa experience at home where you can indulge regularly on your own terms. Here's how and why.
Why create a spa experience at home
Whether your home spa focuses solely on a steam shower or includes all of the elements of SteamTherapy, you'll find that your personal spa can help you achieve the following:
Stress Relief
Life can be tense, especially for those trying to balance work, family and so many responsibilities. Since prolonged stress can have adverse health effects, it's important to take some time to unwind every day. One way is with a spa experience at home, which will help soothe your nerves and let you forget your worries for a little while.
>> See How One Interior Designer Achieves Balance and a Healthy Lifestyle
Better Sleep
Tossing and turning to fall asleep can be extremely unpleasant and leave you exhausted the next day. A spa treatment right before bed, such as an aromatic steam shower, will help you relax, unwind and sleep better, allowing you to perform at your best the next day.
>> Discover the benefits of steam for sleep
Healthier Skin
Skin can become dry and chapped, especially during the winter months. The fine skin on your cheeks and in front of your ears is especially prone to damage. Spa treatments involving carefully formulated scrubs and creams can help moisturize and exfoliate your skin, improving its elasticity and allowing it to "breathe" better.
>> Learn how TALA Bath and Body Products can rejuvenate your skin
>> How to Achieve Glowing Skin: 7 SteamTherapy Tips
Muscle Relaxation
Hot steam can soothe your aching joints and muscles, similar to a massage. Heat soothes nerve endings and warms up the muscles, which, in addition to lessening pain, has the benefit of dissipating stress-causing tension.
>> Read why one physical therapist recommends steam to her patients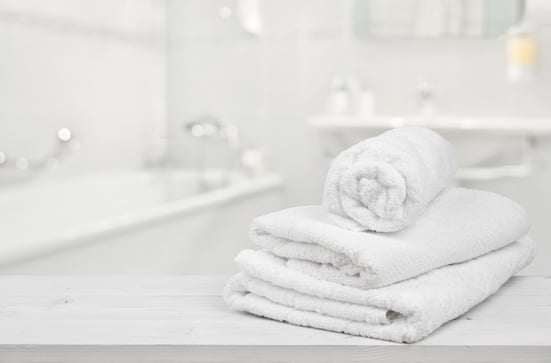 How to create your own home spa experience
You might agree with these benefits but have concerns about setting up an at-home spa. With the ease and affordability of MrSteam, the question isn't "Why install a home spa?" It's "Why not install one?" MrSteam offers you all the tools to create a stress-free sanctuary in your home.
It's not just about the steam itself, which offers all the health and wellness benefits described above as well as many others, such as better breathing, detoxification and cold/allergy relief. MrSteam also makes it easy for you to have a holistic steam spa experience right in your own home at an affordable cost. List prices for steam generators begin at $1,575 plus installation costs.
Optional accessories cost extra, but you can incorporate those individual spa therapies (Chroma, Aroma, Music and Body therapies) that are most rejuvenating for you and your family.
The MrSteam online Virtual Spa wizard helps you plan out your steam shower room from the comfort of your computer. It walks you through the entire process, from sizing your steam generator, to picking controls, showerheads and accessories.
>> Create a Dream Steam Shower with Mr.Steam's Updated Virtual Spa
The optional AromaTherapy system infuses essential oils into your steam room, from soothing lavender to refreshing evergreen. You'll forget you're at home as your breathe in those delightful fragrances.
>> Read our AromaTherapy Guide
Optional ChromaTherapy treats your eyes to

a spectrum of color ranging from airy blue to sensual red. Light has been shown to improve one's physical and mental state, and the ChromaSteam system offers six different colors to match your mood: red, yellow, green, indigo, blue and violet.
>> Understand the power of color on the human mind and body
Our optional AudioWizard is a streaming Bluetooth sound system that plays digital music files or internet radio wirelessly, from your smart phone or device. For many people, listening to music is a preferred method of relaxation. Now you can enjoy that same serenity, enhanced by steam, light and scent.
>> Hear the Benefits of Steam with AudioWizard™
Towel warmers eliminate that cold feeling you get when you step out of the shower. They add that extra level of luxury to your personal spa treatment, letting you dry yourself in the fluffy warmth of a heated towel.
>> Learn the many uses of towel warmers
Ready to create your own personal spa at home?
Perhaps you are still unsure about how a steam bath works or how you can go about adding one to your at-home spa. If that's the case, check out our 13 frequently asked questions about steam showers. You'll learn about everything from installation to maintenance.
Finally, for designer tips on setting up a spa at home, see what Leslie Fine, president of Leslie Fine Interiors, Inc., has to say. Creating a spa at home doesn't have to be difficult, and the benefits will make it well worth it.
Let us know if you have any questions.