From Dated to Designed: Luxury Master Bath Remodel Stars Steam
---
Designer Carla Aston led the design of a Mediterranean-style home north of Houston, Texas, which included an addition as well as a kitchen and bathroom renovation. The primary bathroom, in particular, presented a challenge: Aston was tasked with transforming an outdated space with an awkward layout into a haven so tranquil it feels like you should call ahead to make a spa reservation.
"The clients wanted a simple look, nothing too busy, but with high-quality materials," Aston said. "They travel a lot and wanted some of the amenities they see in places they stay."
Adding Steam for a World-Class Spa Feel
The bathroom had an unusual layout that was common for custom homes at the time of the original construction. The shower space, in particular, was large and open, with a glass block wall at one end. But where most may have seen a design headache, Aston saw potential.
"The homeowner wanted more privacy and was worried about getting cold in an open shower," she said. "I knew a steam shower was the perfect solution."
Having previously used MrSteam products, Aston has always been impressed with the brand. "I have also taken continuing education courses (offered by MrSteam) and learned a lot through industry exposure. My clients have been very happy with their MrSteam showers."
Aston is well acquainted with steam's potential to elevate well-being. She often recommends it to her clients dealing with allergies, asthma, other issues and those wanting to add to their wellness lifestyle. In fact, the 40-plus known benefits of steam range from respiratory health to skin care. Steam is also an ideal complement to any exercise program, making it a natural offering at the best health clubs. That's why Aston recommends MrSteam for her most physically active clients: "If people would use a steam shower at their gym, then they will love one in their own home," she said. "Many people are considering adding steam to their showers for therapeutic and health reasons as well as the spa experience."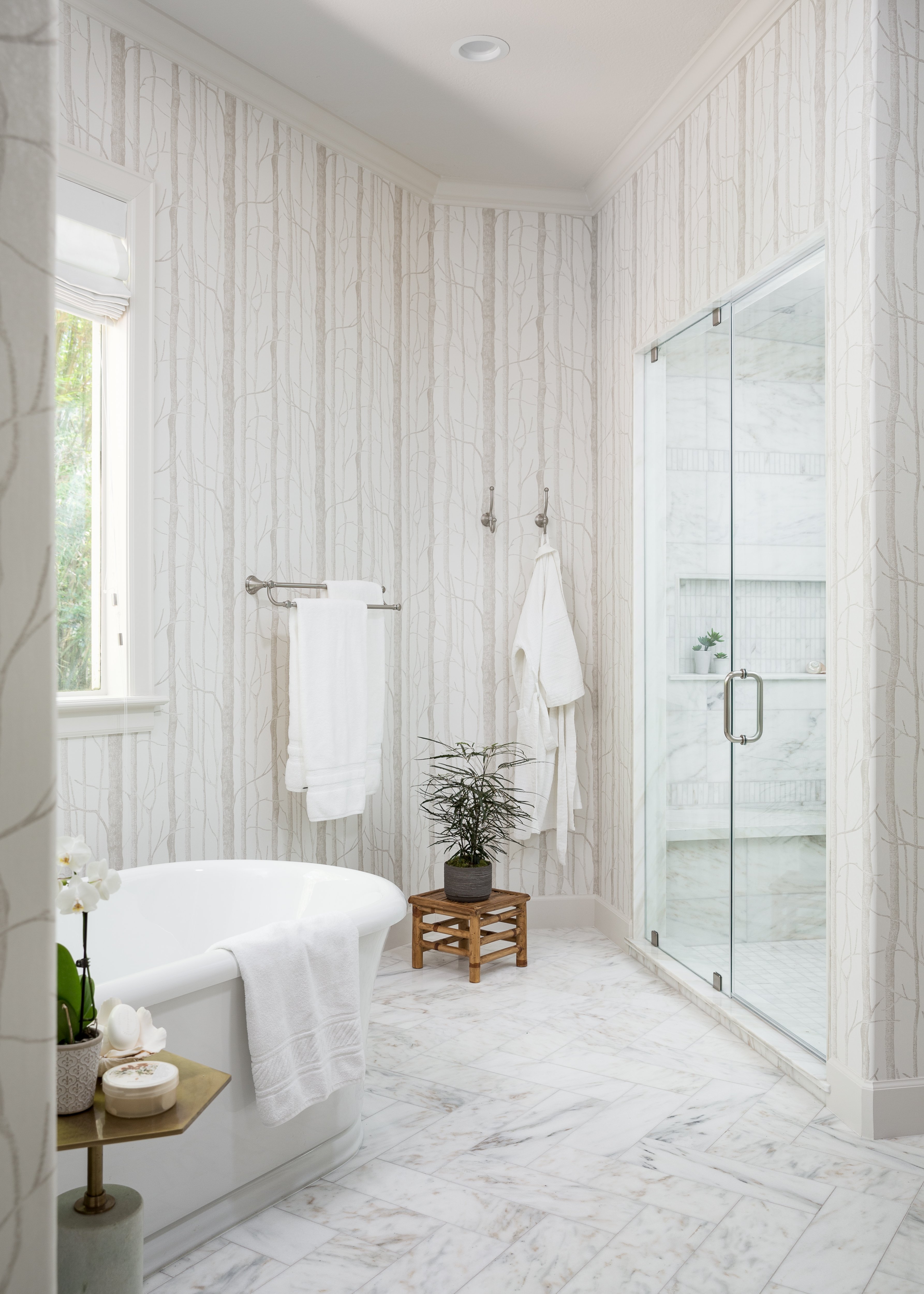 Right at Home in a Forest of Warm Whites
Aston used Cowtan and Tout's Birches wall covering for a slice of design heaven. It makes a strong neutral statement and generates a woodsy elegant feel. "The wallpaper was the item the clients were most afraid of, and it turned out to be one of the features they loved most," she said. As a backdrop for a bathroom with a steam shower, it also creates a relaxing atmosphere.
Fortunately, the space already had a lot of natural light, primarily from one large window that previously held a dated stained-glass vista. The new color palette is crisp yet warm, with layers of white formed by the veining in the marble and tile pattern. Custom rift-cut oak cabinetry also adds warmth with its bespoke stain, making it the perfect partner for the luxe light European oak flooring.
But Aston said the steam shower is her favorite part of the now heavenly bathroom. "I really love the luxurious feel of the shower area with all of the marble," she said. "I like that it is tucked around the corner from the entry and feels more private. I think it would be a lovely place to take a steam!"
See more of Aston's remodel including before-and-after images.