Designing Bathroom Renovations to Enhance Your Life: Lori Gilder Interview - Part 2 of 2
---
Lori Gilder is an award-winning Architectural Interior Designer known for her clean, architectural lines and comfortable California Modern style. She has been a featured guest of multiple HGTV shows and as a contributor to television, print and digital media platforms. Her award-winning firm, Interior Makeovers Inc., specializes in custom solutions for homes and vacation properties throughout the United States, Canada and Mexico.
Part 1 of this interview discussed how to avoid remodel pitfalls. In Part 2 Lori answers some of our questions geared at how your bathroom remodel may enhance your life through thoughtful design choices.
Designing to Enhance Your Life and Prevent Bathroom Renovation Pitfalls: an Interview with Designer Lori Gilder - Part 2
What surfaces do you recommend for the floors and walls? Which should be avoided?
Let's talk flooring first.
It's best to use highly durable, slip-resistant materials that provide traction underfoot. Personally, I love using small-scaled stone mosaics for the bathroom floor, because you have endless design choices, and, as a bonus, the grout lines provide greater friction. But if you do opt to use large format store floor tiles, consider using honed, textured or leathered material to inhibit slippage. Textured and leathered ceramic or porcelain tiles can also work well.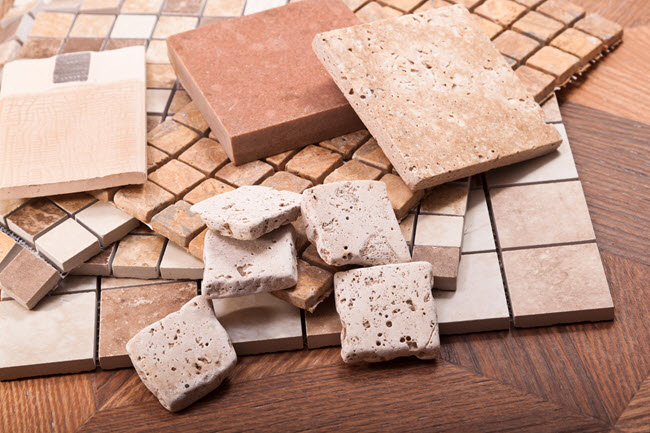 You have endless wall surface options for the shower stall to choose from, everything from ceramics to glass, porcelain to stone. Here, it's all about the overall design aesthetic you want to create.
As far as the other bathroom walls, consider incorporating a combination of materials, from large format stone, glass, or mosaics with my favorite surface material: American Clay. This natural earth plaster is ideal for bathrooms as it helps regulate humidity by absorbing and releasing moisture naturally. The finish of American Clay exudes beauty, texture and warmth, all the while releasing negative ions into the air, ultimately alleviating stress and energizing the spirit, making it an splendid wall surface for the quintessential spa bath.
It's important to avoid the following:
Never – and I mean never – install carpeting in the bathroom.
Avoid highly polished stone or tile on the floor, which becomes slippery when wet.
Hardwood flooring is beautiful when first installed, but the bathroom's moisture and water will cause it to warp and will damage it over time.
What should one do to make sure the bathroom is properly ventilated?
Good ventilation is key, especially if you plan to incorporate a steam shower into your remodeled bathroom.
Make sure to include an exhaust fan close to the shower door, as well as a transom window at the top of the shower to release steam out into the space. Some bathrooms are designed with operable windows that can also help the steam escape.
How do you make certain the lighting is appropriate to all the various ways you use the bathroom?
You perform several different types of tasks in the bathroom, and you need lighting that will properly illuminate all of them. My company always plans for overlapping pools of light, which give you maximum flexibility.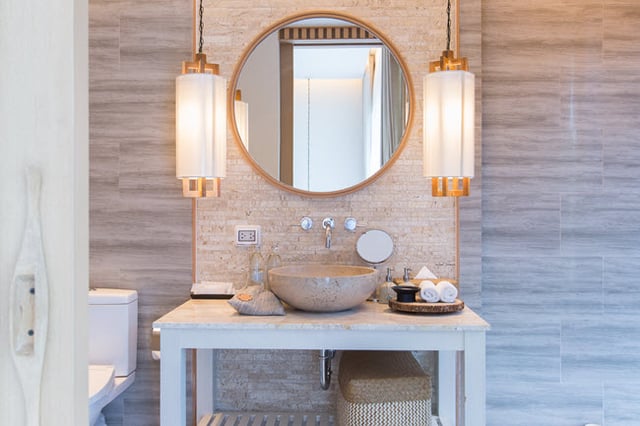 When we talk about lighting, we need to address three basic types: ambient, task, and accent lighting:
Ambient lighting provides you with general illumination. It usually comes in the form of recessed lighting, decorative fixtures, or a chandelier that lights the entire room.
Make sure you add task lighting for such up-close and personal needs as shaving and applying makeup. A pair of scones that flank the mirror are idea, as they will not cast any shadows.
If you want your remodeled bathroom to evoke a certain atmosphere, you might also want to include accent lighting. This creates a mood within the space, highlighting a favorite piece of art or objet within recessed shelving for added drama.
One thing to remember would be that all lighting should be controlled by dimmer switches This allows for flexibility at different times of the day.
What do you need to do to plan for storage in the new bathroom?
Creating ample storage space should happen during the planning phase of the project and be documented in the floor plan. Advance due diligence will save you both time and money in the long run.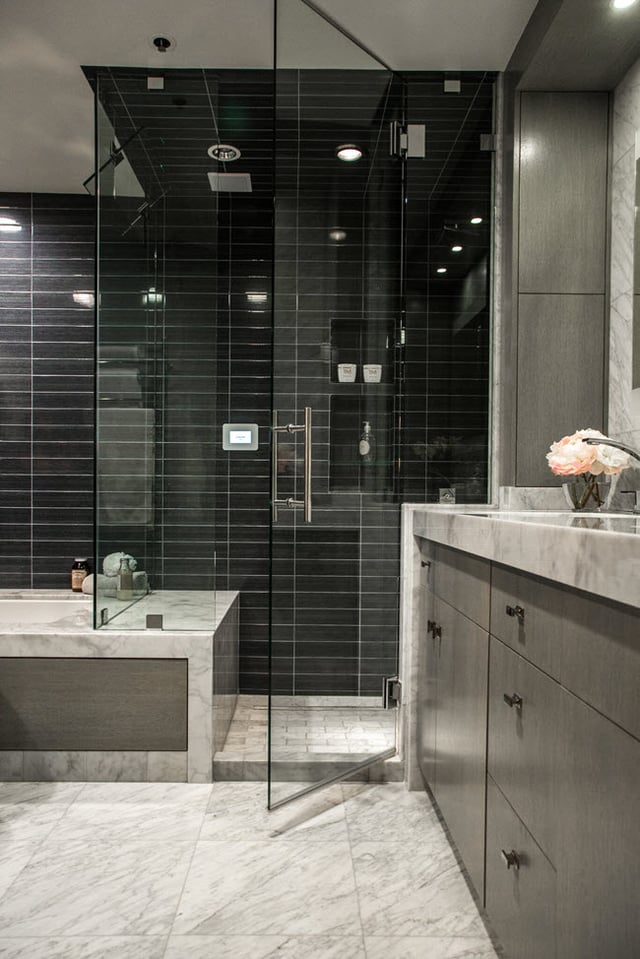 Here are some suggestions on how to create multiple functional storage areas within the bathroom:
Include electrified drawers in your vanity storage
Recessed or surface mounted medicine cabinets are available in a variety of sizes. A long sliding mirrored cabinet or uplift unit provides organized storage compartments within the cabinet.
Consider elongated floor-to-ceiling recessed cabinets if you have sufficient space.
Create an elongated shower niche or two for your bath products.
Storage for linens and towels can built in as a piece of cabinetry, closet, unique piece of furniture, or open shelving. It all depends on your personal aesthetic.
Adding additional storage above the water closet can give you a place to store supplies.
How can you create a "green" bathroom, taking into account such variables as water efficiency?
We love clients who think "green!" Here are some eco-friendly suggestions:
Include water-conserving dual-flush toilets.
If you love to soak in your gorgeous new tub, only fill it half way to conserve water. If you're not a bather, consider eliminating a tub entirely and use that space for a beautiful, spacious steam shower. With all its health benefits it only uses about three gallons of water versus the 30-40 gallons needed to fill your bathtub.
Water-efficient faucets with aerators use less water, yet their flow remains strong and steady because of the air added to the stream.
Install water saving and low-flow shower heads.
How can you try and plan for the future in your renovation?
The idea of aging in place is becoming increasingly popular, so my company incorporates Universal Design Principles in all bathroom renovations, no matter how old or young our clients are. These are sensible design practices that slightly modify traditional design specifications to allow accessibility and flexibility for bathroom users of all ages.
Some of these modifications include: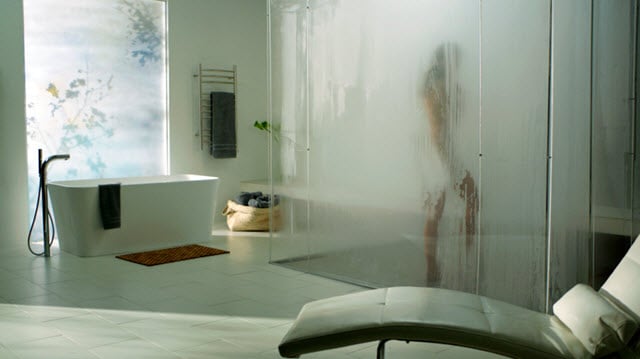 Include a 36" wide bathroom door for wheelchair clearance, rather than typical 32" door.
Preparing walls around the tub, shower and water closet with 1/2" plywood to enable easy installation of grab bars at a later date.
Installing a walk-in or curbless shower, which provides easy access in to the shower with or without a wheelchair or walker.
You can also provide a bench seat and flexible hand-held shower attachment.
Curbless showers are ideal for any age and provide a clean spa-like design aesthetic.
Easy grab-levered handles and faucets make it easy for people of all ages and strengths to operate.
Slip-resistant flooring material prevents those potentially catastrophic falls, no matter how old you might be.
Taller toilets with soft close lids make it easier for people who have difficulty moving to sit down.
Talk about incorporating steam and steamtherapy into your new bathroom.
Imagine having a shower system that plays music and releases relaxing scents and therapeutic colors with the warm, encompassing steam, and then stepping out to a warm, fresh towel from a towel warmer… Sound like heaven?
We have incorporated steam therapy into our renovation projects for many years. Steamtherapy, chromatherapy and aromatherapy can all be integrated into any sized shower, large or small.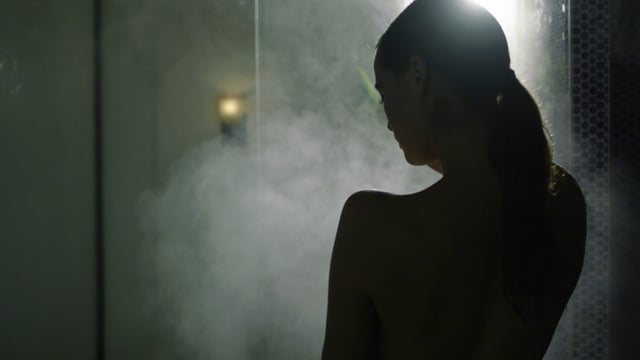 We love helping our clients to a healthy lifestyle that reduces stress, increases circulation, relaxes aches and pains, and improves the complexion, among many other benefits. From clearing respiratory congestion to moisturizing and softening dry skin, MrSteam's state-of -the-art technology and innovation creates a spa-like experience that is second to none.
This is exactly why we've specified and installed many MrSteam products for our clients over the years in both new construction and master bath renovations – and our clients could not be happier!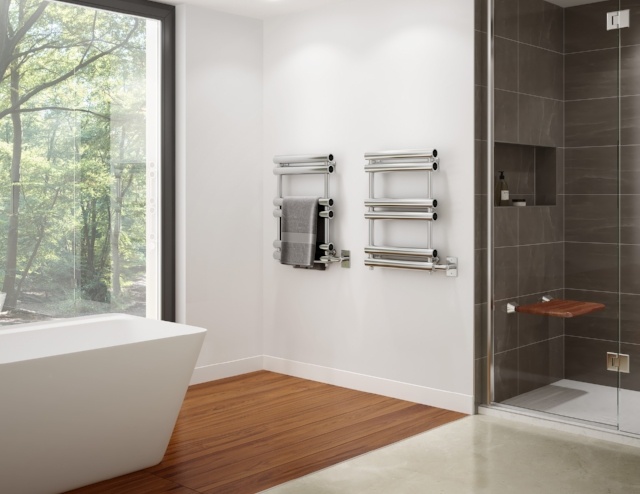 Considering some of these design enhancements will help you make your home spa a functional and beautiful spot – one that is ecologically sound, will grow along with you and your family, and will give you the perfect, private space to rejuvenate and renew!