Dealing With The Unexpected In A Full Home And Steam Shower Remodel
---
This article is the second in a three-part series detailing the full home and steam shower remodel that Mr.Steam Vice President of Marketing Martha Orellana became immersed in when she began a steam room design project for her guest bathroom. It will provide you with a professional perspective on home remodeling: how to incorporate steam and - in this article - how to handle the unexpected...
Expect the Unexpected, Whether in the Kitchen or the Steam Room!
When last we left Martha Orellana's condo remodeling project, in From Steam Room Design To Full Home Remodel, Martha had just completed the planning portion of her remodel, which some consider to be the most fun, and others feel is the most overwhelming. It's that stage where you've looked at 100 shades of tan paint swatches (which one - "Warm Panini Wheat Toast" or "Caramel-Glazed Sand Dune Mist"?), and made all the selections for fixtures, carpets, and counter tops.
Your remodeling project has officially begun… and then it happens. A glitch. A bump in the road.
After the paint swatches and fixture selections had all been made, the first challenge presented itself to Martha in the form of right angles – or the lack thereof. Luckily, she had done her homework when choosing her team for the renovation, so she had some seriously skilled problem solvers on her side, including Interior Designer Lori Gilder and General Contractor Nathan York.
With over 30 years of experience, York is president of Nathan York Construction Inc., and is certainly no novice when it comes to dealing with to construction challenges.
"As a contractor, I'm a problem solver. That's part of my job description," says York, who recalls he knew that the first challenge was going to be Martha's building itself.
"The bones of the building are horrible," says York bluntly. "There's not one plumb or square wall anywhere. The ceiling was an inch out of level in spots." This impacted York's efforts starting in the kitchen.
"We didn't even realize the kitchen ceiling was out of level until the cabinet guys installed the cabinets and soffits. It was supposed to be tight up against the ceiling. And it was…on one side. There was a 1" gap on the other," says York. So, like all the best contractors, he got creative. He installed decorative trim against the top of the soffit that allowed him to float another layer of drywall down in the center of the ceiling to cover the gap. "It actually created a cool effect around the perimeter," reports York.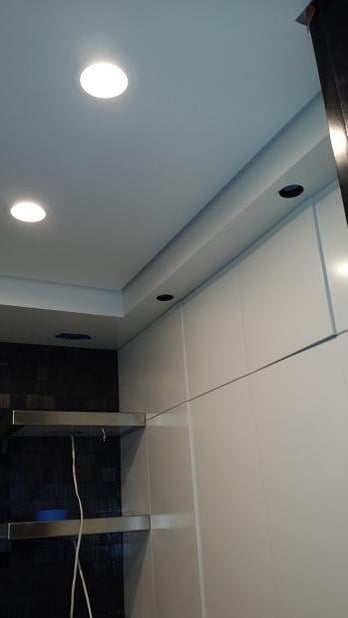 In the bathrooms, that same lack of plumb walls would impact designer Lori Gilder as well.
"If you're using glass tiles or something highly reflective, it's not going to be very forgiving on a wonky wall," says Lori matter-of-factly. York had to shim every single surface to correct the "wonky wall" issue so that the design and construction could continue.
It All Comes Down To the Wire – and Condo Wiring – When You Wish For Two Steam Showers!
Martha's remodeling wish list included two steam showers. But the electrical wiring in her 20-year old building would only allow for one. "The amount of power coming into the condo wasn't enough to handle two steam generators. There was no way to upgrade the electrical panel because the unit is on the 3rd floor of a condo building," says York.
So designer Lori Gilder worked with York and, together, they devised plan B.
"In the master bath, we gave them everything they wanted. Of course, it has all the Mr.Steam bells and whistles including an iSteam 2.0 touch control panel. Plus, upgrades such as ChromaSteam™, AromaSteam™, the AudioWizard Sound System and MusicTherapy™ speakers were added. Not only are you enjoying the benefits of steam, but you're also getting sound, light and aromatherapy at the same time. It's lovely, really," says Lori.
"In the guest bath, we weren't able to do a steam shower, but we still did radiant floor heat, heated towel bars and a sound package. We added the AudioWizard Music System with independent control along with water proof speakers and a Chromatherapy Lighting system. Material selections for the guest bath, and all the beauty that went with it, were uncompromised," says Lori. Martha also installed high-tech smart toilets in both bathrooms
>> See How To Install the Chroma Light Cable and Light Up Your Steam Room
>> See Hear the Benefits of Steam with AudioWizard™
>> See How To Connect the AromaSteam System to Your Steam Shower Generator
A Waterproof Steam Shower Enclosure Delivers Pleasant Surprises!
Material selections inside the walls were also uncompromised.
Martha insisted on using an alternative product for the steam shower enclosure, which introduced York to a new construction technique. Similar to cement backer board commonly used in creating shower enclosures, wedi® board is a waterproof, rigid foam tile substrate and building panel.
Available in a variety of thicknesses and easily cut, the relatively new system eliminates several layers of conventional building materials – and several days of drying in between – to slash construction time in half.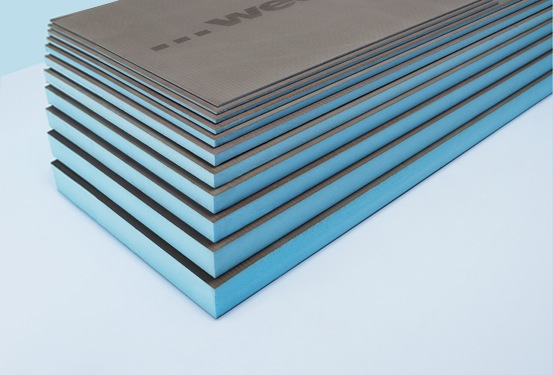 "I was very skeptical going in," says York. "I'd never heard of it, I'm responsible for two floors below her unit if this thing leaks – I didn't want to do it. But Martha said, 'No, it'll be great.' In the end, it went really smoothly, and I would totally do it again," says a convinced York.
As for Martha, ups and downs were hardly a surprise. "You have to expect things to change along the way. Expect the unexpected," she says. Being prepared for these inevitable challenges, plus the creativity and expertise of Martha's team, made for smooth sailing through what could have been very rough waters of bathroom remodeling.
Planning your own bathroom or steam shower remodel? Visit the Virtual Spa to learn just how easy - and surprisingly affordable - it can be to incorporate steam into your plans.