Creating a Personal Spa in Your Home: Leslie Fine's Top Ten Features
---
MrSteam believes that everyone is entitled to a personal spa - that place in your home where you can retreat, recharge and relax. We asked Leslie Fine, president of Leslie Fine Interiors, Inc. in Boston, Massachusetts, to share a list of ten top features to incorporate in a bathroom remodel. The following advice from an award winning, full service residential interior design firm can transform any bath into a true personal spa retreat.
We met Leslie during BlogTour California 2014 and BlogTour NOLA 2013 and admire her hands-on approach to creating functional and beautiful homes for her clients.
Creating a Home Spa - My Top Ten Features
By Leslie Fine
Hectic work schedules and busy home lives seem to be the norm these days. But oftentimes, we forget about what's important: comfort, relaxation and a bit of pampering every now and then. Incorporating some or all of the elements below will transform your bathroom into your own personal spa!
Here's a list of my top ten features:
1) Soaking tub or jetted tub
Treating yourself to a hot, relaxing soak is an amazing way to end your day. What a great way to settle your mind and allow your stress to dissipate. Some people love a deep tissue massage in their tub while others like the calm and serene soak.

>> See

Master Bathroom Design Ideas: Free Standing Tubs and Towel Warmers
2) Steam shower
When you go to a spa, nothing beats heading into the steam room. Why not enjoy a soothing steam shower in your home? Your shower can double as a steam room especially if you add a nice bench so that you can sit and relax. And you can enhance the experience with chroma and aromatherapy features. What could be better than combining sensory elements like sound, light, scent and steam to create a total luxury experience?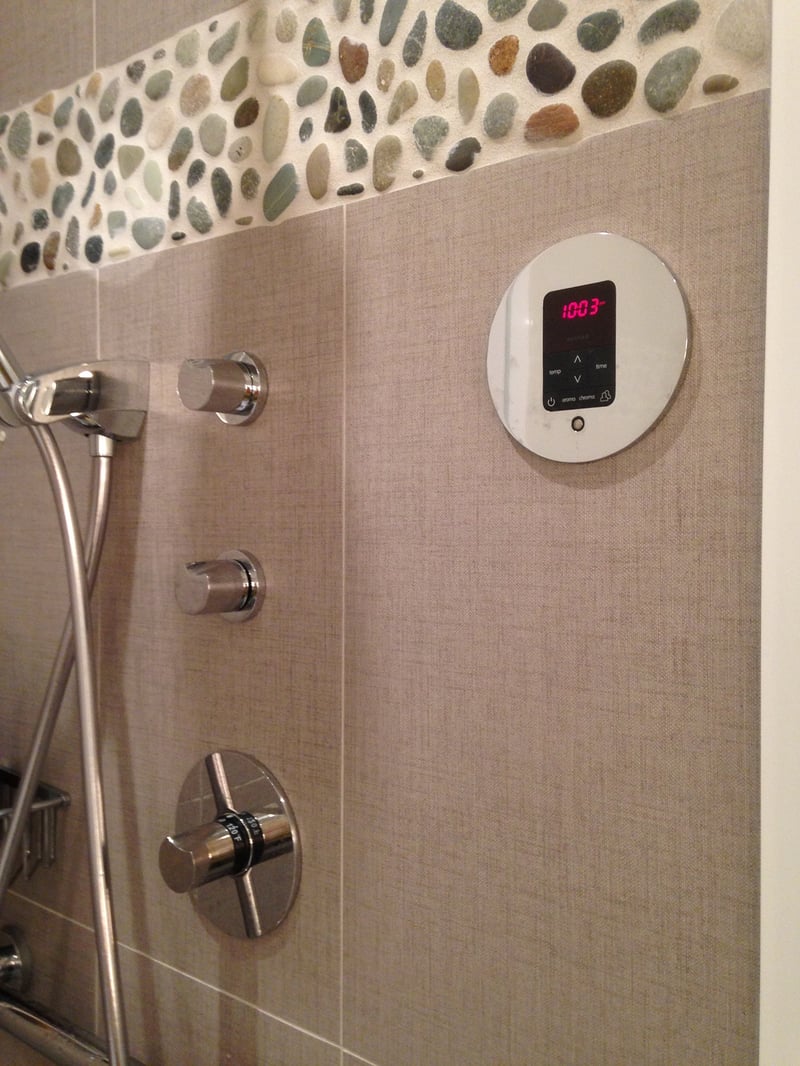 Interior Design by Leslie Fine Interiors - MrSteam
>> See 15 Tips to Consider Before Installing a Home Steam Shower
>> See Create a Dream Steam Shower with Mr.Steam's Updated Virtual Spa
3) Magnified lighted mirror
You can almost always find these in luxury hotel bathrooms, so why not have one in your home? This feature is certainly not limited to women's makeup routines; men love them as well, as they are great to use for daily shaving.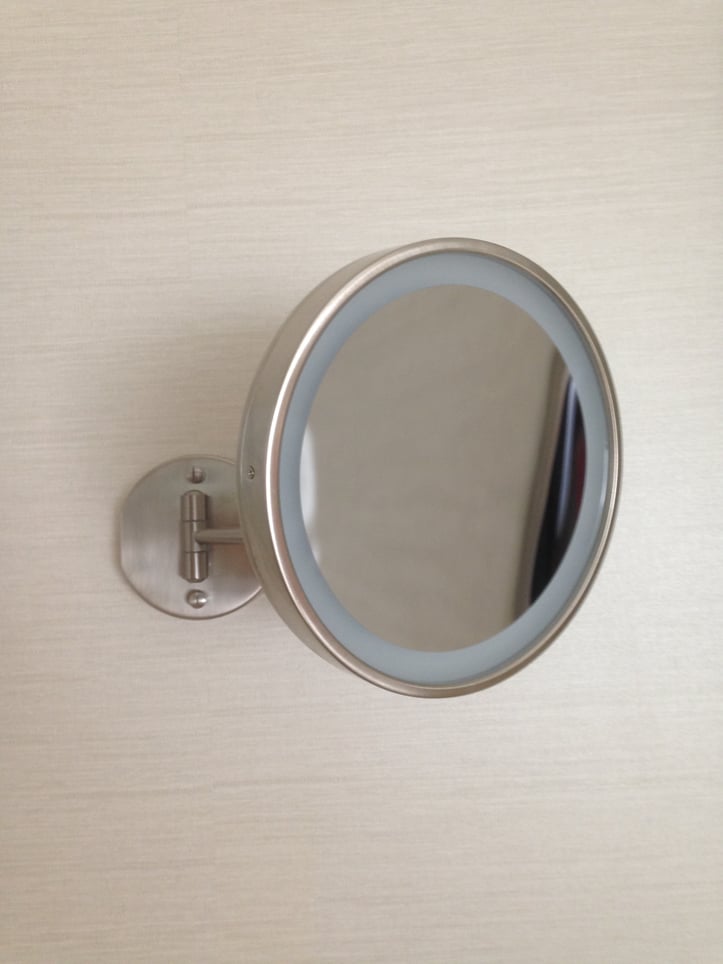 Baci by Remcraft
4) Heated floors in your bathroom
There's nothing like waking up on a cold morning and stepping onto warm tiles in your bathroom. Electric mats are easy to install when putting in new floor tile and can be put on a timer to turn on and off just when you need the extra warmth. Cold floors be gone!
5) Towel warmer
After a relaxing soak or a warm steam shower, the last thing you want to do is face the cold! How wonderful would it be to get out of your shower or bathtub and wrap yourself in a warm towel?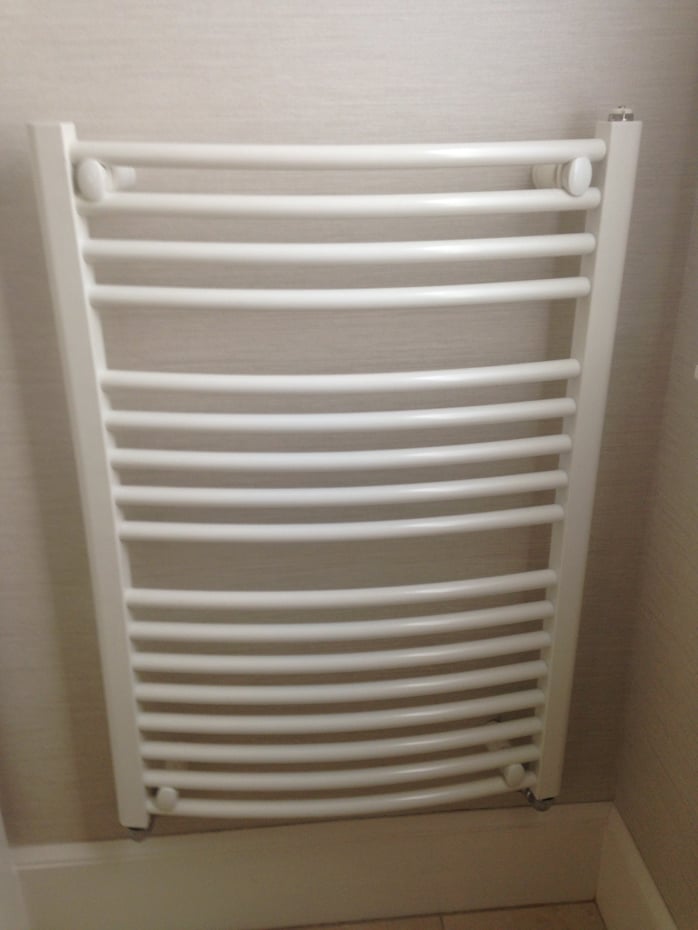 Towel Warmer
>> See Towel Warmers: Wrap Yourself in Luxury
>> See How to Set Up the Digital Timer on Your Towel Warmer
>> See Mr. Steam Answers 15 Towel Warmer Questions
6) Body sprays and rain head
Turn your shower into a spa shower and let the water flow with a combination of body sprays or jets and a rain showerhead. A note of caution: make sure that your home has adequate water pressure and supply lines that are big enough, or you will be disappointed with the results.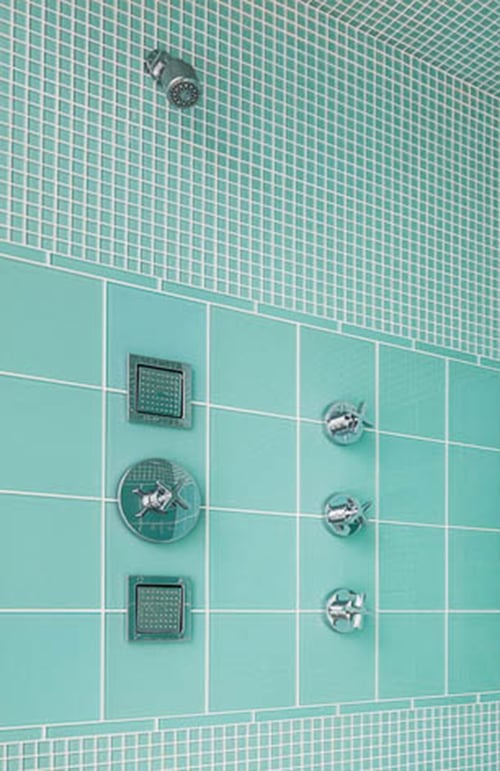 Interior Design by Leslie Fine Interiors - Photo by Greg Pemru
7) Functional storage
A recessed mirrored medicine cabinet can keep your bathroom looking clean and clutter-free. You can store your makeup, toothbrush, face wash and more out of sight in this cleverly hidden space.
For additional space to hold bulkier items, such as towels and jars of cotton balls, open shelving is a wonderful feature to create an organized and comfortable space. In addition to storing your bathroom items, you can also display personal pieces, like framed photos, to add a touch of personality to your bathroom. Furthermore, if space allows, pull out hampers in your bathroom make the trip to the laundry room easy and more organized.
>> See How To Embrace a Healthy Lifestyle For You and Your Home for additional tips.
8) Makeup vanity

If you have adequate space, consider adding a separate makeup vanity in your bathroom. Having the ability to sit and relax while applying makeup is certainly a luxury!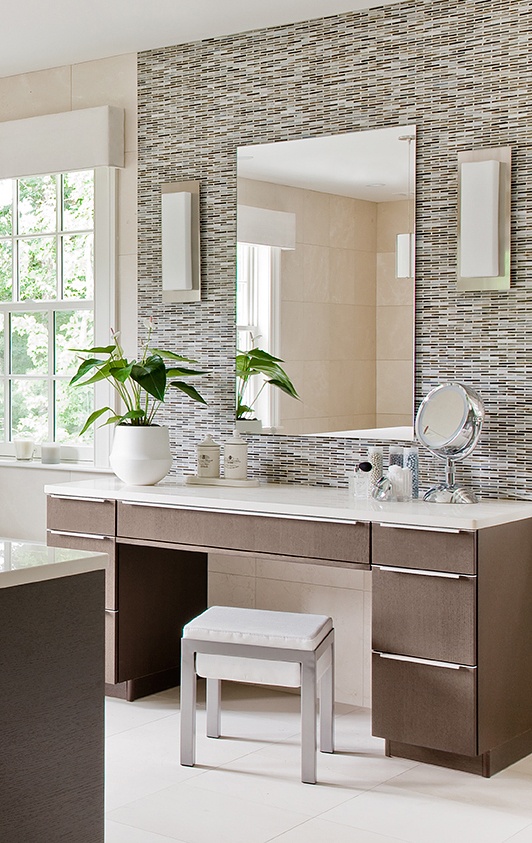 Interior Design by Leslie Fine Interiors - Photo by Michael J. Lee
9) Good lighting
How many of you have been in bathrooms with terrible lighting? No matter how beautiful your bathroom may be or how many luxury amenities it contains, if your lighting isn't top notch, it just won't function properly for you. Consider using side mounted sconces next to your mirror for the best lighting.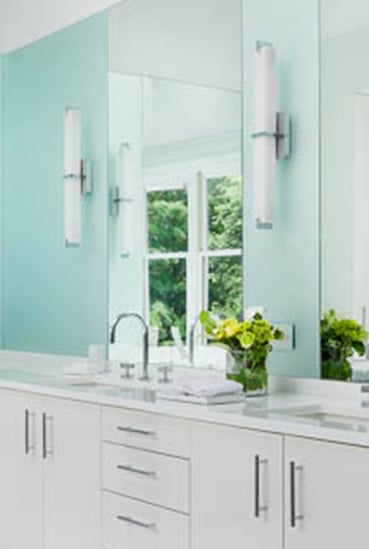 Interior Design by Leslie Fine Interiors - Photo by Greg Pemru
>> See How To Install the Chroma Light Cable and Light Up Your Steam Room for suggestions on how to add lighting to your steam shower experience.
10) Luxury accessories complete your personal spa
No spa is complete without plush towels and bath robes. Switch to high-quality towels and floor mats and premium toiletries. To create your very own high-end home spa, stock up on luxurious body and beauty products. After all, as they say: "You're worth it!"
>> See Bring Hammam Spa Treatment Home with New TALA from Mr.Steam
----
Thank you, Leslie!
Are you ready to create your personal spa? How will you include Leslie Fine's top ten features? Let us know in the comments.