Creating a Fabulous and Safe Bathroom for All Ages
---
Are you renovating or creating a brand new bathroom? It's an exciting prospect. But have you considered how this space can age with you? How you can welcome family and visitors, young and old, and make sure that they, too, can enjoy it safely? That's where safe bathroom design comes in.
Considering safety features is not typically top of mind when we're envisioning and planning our dreamy new home spa. We tend to resist even minor alterations that would make the room safer, for fear that our beautiful bathroom will end up looking institutional.
But we don't have to give up beauty for safety. And if we can envision what our bathroom needs may be in five, ten, or even fifteen years, we'll be able to enjoy our lovely, functional, safe space for years to come as we "age in place" - a subject we'll discuss in greater depth in a future blog post.
"Vistability" Makes the Bathroom Accessible to All
Fortunately, bath and kitchen design professionals are embracing what they call "adaptable design," employing the phrase "vistability:" making your home – and bathroom – welcoming places for all visitors. While you certainly don't want your bathroom to resemble a hospital or nursing home, several remodeling and design trends encompass safety, access, comfort and convenience, all while remaining modern and beautifully designed.
MrSteam is happy to explore some of these new adaptable bathroom design trends, and to help you create a fabulous and ultimately safe bathroom for everyone, from young to old.
7 Adaptable Design Trends for Safe Bathrooms
1. Space to Move
While the bathroom area may be dictated by your home layout, consider utilizing as much space as possible. Having room to move freely not only affords a more spacious feel to the bathroom, it's actually safer. A senior or disabled individual may find it difficult to maneuver in a smaller space in a wheelchair or walker. More space also allows you to contain clutter – something you can expect when you deal with babies, children, teens, and even some adults, too!
Another reason to add more area to the bathroom is to provide sufficient storage space on various levels, so people don't have to reach precariously above their heads or climb stools or counters to retrieve items.
2. Sinks, Cabinets, and Counters
It's smart to install lever faucets from the outset – or to replace your current faucets with a lever design. These eliminate the twisting and turning that is difficult for anyone with mobility issues. With hundreds of stylish lever designs to choose from, you'll find a fashionable as well as functional faucet.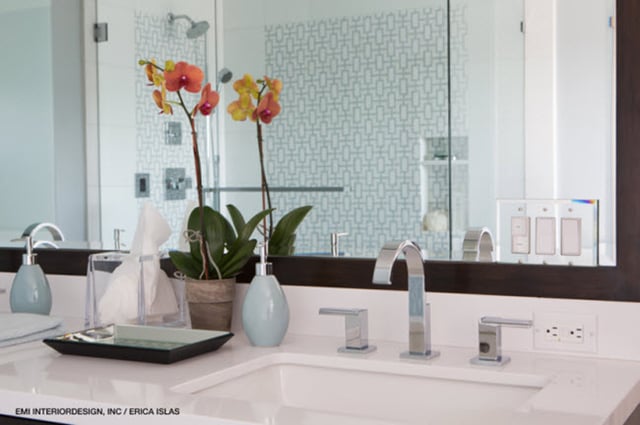 Providing a countertop with a contrasting color edge helps anyone with diminishing eyesight or balance issues. And rounded edges can reduce cuts and bruises in case of falls and look fabulous too.
3. Bathroom Lighting
Your bathroom should be illuminated so it is bright, light, and with no shadowy areas. Natural light from skylights or high windows is a bonus for those days when sunlight shines through.
4. Flooring
Considering how many bathroom falls occur when the floor is wet – as it inevitably becomes – you want to select flooring carefully. Water and slick tile is a bad combination, so choose from anti-slip resistant tile or vinyl. The more textured the tile, the less slippery it becomes. The ceramic industry, working to make homes safer, has implemented a slip-resistance test to measure their products. Tell your designer that you're looking for a dynamic coefficient of friction of 0.42 or higher. The higher the number, the less likely you are to slip. Smaller tiles embedded in grout are also a good slip deterrent.
Throw rugs or towel mats on the floor are a distinct no-no. A towel rug is particularly unsafe as it can slide out from underfoot. Naturally, we want the comfort of stepping onto a cozy rug outside the shower rather than directly onto a tiled surface – and this is true near the toilet and sink as well. So search out non-slip rugs or visit your local home improvement store to purchase anti-slip tape to adhere to the bottom on your rugs.
5. Showers and Baths
There are several factors to consider when creating a stellar bathing experience while still keeping safety in mind.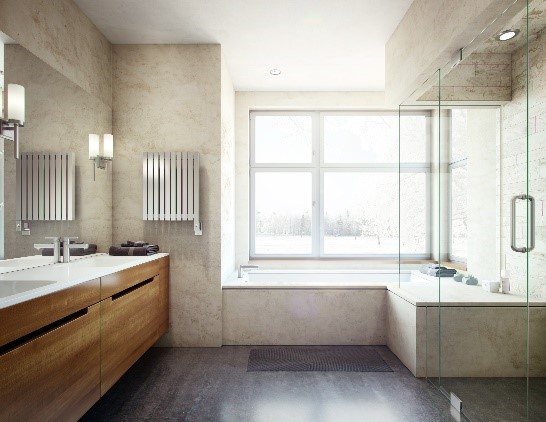 Non-slip surfaces
Non-slip flooring is critical for a safe bathroom, since bathtubs or showers are where most accidents occur. Most manufacturers today incorporate slip-resistant surfaces into both baths and tubs.
Sprayer Attachment
Having a sprayer attachment for your shower head, which you can detach and hold, helps on either side of the age spectrum. It's easier to shower young children, and helps seniors who can't stand for long periods. Consider an adjustable shower head, which moves to suit the height and position for each individual bather. Using both sprayer and shower head in conjunction with a shower seat can provide both comfort and safety.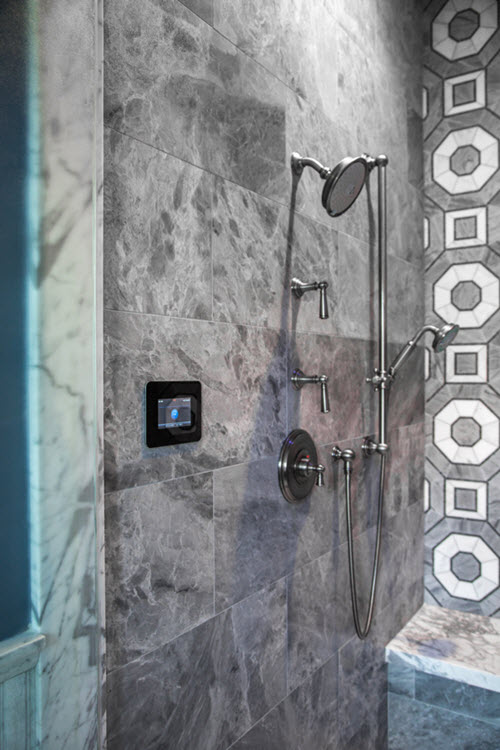 Shower Seat
Adding a shower seat can help anyone who finds it difficult to stand, especially when used with a sprayer attachment. Not only does this help the seniors in your life, but shower seats are great additions for anyone who wants to relax in the shower – and particularly useful if someone has an injury that forces them to sit down to bathe. There are many types to choose from, including shower stools, shower chairs, and retractable, fold-up seats, as well as built-in seats. If you opt for a stool or chair, make sure they have rubber tips on the legs to prevent them from tipping.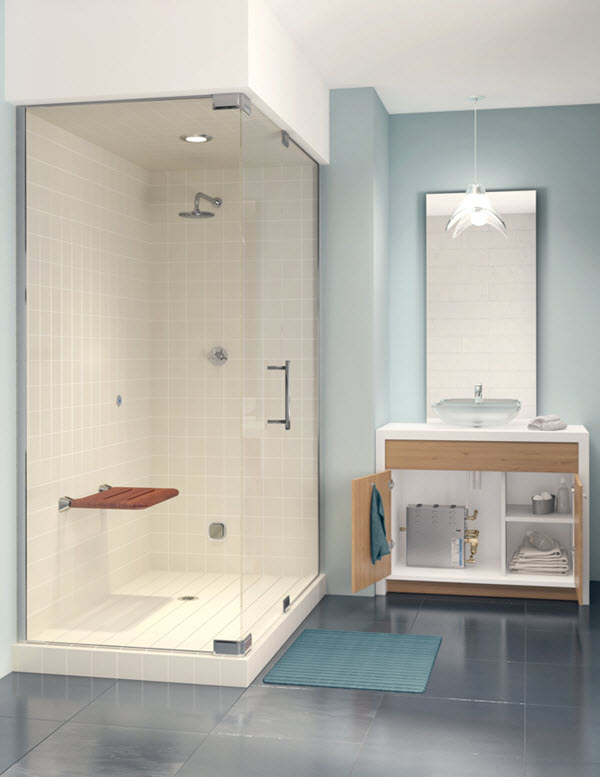 If you're thinking clean design, there's no beating a retractable or built-in seat. MrSteam has a wonderful wall seat that fits into any shower scheme. This high-polished chrome bracketed, furniture-grade teak shower seat folds up when not in use, and can hold up to 250 pounds.
In-shower Lighting
Ever found an unlit shower too dim? Good shower lighting is important for everyone's comfort, not just for people with diminishing eyesight.
MrSteam can help here too, with our recessed shower light. Mounted within the ceiling to suit any design, and engineered to be water resistant for both showers and steambathing, this energy efficient light is also less expensive to operate.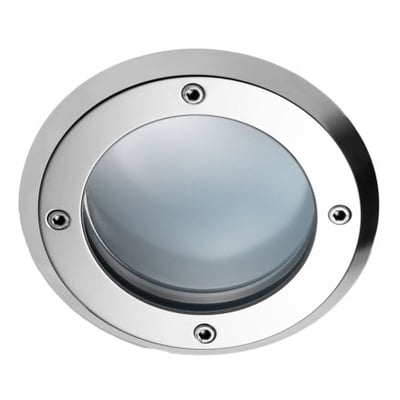 MrSteam also offers the ChromaSteam lighting system, a wonderful addition for mood lighting when showering or steam bathing. It is important to note, however, that this system should not be used for overall shower illumination.
Low or No-Threshold Shower Stalls
One of the latest fashion trends in bathrooms is the low- or no-threshold shower stall – otherwise known as a curbless shower. This is greatly appreciated by people who find it difficult to step over the threshold typical in older showers. Engineered so that the stall is water tight without the threshold, these showers are among the most elegant of choices available today, besides being mobility-friendly.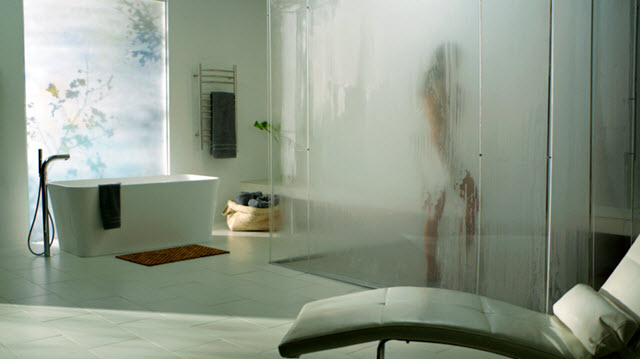 Walk-in Bathtubs
This is a new twist on the older tubs – the ability to open a door and enter the bathtub without having to step over an often daunting high edge. These tubs generally come with a built-in seat and adjustable spray attachments, making them highly accessible.
Other Shower/Bath Considerations
For overall bathing safety, you may also want to think about these design considerations:
Place the tub and shower water controls close to the entry-point or even outside, so they can be reached before entering the water.
Place shelving in the tub/shower area for soap, shampoo and towels that can be reached from all levels.
Make sure you can control the water pressure (a good idea for the sink as well) and install anti-scald controls.
6. Grab Bars
Because nothing says "hospital" or "nursing home" more than grab bars, these are probably the most controversial of all subjects when it comes to creating a truly accessible bathroom. Placing these at the entrance to the shower or tub, inside the shower or tub, and near the toilet, significantly helps individuals with mobility issues. It is, however, possible to find designs that aren't institutional in look and feel. Some grab bars match towel racks and other fixtures. Others even function as shelves and toilet paper holders.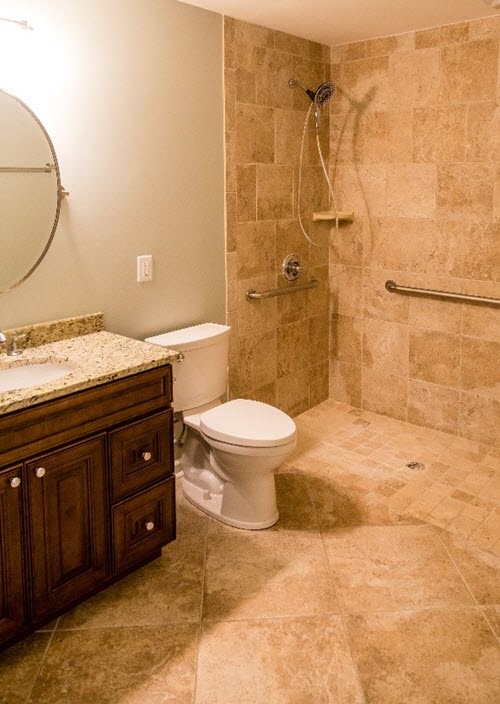 Not willing to add grab bars to your bathroom design – at least, not now? You might still install bracing in walls around the tub, shower, shower seat and toilet. This will prepare the walls to support grab bars if and when you decide to add them, avoiding additional remodeling later.
7. Cleanliness is Key
A buildup of soap scum and mildew can add a slick coating to an already slippery surface. In your safe bathroom design, consider surfaces that are easy to clean. Scrubbing grout lines is a chore, so chose solid surfaces or larger tiles for your walls.
A steamy shower feels wonderful, but the moisture left behind can create health problems for people with respiratory complaints. This is one reason, especially if your shower stall doubles as a steam shower, you should install AutoFlush®, MrSteam's automatic self-cleaning system that promotes a long, healthy life for steam generators. AutoFlush ushers in fresh water at the start of every steam shower, assuring clean steam every time. You also want to run your vent fan for 15-20 minutes after a shower or bath, to rid the room of moisture and the resulting mold build up.
The Safe Bathroom of Your Dreams
It's no secret that the bathroom is one of the most dangerous places in the house. Up to 80% of in-home falls occur there. The Centers for Disease Control and Prevention report that yearly about 235,000 people 15 years and older visit emergency rooms for bathroom-related injuries, with nearly 14% needing hospitalization. More than a third of these injuries occur while bathing or showering. Younger children are also at risk. A study conducted by the Center for Injury Research and Policy at Nationwide Children's Hospital in Columbus, Ohio, found that more than 43,000 children younger than 18 are treated annually in emergency rooms after a bathroom accident.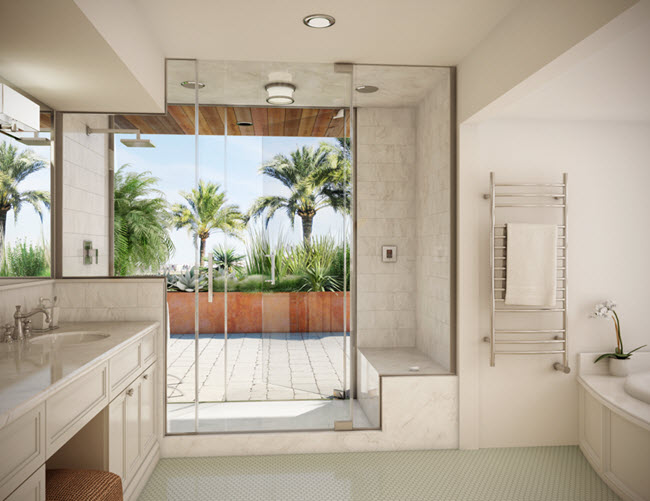 But nothing says you can't have the bathroom of your dreams while still keeping everyone in your family and any visiting friends safe and secure. By knowing what the newest trends are in bathroom design – and realizing that manufacturers are designing with safety in mind – you can create a lovely bathroom that prevents accidents before they happen.