Create Your Own World of Wellness With iSteam®3
---
What would it take for you to relax today? What if everything you needed to achieve a few moments of personal Zen — the whole of your environment and every element of ambience in it — could be changed to your liking by nothing more than the swipe of a finger. Sound like a dream?
Well, then pinch yourself and keep reading…it's all quite real.
It's called iSteam®3. And it puts everything that touches your senses, and your psyche, within your absolute control.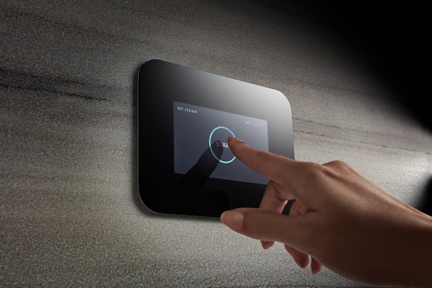 iSteam3 LOOKS impressive…because it is
Featuring the flat-panel elegance and touch-screen simplicity you've come to expect from iSteam controls by MrSteam, iSteam3 is the third generation of our most technologically advanced control.
With advanced functions and enhanced graphics, iSteam3 hands you the keys to the steam bathing kingdom, so to speak. From the moment that inviting "on" arrow beckons you to enter the world of steam, you're just a touch away from personalizing every aspect of the space you're about to inhabit.
Temperature, time, aroma infusion, chroma lighting, and music — iSteam3 puts you in charge of it all. Experiment with different combinations, or decide exactly what your mind and body needs to heal, and go there…
Tune in as you focus on your favorite talk show or podcast…or tune the rest of the world out as you listen to the radio or your own playlist. iSteam3 displays the track and album name on screen.
Touch the color wheel on the iSteam3 to enhance your shower through the ChromaSteam®3 mood lighting system. Want to wake up? Try yellow. Need to wind down? Select the tranquility of blue.
>> See Fight the Blues with the Color Blue, and Steam of Course
Transport your mind to the relaxing beauty of lavender fields, or to the solitary calm of pine forests, as you infuse your space with memory-invoking scents using the aroma control on the iSteam3. Choose from a wide selection of aromatic essential oils available through the AromaSteam system.
Enjoy the ultimate intuitive interface, allowing you to easily select the most comfortable temperature, and the optimal length of your steam bathing session.
By the time your selections are made, you'll be relaxing in a world of your own creation, enveloped by the billowing comfort of steam, enjoying a full sensory experience that forms the foundation of a complete wellness program.
Easy does it…stress-free features
You can hardly create your own happy place if the act of creating it is hard work. That's why iSteam3 makes it easier than you'd dare imagine, with features that ease your mind just reading about them…
iSteam3 installs easily. So easily, in fact, that even if the control is unintentionally installed upside down, a special "flip" function allows the interface to rotate 180 degrees into the right direction. (Go ahead and roll your eyes…you can thank us later.)
Real-time clock means iSteam3 will keep the time, even if the power is out.
iSteam3 speaks your language — literally. English, German, French, Spanish, Italian or Russian. Just take your pick on the settings screen.
Up to eight family members can program their own tailored settings with quick and simple touch screen navigation commands so they can effortlessly order up the same personal nirvana time after time.
iSteam3 has got the details covered so you can focus on the "mixology" of creating wellness. Available in black or white finishes, you can even set your screen to black or white display options, so that each adjustable ingredient of your personalized steam routine appear in your preferred color scheme.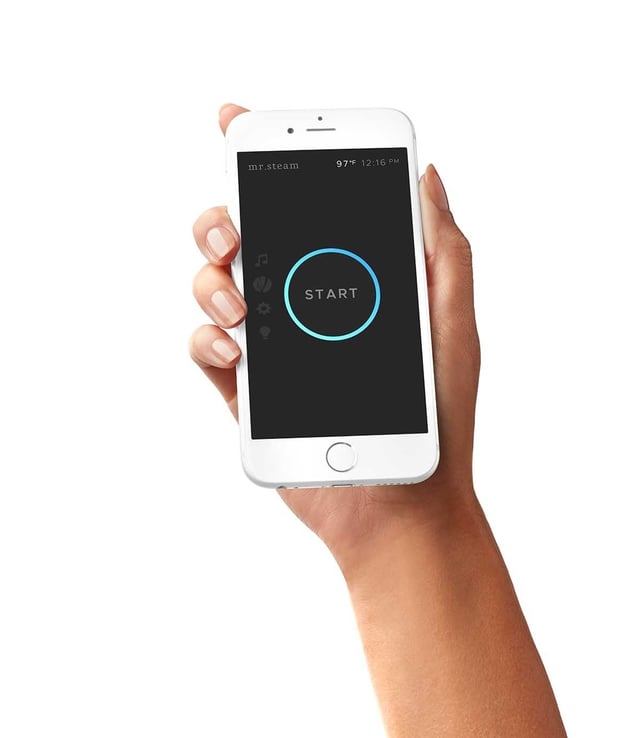 Steam…from your smartphone
We've raised the bar on home steam bathing to offer you the latest in steam room technology, allowing you to quickly and easily program your steam session from anywhere within your home WiFi range so that by the time you enter your bathroom, bliss awaits.
Our SteamLinx Mobile App and Module (available for IOS and Android devices) turns any smartphone or mobile device into your steam command center:
Access the convenient AutoStart feature to start your steam shower according to a pre-set time, or on-demand. And of course it's all passcode protected so that no one but you have access to your settings. (The exclusive three-tier safety system provides pass code security, a temperature-limit safeguard and a time-out protection function).
Multitask in ways you never imagined. Set up your complete steam shower experience as you wait for the workday to end, or choose your aroma and chroma by the time you finish dinner.
Download the app on iTunes or the Google Play Store and adjust your time and temperature from anywhere within your home's WiFi range.
SteamLinx works with all current MrSteam controls including iSteam3, AirTempo, iTempo Plus and iTempo.
No matter the stress of the day, when you know that the personalized pocket of comfort you've created is waiting to wrap you in warmth, your world feels easier, somehow lighter.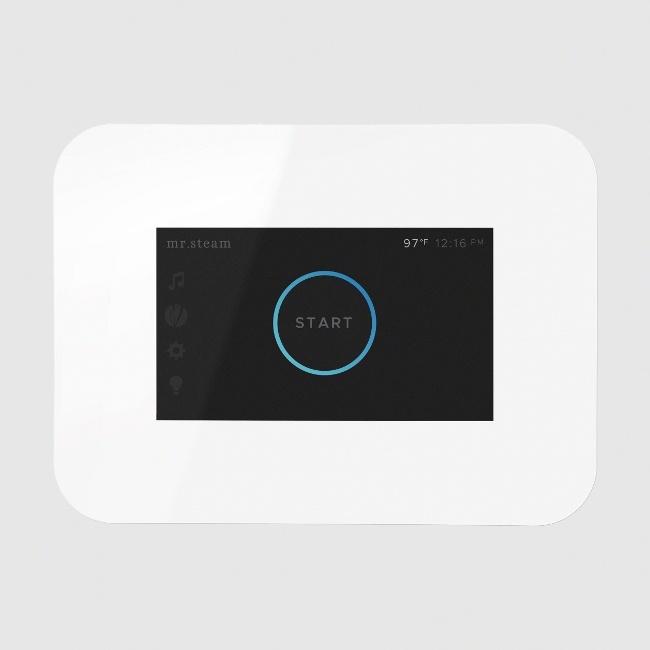 Choose wellness…your own personalized wellness
>> See Top 10 Steam Bath Benefits You May Not Have Considered
The iSteam3 control allows you to take control of your wellness routine, adding the ultimate in swipe-touch control to the creation of your own customized experiences to heal your body and soothe your mind.
Impersonal steam shower settings found at hotels or gyms are tailored to the needs of large groups. iSteam3 allows you to tailor a steam session for no one else but you. Whether it's stress relief, improved breathing, or more radiant skin, you are a swipe away from feeling better.
All the ingredients are right at your fingertips, waiting for you to effortlessly blend and fine-tune each one into your own version of perfect. Thanks to the iSteam3 controller, you are now in charge of your own wellness.
Go ahead. Create your own world of wellness with iSteam3.