Case Study: Arianne Bellizaire Interiors
---
A "Before" and "After" Interview with Arianne Bellizaire
Earlier this year, we interviewed Arianne Bellizaire, an interior designer based in Louisiana, for a case study on how she used her own family to showcase the benefits of adding steam to a bathroom and help convince her reluctant clients to do so as well. Recently, we followed up with additional questions to see how successful this approach was. (Answer: very.)
We wanted to bring both parts of our interview together as a kind of "before" and "after" snapshot of this unique approach.
But first, a little bit about Arianne Bellizaire Interiors. This boutique design firm specializes in single-family residential projects. As will become evident in our "before" interview, the company uses attendance at industry events along with leading manufacturers such as MrSteam to keep their finger on the pulse of what's happening in the design world.
They combine their industry knowledge with spending time with their clients to understand what is important to them. The final designs balance form and function, look beautiful, and serve their clients' needs perfectly.
Here's part of the original interview, from early in 2019:
What prompted you to include Steam in your own design? Were there particular lifestyle, health and wellness, or other types of changes that you were hoping to achieve?
I had the pleasure of learning about the benefits of steam during my visit to KBIS in 2016. I had no idea before then that this one element could bring so much value to not only the shower experience but to the home as well. However, I found that "selling" the idea of steam was a bit harder to do with my clients. Most thought it was an extravagance that they either couldn't afford or that it was unnecessary for their family's needs.
Fast forward to KBIS 2018 where I found myself at another MrSteam presentation. I was reminded of the benefits but also learned more about the ease of incorporating the element in existing shower spaces. I left that event determined to use steam in projects that year. The opportunity to really showcase this product was perfectly realized in the show house project our firm took on.
Tell us more about your typical client and how MrSteam fits their needs.
My typical client is an upper-middle class family where one or both parents are high ranking professionals with one-three children in the home. Many of the homes we've worked on have been renovations where clients already have an outdated steam system or where they were removing it all together. My family project was the first one where our firm was able to design a bathroom around MrSteam products.
What was in the design brief that made MrSteam products a natural fit?
As said before, my family was the client for this project. Although our firm will use this house as an "experiential showroom" for our clients, we designed the home around the way my family lives. This "real life client" approach made the project much more authentic than designing it as a "model home."
My team and I spent time interviewing my husband, the shower lover of my family, to understand what his ideal shower experience would be. We also considered the potential health benefits steam would provide to me and my son who both experience seasonal sinus issues and to my daughter who suffers from asthma. We realized that installing steam in this sizable shower would bring tons of value to not only our living experience but also to the resale value of the home.
What were some of the aesthetic design choices that went into creating this bath?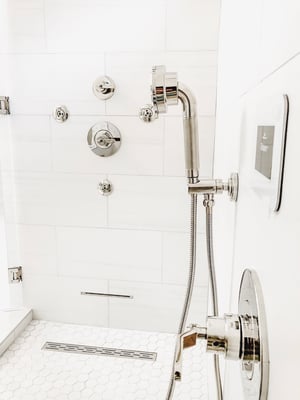 We wanted the master bathroom to feel like something you would experience at a luxury spa retreat or in the penthouse of a swanky hotel. We kept the color palette light and bright so that the polished nickel fixtures would really sparkle, and we enclosed the shower area in glass so that the space still felt open while providing the proper containment for a great steam experience.
Which products did you select from MrSteam and why?
On the recommendation of MrSteam's VP of Sales, Dan Reinert, based on the type of shower experience we were looking for, and after consulting the helpful MrSteam VirtualSpa planning tool on the website, we chose the iDream package in white.
What was your reaction to the finished project?
To say we are pleased with how this project turned out would be an understatement! It is a stunning transformation. Not only is this master bathroom beautiful to look at, but it also features a world-class shower experience!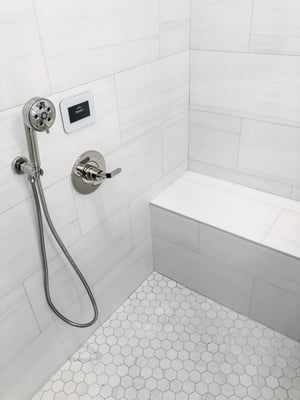 Several months have passed and we at MrSteam decided it was time for a follow-up interview. Here are Arianne's responses to our latest set of questions:
What was important to each member of your family when it came to the benefits of steam, and the design of the room?
My husband is the primary user of the steam shower, so he really wanted the relaxation and detoxing benefits of a daily steam. I've used the steam feature several times, and I love how it helps me unwind after a long day. Both of our children have used it to get relief from allergies and migraines.
What lessons has your team learned as they've incorporated more steam into designs?
Exactly how easy and relatively inexpensive it is to add this luxurious element to a bathroom project. MrSteam takes the guesswork out of it. All we have to do in order to communicate installation guidelines to our trade professionals is simply point them to the resources available on the MrSteam's website.
Have you been successful in helping your clients learn the benefits of steam through this model steam bath?
Yes! With this personal knowledge of using steam in our own family, we can talk to our clients not only about the health benefits but also about the enhanced experience they'll enjoy by adding this component to their shower designs. This clearly encourages them and even inspires them!
What is the primary reason that you see clients incorporate a steam shower?
We see the clients really latching on to the idea that the steam component is a touch of luxury right in their homes. Yes, they love the potential health benefits and the added value to their home from a resale perspective, but we drill them into recognizing that they should love the home they are in right now. And what better way to do that than to have something they would experience at a 5-star spa resort right in the comfort of their home?
Do you have other clients who have installed steam showers with a specific wellness benefit in mind?
We are working on a master bedroom and bathroom renovation that should finish up next spring and one of the components in the bathroom will be a MrSteam steam shower.
What standout features were included in the design?
The client loves the all-in iDream Package that features aromatherapy, chromatherapy and sound!
What tips do you have for homeowners or designers thinking about a steam shower?
Start the conversation about steam as early in the design process as possible. Get all the relevant professionals – such as electricians and plumbers – on board (especially in a renovation) to establish a solid plan for how components will be installed and where apparatus will be housed.
What tips do you have for avoiding pitfalls during renovations?
The best way to avoid pitfalls is for the designer and client to be clear on what an ideal bathing, showering and steaming experience looks and feels like. Then all that information should be properly communicated to construction professions, who should access all the amazing resources on MrSteam's website for practical application and installation guides.
What advice would you give for homeowners who feel overwhelmed at the idea of taking on this type of project?
Bring in an experienced design team to help you navigate all the details and help you develop a plan for success!

Thanks, Arianne for sharing your "before" and "after" interviews with the MrSteam audience. We know your clients' future bathroom remodels will include many steam installations!