iSteam: 2013 KBCulture Award winner
---

Wonderful steamy news to share with you! We've just learned that Mr. Steam's iSteam is a 2013 KBCulture Award Winner according to 2013 KBCULTURE Awards!
Wow!
The KBCulture Award, now in its fourth year, is awarded to kitchen and bath products which have "passed muster of expert judges who evaluated entries for technological innovation and aesthetic design," according to 2010 KBCulture Awards. Although not all products are available yet in showrooms, "by the competition's eligibility stipulations, all will be available by year's end."
Leslie Clagett, Editor of KBCulture, judged the 2013 entries with Janice Costa, the editor of Kitchen & Bath Design News, the industry's top trade journal. She states "after reviewing this year's competition entries, I'd say it's been time well spent on the part of manufacturers. What was once new has become the norm in several areas of kitchen and bath products; look at induction cooking, hands-free faucets, low-flush toilets, and wifi controls for proof that change not only happens, but takes root, as well."
Leslie, by the way, is a passionate observer of the international kitchen and bath industries and author of The New City Home, among other books. Her editing responsibilities extend to publications ranging from Arts + Architecture to Kitchens & Baths. You won't meet anyone with as much respect for quality design and the people who labor in its pursuit.
The 2013 KBCulture Awards include the following categories:
Kitchen Cabinets

Cooking

Refrigerators

Dishwashers

Laundry

Ventilation

Kitchen Faucets

Sinks

Bath Cabinets

Bathing Vessels

Toilets

Bathroom Fitting

Outdoor Appliances

Surfacing

Tile

Storage

Lighting

Hardware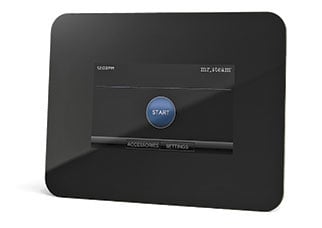 Mr. Steam's iSteam was selected a 2013 KBCulture Award winner in the Bathroom Fitting category, along with Starck Organic by Axor.
The Moxie Showerhead by Kohler received Honorable Mention.
Here is the 2013 KBCulture Award
A swipe and a tap on the screen of this sleek, moisture-proof control pad is all that's needed to select the settings for a customized steam shower experience. The 4.3-inch liquid crystal display screen is a mere 1/8-inch thick, sitting nearly flush with the wall when installed.
Available in black or white, the unit was designed by David Farrage, whose experience with Movado and Lamborghini is evident in iSteam's contemporary styling.
Thank you, Leslie, for the honor of being selected a KBCulture Award Winner for 2013!
Additional information about the KBCulture Award:
2013 KBCULTURE Awards
Now in its fourth year, the annual KBCULTURE Awards recognize excellence in design and technological innovation in all product categories relevant to kitchen and bath design. The program is sponsored by KBCULTURE.com, a selective review of the products, places, and people that drive the international kitchen and bath industries. It is the only juried evaluation of kitchen and bath products online.
This year, close to 500 products were submitted in 18 categories, from major appliances and cabinets, to fixtures and fittings, to surfacing and lighting. Winners are featured on a dedicated page of the KBCULTURE website.

About the KBCulture Judges:
Leslie Clagett, the founder of KBCULTURE, is a longstanding observer and influencer of the kitchen and bath field. As the editor-in-chief of Kitchens & Baths magazine she published hundreds of inspiring projects, and created the KB Awards, a juried product contest which attracted thousands of entries over the years.
Janice Costa is the editor of Kitchen & Bath Design News, a trade publication that is the industry's leading business, design, and products resource. She has shared her professional market insights with USA Today, CNN, HGTV.com, and many other media outlets.
For further information: Leslie Clagett, lclagett@gmail.com