Why Bother with Steam Shower AutoFlush Technology?
---

You're ready to make that dream home steam shower reality and someone mentions "autoflush technology". Or rather two someones mention it. One says it's a must and the other not.
Who do you believe? Should you bother with autoflush for your steam shower?
Mr. Steam says yes, definitely bother with steam shower AutoFlush!
Here's why.
First, here's what Mr. Steam's AutoFlush Technology is all about:
Mr.Steam's AutoFlush technology automatically and electronically introduces fresh water before use and then drains generator tank following use. Improves performance, and lengthens system life. Simple plug-and-play connection, quiet operation. cULus Listed.
What AutoFlush technology enables is:
A self cleaning system with no hand activation
A simple plug and play solution which provides clean steam with every shower.
The AutoFlush technology means that 2 hours after avery steam shower, you can count on the AutoFlush technology activating automatically. It will quietly flush impurities out of the system and empty water from the steam shower tank so your next steam shower starts with fresh water.
AutoFlush technology improves both performance and the life of the steam shower generator. It provides a maintenance free steam shower draining system.
Enough said. It's time to hear from others.
Here's what we found on the on this very subject.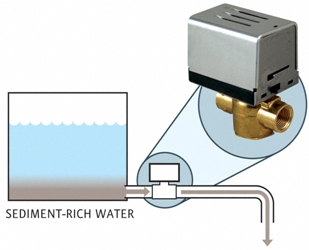 Steam Sauna Bath Specialist Earl says:
"...the need for an auto drain is somewhere between necessary and a good idea. There is no down side. Your steam generator produces distilled water in the form of steam.
Consequently, the mineral and lime deposits present in the water remain in the tank and will eventually degrade the function of the unit. All Mr. Steam generators come with a manual drain valve so you can flush the unit at will to remove these deposits.

My opinion is that if your generator is located in a remote or hard to reach area or you are simply interested in a maintenance-free steam system, the AutoFlush, available on all Mr. Steam units, is a must-have item which will insure many years of trouble free operation."
Watch this 1:17 minute video of Mr.Steam Autoflush for additional perspective:
AutoFlush Technology, then, means easier and better maintenance for your Mr. Steam generator. It also means that you spend less time cleaning the sytem and more time enjoying what it offers you: steam therapy and relaxation.
Reactions? Questions? What additional benefits have you experienced with AutoFlush? Let us know. We'd love to hear.