Morrison Supply Company Discusses Men and Steam Showers
---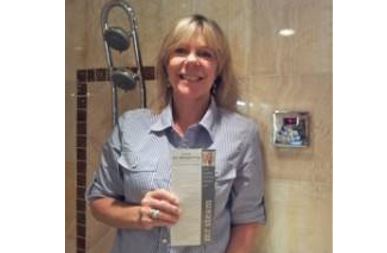 Beth Bryan Maley, sales consultant at Morrison Supply Company in Houston, sees more and more men asking for steam showers when remodeling a master bath, or when building a new home.
Maley, who has been in the plumbing business for more than 14 years, finds her main customers for home steam spas today are men, 30 to 50 or older, who regularly go to the gym and have experienced the benefits of steam there.
"Health is the main reason they want steam," she says. Steam showers can reinvigorate tired muscles, increase muscular flexibility, decrease joint rigidity, and even relieve the pain and discomfort of arthritis. Whether weekend warriors or Olympic wannabes, they are finding that steam is the perfect antidote for all of the aches and pains that can accompany an active lifestyle.
Home steam showers have really taken off in the past year and a half, she says. In fact steam is becoming so popular in Houston that in one of the nicer neighborhoods, a builder includes one in all of his master showers.
When customers ask Maley about locating the steam shower generator, she tells them it can go into a vanity, closet, basement or heated attic. She regularly uses the Mr. Steam sizing tool to determine the correct steam generator size, which takes into account the shower enclosure material.
"I put that right on the quote, natural stone, ceramic tile or porcelain," she says, "and I tell them if they change their mind to let me know so that we don't order the wrong size generator." She prints out all of the specifications from the Mr. Steam website
Maley also advises clients that the highest recommended ceiling height for a steam shower is eight feet, and that it should be sloped one or two degrees away from the user so condensing water doesn't drip on them.
Men, she says, generally prefer a minimal look and often select the Mr. Steam eTempo/Plus controls
So move over recliner….the newest must-have for that man cave could be a steam spa.
Morrison Supply Company was founded in 1917 and is the leading wholesale distributor of plumbing, HVAC, and builder products in the Southwest. It operates approximately 80 locations in in Texas, New Mexico, Oklahoma, Kansas, and Louisiana and has more than thirty showrooms where homeowners, builders, and designers can personally select from a vast array of fine plumbing products, appliances, decorative hardware, and bath accessories. If you live in these areas, we invite you to visit Morrison Supply Company.
If you're in Houston, definitely ask to speak with Beth Bryan Maley. She knows a thing or two about men and steam showers!