Welcome to the Mr. Steam SteamTherapy Blog!
---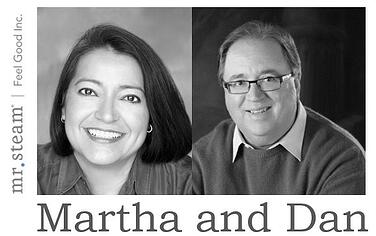 Join Mr. Steam's community of friends as we blog about living the SteamTherapy wellness lifestyle, with tips, insights, humor, and of course, plenty of warmth.
The Mr. Steam SteamTherapy Blog is also where we share stories about the products we make, the people who showcase them and how both aspects contribute to the SteamTherapy wellness lifestyle.
You see, Mr. Steam has been a premier source of upscale, and high quality steam products including towel warmers, shower speakers, shower seats, aromasteam and chromasteam™ systems for over 50 years thanks to our relationships with architects, builders, remodelers, and consumers. (Learn more about Mr. Steam.)
The Mr. Steam SteamTherapy Blog is for you if:
You're seeking inspiration for a bathroom remodeling or new bathroom.
You enjoy design insights from trendsetting professionals.
You want to learn how enjoying regular steam showers supports personal wellness goals.
You're serious about wellness, but not taking wellness too seriously. Enjoy a few laughs and learn tips from the exercise pros of Fun&Fit. Learn how to make wellness part of your steamtherapy experience.
We invite you to interact, leave comments, ask questions. For technical support, questions about Mr. Steam product warranties, installation or products, we can help you here.

We welcome your thoughts, comments, suggestions, and questions. We will quickly remove any comments that are offensive, profane, disrespectful or irrelevant. We're here to learn and have fun, and share the learning and the fun with you.
Thank you for reading, visiting, commenting and contributing. We're excited to have you here!
Sincerely,
Martha "Mrs. Steam" Orellana
VP Marketing for Mr. Steam
Dan Reinert
VP Sales for Mr. Steam