Master Bathroom Design Ideas: Free Standing Tubs and Towel Warmers
---
If you're looking to remodel your master bathroom, consider these design ideas: free standing tubs and towel warmers.
According to Add Drama to Your Bathroom with a Free Standing Tub, a free standing tub creates a sense of space and style. It certainly adds drama given how it can look "as if it were a piece of sculpture".
(What's not to like, especially if you include a towel warmer as in the photo on the left. Soft colors, warm towels. Mr. Steam Towel Warmer W348 in brushed stainless steel.)
Perhaps what's most intriguing about free standing tubs is the range of design possibilities available.
In terms of what to choose, Add Drama recommends
"a tub that has a unique style that fits your taste and design sensibility. For a lighter and more classic environment, consider a claw foot tub which elevates it off the floor slightly. There are no shortage of styles – from traditional, transitional and contemporary, these functional art pieces are available in a variety of different shapes, finishes and sizes." (See Freestanding Bathtub Ideas from Better Homes and Gardens for ideas.)
Another article titled FREESTANDING BATHS - Tips & Advice on Choosing a New Bath considers free standing tubs "both elegant and bold" and "one of the easiest ways to create the 'wow-factor' in any home." We couldn't agree more!
Before installing a free standing tub, though, it's critical to consider the following:
How will the plumbing work? In normal, attached tubs, the plumbing is hidden from view. With a free standing tub, you'll need to figure out where to place it.
How heavy is the tub?
Where will you place the water taps?
What furniture and accessories will you need to complete your master bathroom? For example, will you want a shower head? This is when we urge you to consider a

towel

warmer from Mr. Steam! It's always in style, and enables you to complete the free-standing tub experience by wrapping yourself in warmth after each long relaxing soak.
Here are a few examples of free standing tubs we think you'll enjoy:
Towel warmer finishes can complement the faucet finishes. Mr. Steam Towel Warmer in chrome. Or you may opt to match that tub color.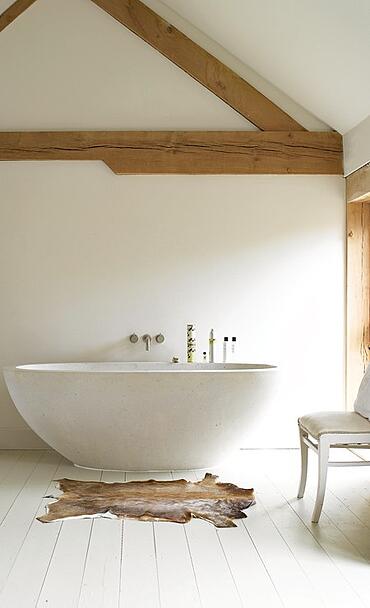 The bubble bath of your dreams. Source: media-cache6 via Reda on Pinterest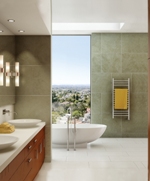 Soothing curves for a relaxing bath, followed up with a warm fluffy towel. Mr. Steam Towel Warmer W336 in Stainless Steel
Can you envision your master bathroom design including a free standing tub and towel warmer? Which tub do you prefer?