Bathroom Design Trends for 2020 - Designers Tell All
---
Note: MrSteam is delighted to continue supporting Design Hounds, an elite group of design professionals who attend design events around the globe and share their findings with their audiences of both design professionals and design-savvy consumers. MrSteam is sponsoring Design Hounds at KBIS, North America's largest trade show for kitchen and bath design, taking place this year from January 21 to January 23 in Las Vegas. We asked a few of this year's Design Hounds to forecast bathroom design trends in the 20s: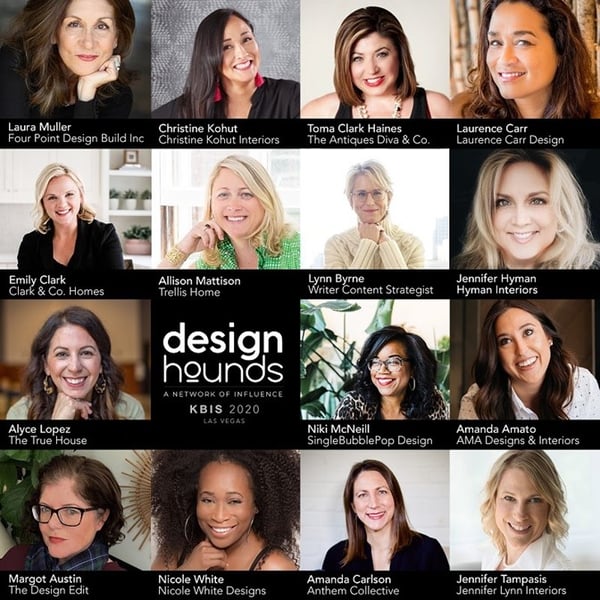 MrSteam: New Year, New Decade! What do you think will be the defining trends for bathrooms in the 2020s?
Laura Muller, CEO, Owner & Principal, Four Point Design Build, Inc
Design in the next decade will be aggressively driven by wellness, sustainability, and technology in the home. No other space sees this trend more than the bath. Materials, products, technology, and design will continue to integrate and reflect these concepts on every level. Here in California, the building codes continue to determine and define the way we specify and use products and materials. Thus, manufacturers will be responding by creating and fulfilling the trend demands with beautifully designed, high functioning products that will generate wellness and relieve stress with a mindfulness for reducing waste and minimizing the depletion of our natural resources.
Specifically, the bath will become more than a simple place of function, it will become a place for restoring and promoting supreme health and wellness by integrating the natural healing principals of light, sound, motion, scent, and touch with technology and water. We will create "experiences with purpose" in the home.
Christine Kohut, Christine Kohut Interiors
Bathrooms have become quite a decorative focal point in homes and I see more furniture-like vanities and beautiful lighting elevating such a functional space. More people will embrace technology in their bathrooms, with the ability to just use voice to turn on the shower. Bidet features also seem to be making a big splash, so to speak! They cut down on toilet paper use, which is better for the environment. Other "green" and wellness-focused design elements will get more attention, such as water conservation, steam showers and natural light. More people will be seeking curbless shower entries and other details that benefit an older generation but also look good. Grab bars are functional, but now they are becoming another decorative feature in the bathroom with design details like optional metal finishes and custom colors.
The next decade is going to be a huge one, tech-wise, but I also think all of that tech will be simplified, making it easier to use. Less buttons, remotes, and wires; everything is operable from your phone, as well as more voice and motion technology to activate and use products.
Lynn Byrne, decorative arts and design history expert
In this new decade, people will focus on self-care. Technology and the web have intruded so deeply into our personal lives that preserving one private sanctuary is no longer a luxury. It has become essential to surviving modern living. Bathrooms are perhaps the one place left where our private lives are sacrosanct, making bathrooms an ideal spot to create that necessary sanctuary.
MrSteam: We agree that wellness and sanctuary are major bathroom design trends. What do you think is most important for homeowners to know about steam showers? Have you specified steam showers or enjoyed one for yourself?
Lynn Byrne
Steam showers are easy to install and can even fit in tight bathrooms. You do not need a grand space to have one. I have enjoyed a MrSteam steam shower in my own home and found it the best relief for common cold congestion ever invented. Plus it's fabulous for my complexion! There are numerous benefits of steam in detoxing from the stresses of modern life.
Laura Muller
Steam in the home is a surprisingly affordable and wellness-driven luxury. It has always been very important for me to inform all my clients as to the available options when it comes to health, wellness and convenience in the home environment. In general, there are some misconceptions when it comes to the addition of a steam system which is why it is imperative for design professionals to understand the value of home steam showers. Some of the most important benefits of steam are improved circulation, detoxification, increased recovery rate of muscle and joint tension, as well as respiratory wellness. Certainly, these are important incentives when considering a steam system in the home. We have specified MrSteam for our clients. Why? It is one of the best systems available today, with the most comprehensive and responsive customer service, and the quality is unmatched.
Christine Kohut
People need to know that steam showers are not that difficult to install, and the health benefits are great. I always love a good steam with eucalyptus oils when I feel congested. Opening up your pores, relaxing your muscles, and de-stressing are great features, creating a spa-like space in your own home. It's also a lot easier, more practical, and more economical than filling up a big tub with water that doesn't stay hot.
Follow along with the Design Hounds' inspirational finds at KBIS 2020 by following the hashtag #DesignHounds on Instagram or by following MrSteam on Facebook and Instagram.