A Zen Partnership: MrSteam and KraftMaster Renovations
---
When it comes to renovating bathrooms, the best established, highest quality firms in the business depend on MrSteam. A recent facelift to a bathroom that was located over a Princeton, NJ, family's garage typifies the type of relationship that MrSteam has developed over the years with home improvement companies such as KraftMaster Renovations, which provides remodeling services to the Northern New Jersey area.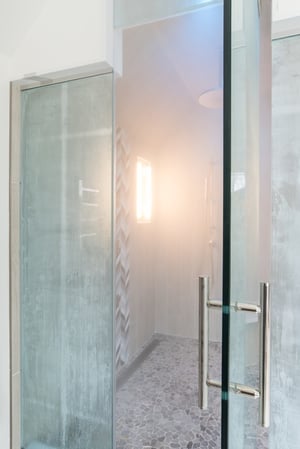 Maureen Madigan, a senior designer at the company, started the process of renovating an old, poorly insulated bathroom located over a garage, the way all good designers do – by interviewing the homeowners. KraftMaster considers their clients to be an integral part of the design team. As they state on their website, the client's "ideas and preferences help with the enhancement of the design process, materials selection, and budget." They are justly proud of helping the families and individuals they work with realize their vision for their home redesign. Catering to client requirements, taste, and style means the portfolio of their designs end up being widely diverse, and include classic, retro or modern bathroom styles.
In her homeowners' interview, Madigan discovered that her clients, the parents of two, were busy professionals who loved tennis, sports of all types, and spending time at the gym. They hoped that Madigan could use her talents to transform the space into a home spa where they could relax and rejuvenate after a long day at work or when returning from their athletic pursuits.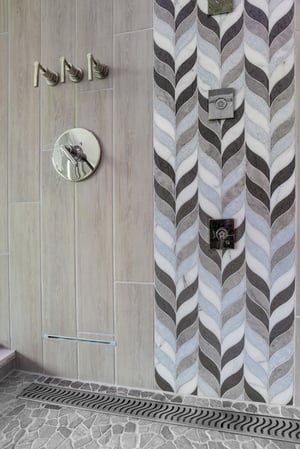 Madigan has been the happy user of a MrSteam steam shower in her own home for the past 15 years, so she had no hesitation in recommending making steam an integral part of the renovation. After all, she herself is "a big believer – starting the day every day with a steam shower." She recognized that including steam in the redesign would elevate the the family's lifestyle immeasurably. "When you have this busy lifestyle," she says, "your bathroom is where you can spend a half hour to just relax." She knows full well that the bathroom is generally the first place you visit in the morning and the last place (before bed) that you head to at night. A master bath that includes amenities like steam, ChromaSteam™ and AromaSteamcan provide a degree of serenity unmatched by other bath redesigns.
In the shower she introduced natural stone for a Zen-inspired environment along with the sleek thinline Linear SteamHead. Nearly disappeared into the grout line of the tile pattern, it creates a spectacular reverse waterfall of steam effect. Because members of the family start their days in the steam shower, having the ability to switch the steam on via remote control was crucial – allowing them to preheat the steam while coffee was brewing. The ChromaSteam System integrates colored light with steam, creating environment's rich with color, mood and warmth, while the AromaSteam system infuses aromatic oils into the steam before it enters the shower through an electronic delivery system for balanced, seamless integration of aromatherapy. Other spa-like features of the redesigned bathroom included an emphasis on natural light and a soaking air jet tub as the room's focal point.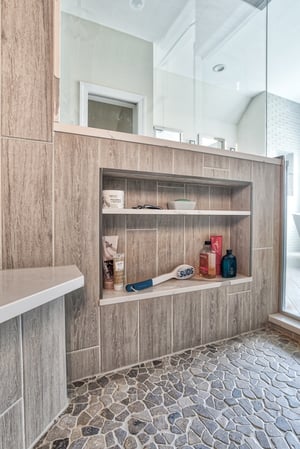 Building out the space itself was problematic. The original bath was poorly insulated and featured a builder grade layout and fixtures that were worn and dated. When it came time to realize the client's dream of a home-spa, KraftMaster had to contend with unique challenges in this space above a garage – like where to locate the steam generator.
And this is where MrSteam's support and service was instrumental. As KraftMaster owner Bob Gockeler stated, "We exclusively recommend and specify MrSteam because of innovations in both style and performance of the products. We don't install these units in every remodel, but when we do, the tech support and service from MrSteam is unparalleled. This comes from the top down. On this project we got quite a bit of help from MrSteam's president Michael Pinkus!"
Some of this insight included ideas of where to place the steam generator, which could not fit into the actual bathroom, but can be located just about anywhere that access can be created. As they have done many times, the MrSteam tech team was able to recommend the perfect placement, in this case locating it on another floor, in the garage below – and KraftMaster created a fire-rated service hatch to provide permanent access for the steam shower generator. And, of course, this solution works flawlessly.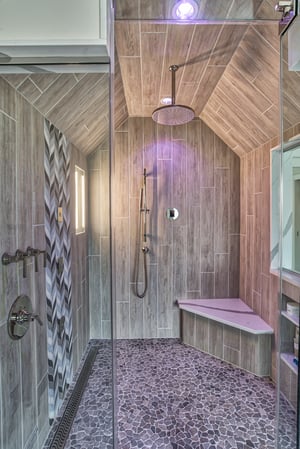 One of the reasons why KraftMaster exclusively recommends and uses MrSteam products whenever they install steam in one of their renovations is their focus on the constantly changing remodeling and construction fields. The company is aware that new products, techniques and technologies are being introduced on an almost daily basis. They keep abreast of this rapidly shifting industry by meeting with their vendors and attending tradeshows, reading trade publications and staying vigilant on the Internet for innovation announcements. In this way, they are well suited to a company like MrSteam which itself constantly innovates, finding new and better ways to deliver their products.
Madigan's client is thrilled with the results of their new top-of-the-garage, top-of-the-line master bath. The family uses both the steam shower and bath daily, reveling in steam, chromatherapy, aromatherapy, and air bubble baths. And KraftMaster knows that the project has not merely enhanced the beauty of the family's home, it has also introduced their clients to a new, wellness lifestyle that they had not previously experienced. And, as a special bonus, the renovation has also increased the overall value of the property.
Companies like KraftMaster recognize the value of working with a company as reliable, support-centric, and quality-conscious as MrSteam. It is no wonder that they will install only their products when it comes to all things steam. And MrSteam is proud to partner with such a forward-thinking and client-focused home improvement firm. There is a tangible element of Zen in the fact that both approach these projects with a calmness and assurance born of long experience and an unwillingness to compromise on customer satisfaction. And when you add in the client in the mix, you might even say that the relationship is a win-win-win for all concerned!