A Perfect Marriage of Form and Function
---
You know you have a great marriage when you give your spouse free rein to completely gut and redesign your bathroom. And you not only promise not to peek, but you actually don't violate that pact for the 90 plus days it takes to complete!
Don't believe you could do it? Well, Scott McGaha not only did, but he was rewarded for his trust in his designer wife, Denise, with the bathroom of his dreams. It probably helped that he knew from the outset what an outstanding interior designer Denise was.
Denise McGaha Interiors, based in Dallas, Texas, provides luxury interior design services – and delivers them in a trademarked 90 days. Denise starts the process by learning more about her clients, their lifestyle, and how they live – questions she could certainly answer for herself when it came to her own bathroom remodel. She knew the pain points of the master bath in her home all too well.
The couple had lived with an ugly, dated bathroom for more than twenty years - and it took a broken pipe to force them to finally embark on a redesign. After the leak occurred, however, they still had a functional bathroom, and lived with trash bags taped to the wall for an additional nine months. As Denise says in one of three blog posts about the renovation: "I couldn't stop long enough to deal…I hated it every day I walked in and left as soon as I could get out the door."
So when she finally recognized that this situation couldn't continue despite her million-miles-an-hour lifestyle, she decided to make both the process and end result a surprise for her husband. She got Scott to agree to move into the family's guest suite and stay away from that side of the house – as she was also renovating the master bedroom and closet space. He agreed: "I knew she had some purpose in asking, so I chose to oblige. I completely trust her ability to design a beautiful space." He adds: "Of course I was curious, but I own my own company as well, and with that and the kids, I didn't really have time to be nosy."
Creating a haven
This decision caused challenges for both Scott and Denise. Denise was on her own when it came to creating the design board and layout of the new space. She completely gutted the bathroom, down to the studs, in order to create the haven she envisioned for them both. She couldn't consult him when it came to making any of the decisions, keeping within the budget, and choosing among so many possible options. As she says: "As a designer, we have access to every beautiful product imaginable and it can be daunting to make decisions… Even for a designer. We are often our own worst clients."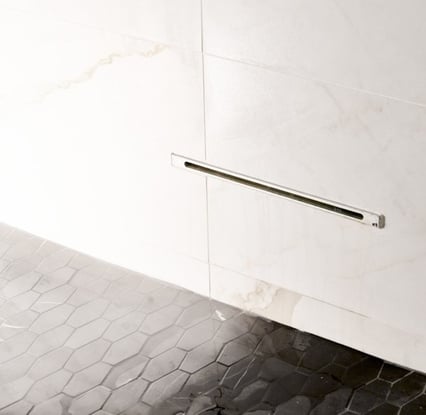 For Scott, it became difficult to confine himself to the guest quarters: "We were both using the guest bathroom and that was not easy." Naturally, their belongings spilled over to other parts of the house as well. "All of our clothes were on rolling racks in the living room and dining room. It's not a lot of fun getting dressed in front of huge open windows every morning."
Pushing the Design Envelope
Denise already knew some of Scott's preferences – to improve storage and lighting, and not to make the space overly feminine. She wanted to push the envelope in terms of the design and managed to do so through an artful combination of color, pattern and texture, using a black, white and blush pink palette with colorful original art on the walls. Denise installed deep drawers in the vanities and strategically placed lighting over the sink bright enough for shaving and make up, with a dimmer switch to accommodate some of the home spa enhancements. She knew that Scott loved tub baths and gave him a deep, Japanese style soaking tub – with a tub deck that extends into the shower as seating.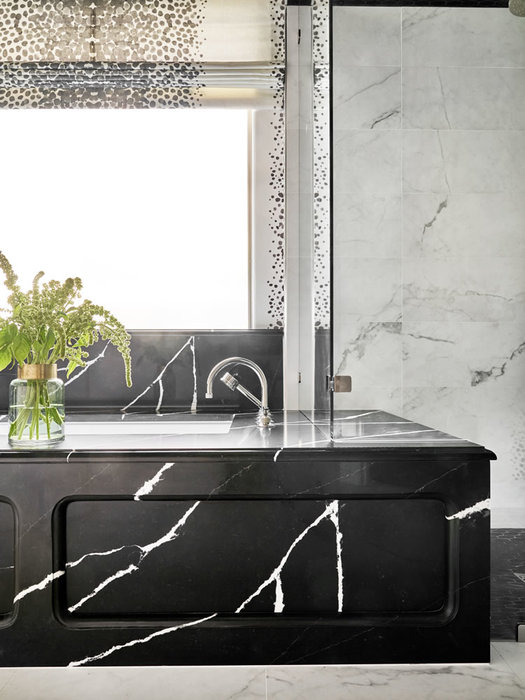 The shower was the real surprise. Without hinting at it during the entire redesign process, Denise completely overhauled an old walk-in shower that never warmed up enough, and which made the room small and the shower dark. Now the shower is glassed-in, with a rain-head showerhead and equipped with a MrSteam steam unit, including the company's revolutionary Linear Steamhead.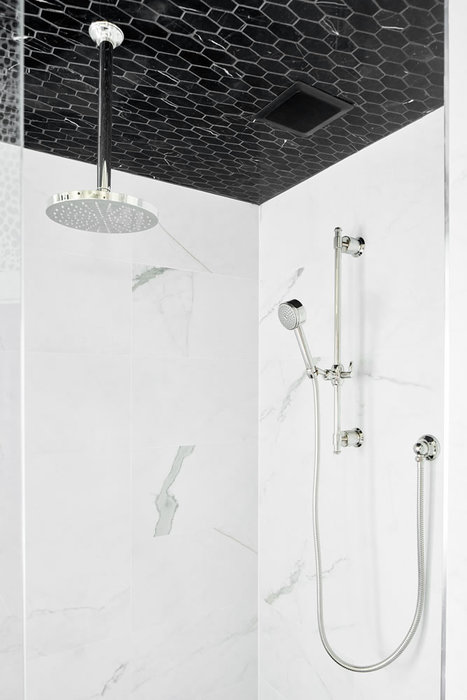 Incorporating THerapy
The idea of adding steam to the shower came from years of struggling with that too cold original shower. Scott would try and combat his discomfort by turning on the shower and wait to steam it up as much as he could. Now Denise not only supplied actual steam, but gave him the ability – through the SteamLinx mobile app – to start the steam shower from his cell phone. "One of the coolest things is that I can get on my iPhone and turn on the steam shower, setting the temperature and how long I want before I even get out of bed," Scott says.
Denise had a couple of other MrSteam innovations to complete the surprise. She knew how much Scott loved listening to music while in the shower, so she included MusicTherapy via an in-shower speaker and the ability to switch on music via their cell phones as well. Scott loves the Bluetooth sound system and feels that "starting every day with a steam and my favorite music is perfection!"
Scott suffers from allergies, so another addition to the steam system was aromatherapy. In her blog, Denise notes that they use eucalyptus essential oils when allergy season is in full swing, and that she herself loves lavender, especially when using the steam to recover from a workout.
Reducing Stress
Denise wholeheartedly recommends steam for everyone and has noticed that it has added tremendously to her lifestyle, including feeling better after a workout, and reducing stress before heading out to work. She notes that the new bath has created a "space where Scott and I could retreat from the world, relax, rejuvenate, and find peace in our hectic lives."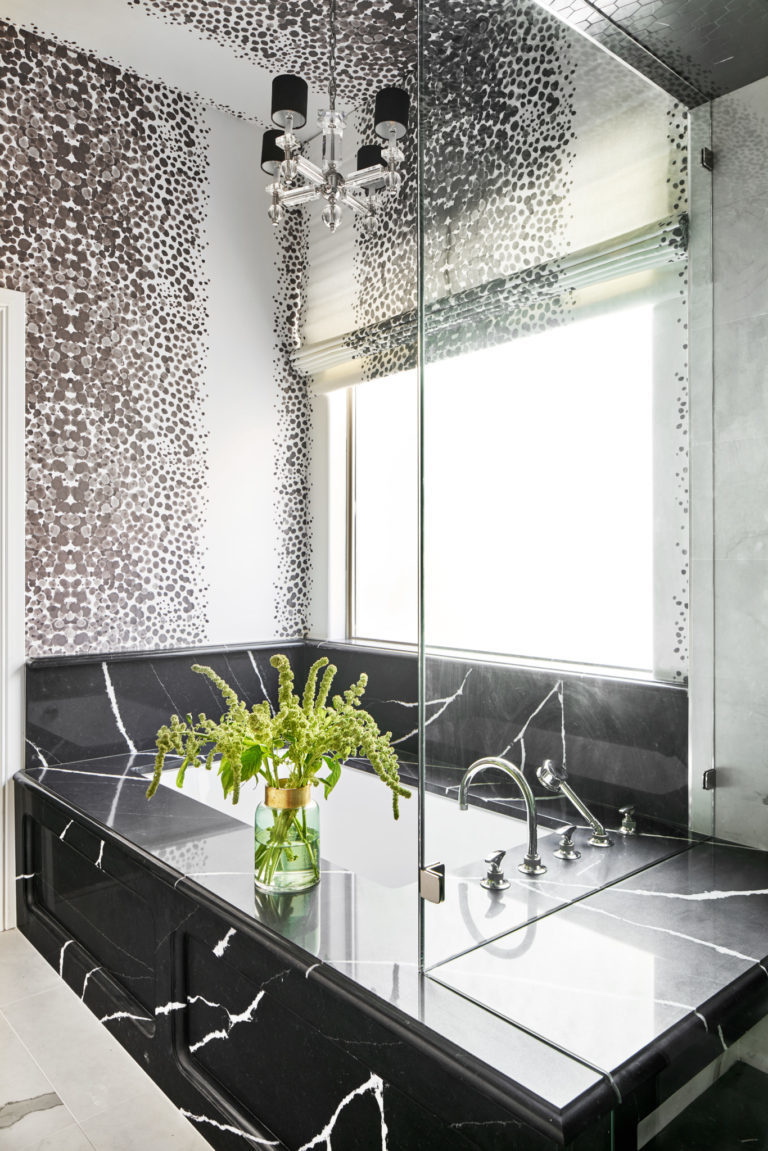 Scott concurs. During the video reveal of the space, it's been noted that he was uncharacteristically speechless – despite rarely being at a loss for words. When asked what he'd tell his wife now that he's had a chance to live in their new home spa, he tells us: "I was completely overwhelmed by everything she did, completely transforming our bedroom, bathroom, and closet. I'm not embarrassed to say that I was overcome with grateful emotion." He adds: "Now that I have lived in our new environment, I appreciate all the perfect details that Denise created. I'm blessed to be married to such a talented and gifted lady."