3 Tips for a Beachy Modern Bathroom Renovation
---
Interior designer Tiffany Braker transformed her clients' bathroom from cluttered and dated to airy and modern with a perfect blend of vintage and contemporary decor. She worked for more than a year with the California-based couple to refresh multiple rooms in their home, including the primary bathroom, for a more stylish and practical design.
Braker's clients prioritize their healthy and active lifestyle and desired a bathroom that could support their needs for years to come. With all of her clients, Braker aims to design for longevity and wellness with tactics such as incorporating higher vanities, wall-mounted faucets, custom drawers and cabinets and more. The original bathroom for this project featured an old school built-in garden tub, a low vanity, minimal storage solutions and a small, awkward shower enclosed with a curtain.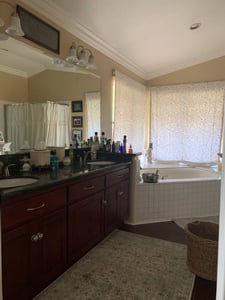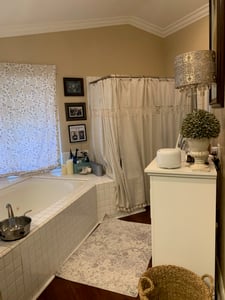 Before the renovation.
This project required a full gut renovation, but they kept the same floor plan for the vanity, bath and shower. The resulting design is highly functional, wellness-oriented and beautiful. Curious about how Tiffany got all that into one bathroom? Here's her three-step design.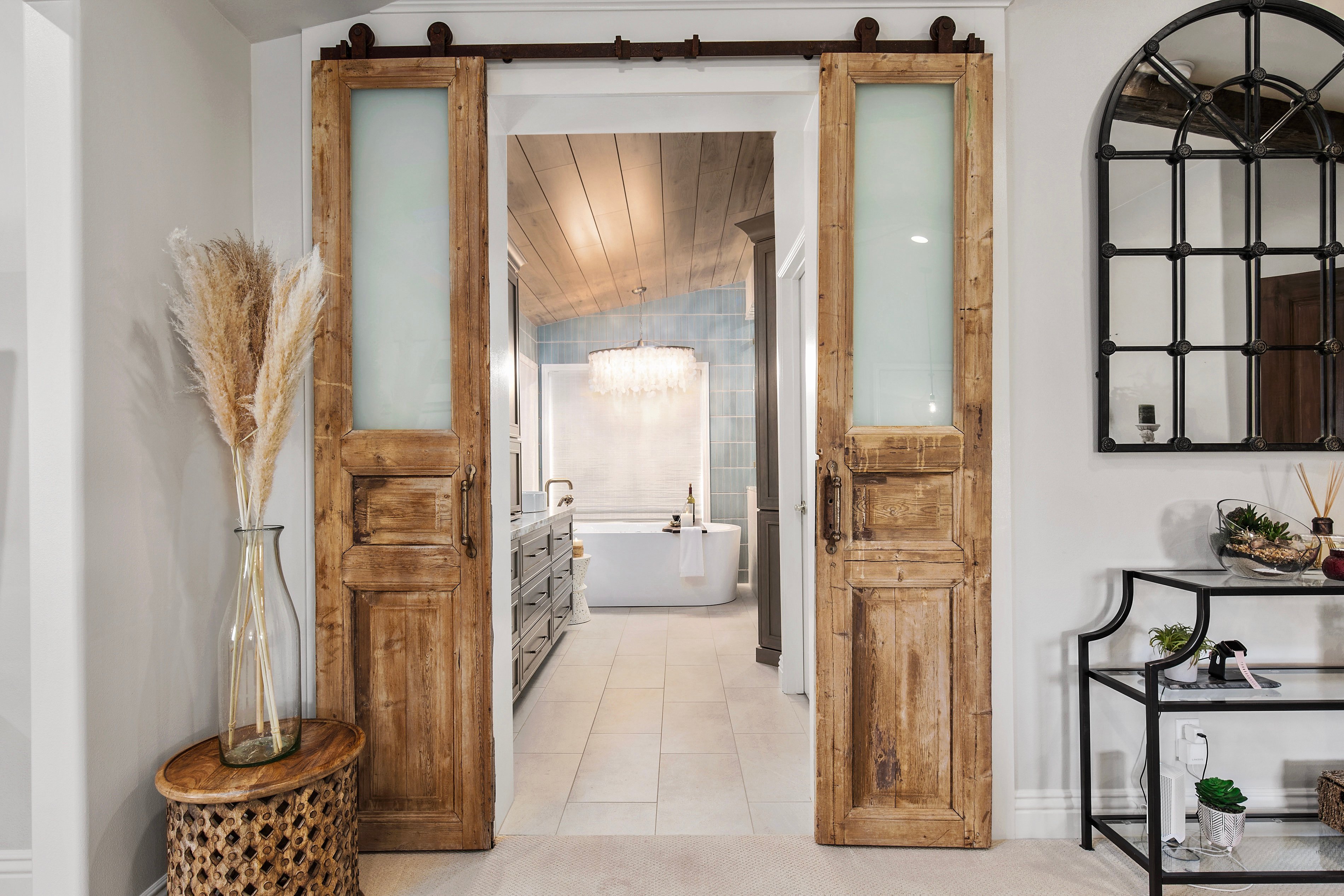 Blend Modern and Vintage Styles
Where there was once an outdated garden tub, Braker brought in a fresh freestanding soaking tub. Without the extra space taken up by the built-in tub tile, she found more room in the shower for a custom bench for the couple to use while steaming in their new steam shower. To balance the sleek modern details, Braker incorporated vintage and classic accents with distinct character, such as the rustic shiplap paneling, brass hardware and reclaimed wood doors.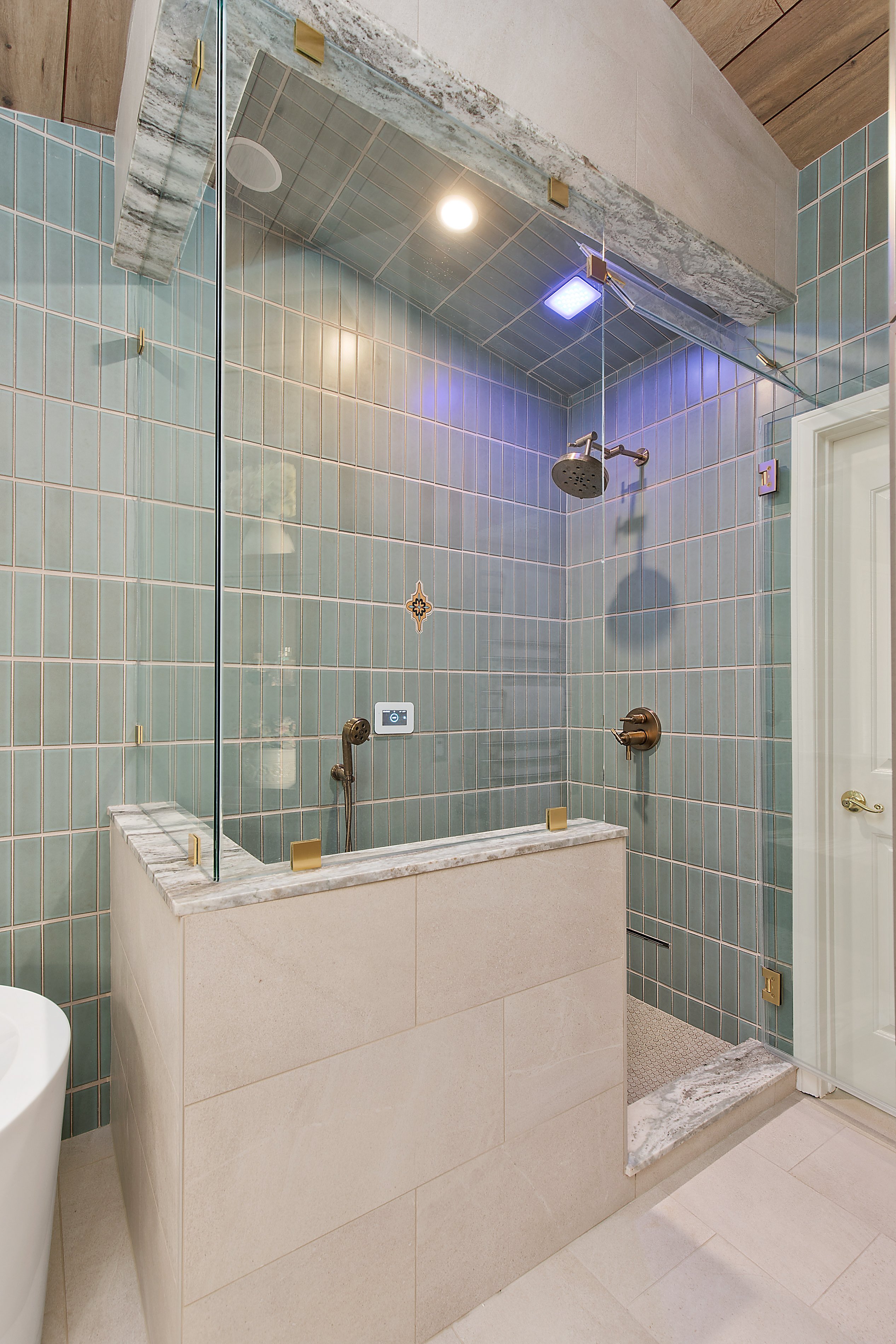 Mix Tile Shapes, Sizes and Colors
Braker evokes memories of the ocean – and her clients' favorite vacation spot in Hawaii – with a modern subway tile in a beautiful sea blue and with a white chandelier reminiscent of a shell. The blue offers a subtle pop of color against the large sand-colored tiles throughout. Within the enclosed shower, Braker incorporates a smaller neutral tile against the shower floor as well as a unique blue, beige and gray marble in the shower bench and border.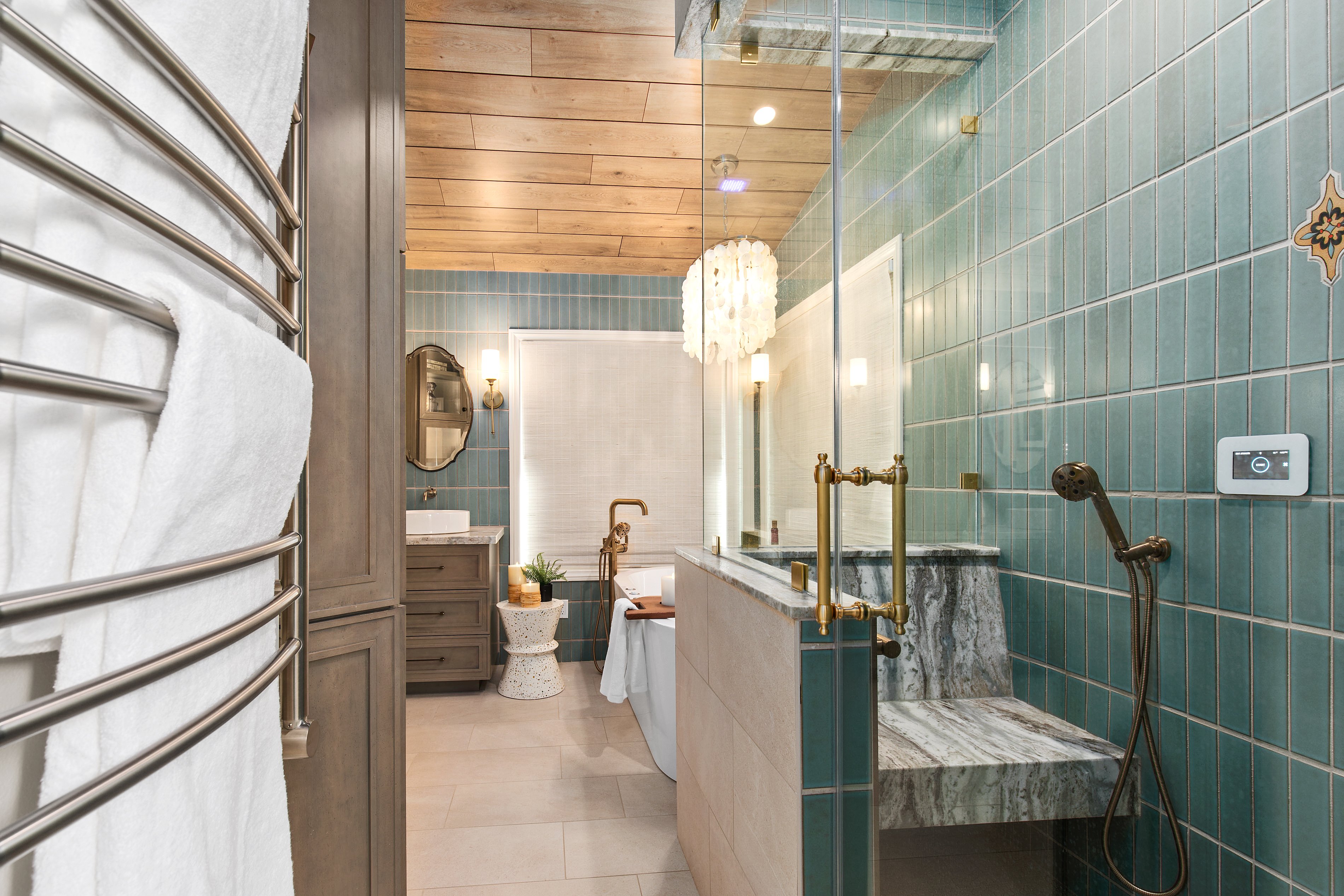 Add a Steam Shower System
Her clients are active and health-conscious. While the couple was unfamiliar with the possibilities of a home steam shower, Braker introduced them to the feature with MrSteam. After discovering the wellness benefits and different therapies available, including aromatherapy with the AromaSteam System, they were sold, opting for the iDream Steam Package, which includes aromatherapy, chroma lighting and audio system, with the sleek Linear SteamHead and iSteam3 control. To complement the system, Braker added a beautiful custom marble bench to allow her clients to take full advantage of their luxurious new wellness oasis.