13 Frequently Asked Questions About Steam Showers Answered
---
Do you have questions about steam showers and steam generators? When you make steam boilers for hospital operating rooms and the Kennedy Space Center like we do, you can bet that we've answered a few questions about steam since our founding in 1917.
Many homeowners want to learn more about the health and wellness benefits of steam or how to install or construct their steam room. Below, we've posted answers to 13 frequently asked questions that can help put you on the path to feeling intensely good with steam. If you have questions that are not addressed here, send them along to our steam experts by leaving a comment.
Q. How does a home steam shower work?
A. A steam generator, typically no larger than a briefcase and often installed in a vanity or closet, heats the water to a boil. You push a button, delivering the resulting steam from the generator to the steam head outlet and into your shower enclosure. And then you relax and enjoy the luxury of steam. It's really quite simple.
For more information about steam generators, read Buying a Steam Generator? Look For These 13 Features!
Q. When/where did steam bathing begin?
A. The desire to cleanse, purify and enjoy steam in a communal setting stretches back as far as the Bronze Age. Steam bathing has always been a way to meet and socialize, relax and leave behind the stress of the day – whether that be in the thermae of ancient Rome, the sweat lodges of the Native Americans or the spring-fed onsen of the Japanese.
Learn more about the history of steam bathing.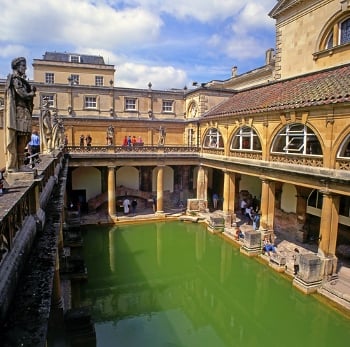 Q. What kind of wall and ceiling materials are best for constructing a steam shower?
A. The more porous a material (e.g., marble, shale, granite, glass block, or concrete), the more quickly it will dissipate heat, rather than retaining it.
If you choose the natural beauty of marble or stone for your steam shower, be sure to select a more powerful generator to compensate for the faster heat loss. Conversely, choosing nonporous materials like ceramic, porcelain or acrylic, will retain heat in the shower, and a smaller generator will be adequate.
Discover why materials matter in your steam shower.
Q. Do I have to tile the entire bathroom ceiling or just the shower ceiling?
A. You only need to tile the portion of the ceiling that will be directly exposed to the steam (inside the steam shower). Remember, the primary purpose of the tile is to retain heat and prevent moisture from escaping the shower enclosure.
Q. Where should I install the steam generator?
A. A MrSteam generator can be installed anywhere within 60 feet of your steam room—in a heated attic or basement, closet, vanity etc. Just note that we recommend leaving 12 inches of excess space on the top and sides for servicing and to ensure adequate ventilation.
Do not install the steam generator inside the actual shower enclosure or in an unheated location where the water supply piping might freeze.
Read our step-by-step blog post to learn all about installing a steam generator.
Q. What kind of seating should I install in the steam shower?
A. Seating style is a personal preference and may depend on the shower room's size.
To maximize space in smaller showers, you might opt for a fold-up seat, such as the MrSteam teak seat, coated for moisture protection. Some users opt for a tiled bench that can be installed diagonally in a corner or along a wall, opposite the steam head.
Q. How much does a steam generator cost?
A. List prices for generators begin at $1,575 plus installation costs. Use our Virtual Spa Tool to get a handle on the pricing.
Q. What is the minimum size for a steam shower?
A. We recommend that your shower enclosure be a minimum of 3' x 3' x 7'. That way you have enough space to safely stand or sit on a fold-up seat installed across from the steam head.
For additional tips on seating and other aspects of steam shower design, check out our interview with expert Corey S. Klassen.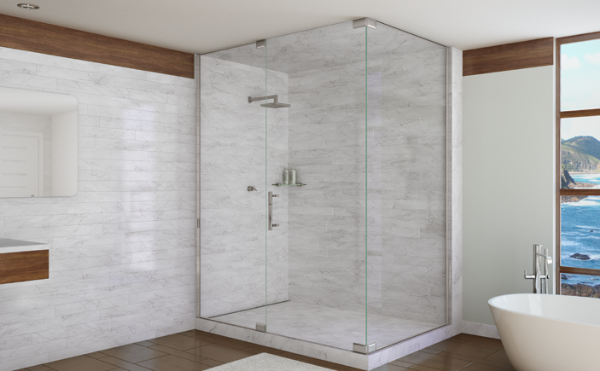 Q. Is it ok to have a window in my steam shower?
A. While a window in the shower is common in some homes, many homeowners are concerned about steam (moisture) getting between the window and the outside wall.
For steam showers that have an exterior window, you need to make sure they are properly insulated to prevent steam from escaping. We recommend using double-paned windows. If your window slides open, make sure it is gasketed to prevent steam loss during a shower.
Learn how to seal your steam shower window.
Q. Can I include a transom in my steam shower?
A. Some people have a transom window in their shower (think of a horizontal window that sits above a door, which sometimes is hinged to allow air movement). Although this window is mostly a design choice, it offers the practical benefit of allowing air into the shower when steam is not used. This allows moisture to exit from the enclosure (compared to a closed, air tight door).
Just make sure it's closed during a steam shower.
Q. Do I need to slope my steam shower's ceiling?
A. Small grouted ceiling tiles tend to drip at the edges. As a result, smaller tiles with many grout joints may require a slight slope to prevent condensation from dripping down on top of the unsuspecting bather.
In a residential setting, slope the ceiling 1/2" per foot away from where you will be sitting.
If you use a solid material for your ceiling, like a sheet of Swanstone, you may not need a slope since it doesn't trap condensation the same way grouted tiles do.
Q. Can I install lighting in my steam shower?
A. When installing a light in a steam shower, make sure it is vapor proof and provides protection against moisture entry. The light is typically protected by a ground fault circuit interrupter (GFCI), which will shut off the power if it detects moisture in the fixture. MrSteam manufactures both recessed and surface mounted lights that are UL and cETus listed.
Q. What should I do if my steam generator starts leaking water?
A. Your steam generator should not leak, but in the event that it does, turn off the water along with the unit's power supply.
Contact our technical service department at 800-767-8326 and be ready to provide the generator's model and serial number, how long it has been installed and where the leak appears to be coming from.
We recommend installing a drip pan under the steam generator, which will prevent moisture damage in the case of possible leaks.
Do you have a question about steam baths that we haven't addressed? Simply share it with us in the comment section.