We took a look back at the most read SteamTherapy Blog articles of 2016 and discovered that the top 16 SteamTherapy articles focus on topics like steam shower installation; bathroom remodeling and how to include steam; new product introductions from MrSteam; and how steam showers contribute to feeling good, living well and making the most of steam.
In fact, that's how we organized them. We hope that revisiting these articles further educates you, inspires you, and encourages you to embrace the Feel Good spirit. As you review them and explore in greater depth, let us know which you find most valuable and whether we can answer your questions about steam and steam showers.
The Top 16 SteamTherapy Articles of 2016
The following articles relate to steam shower installation:
1. Seven Questions to Ask Your Contractor About Installing a Steam Shower
Ready to start planning your steam room installation? Here are seven questions about how to install a steam shower that we recommend discussing with your contractor... Read More
2. 13 Frequently Asked Questions About Steam Showers Answered
Do you have questions about steam showers and steam generators? When you make steam boilers for the U.S. Navy, hospital operating rooms and the Kennedy Space Center like we do, you can bet that we've answered a few questions about steam since our founding in 1917.
Many homeowners want to learn more about the health and wellness benefits of steam or how to install or construct their steam room. Below, we've posted answers to 13 frequently asked questions that can help put you on the path to feeling intensely good with steam.... Read More
3. Steam Shower Installation Basics From MrSteam
If you are a designer or remodeler interested in learning more about the finer points of steam, you've come to the right place. In this article, we will share steam shower installation basics for bathroom remodeling professionals, so you can ensure the best experience for your home steam shower clients.
This information relates directly to the Ask Dan & Martha presentation embedded below. It also represents the final installment of a two-part educational series on steam showers... Read More
4. How-To Videos for Steam Generators, Steam Showers and Towel Warmers
As the Feel Good Company, MrSteam has a vested interest in ensuring that you and your design and installation professionals know how to properly install steam generators, steam showers and towel warmers. For that reason, we regularly produce videos illustrating best practices and proper procedures.
In this article, we are recapping all of the How-To Videos created to date for easy reference and are organizing them into categories. Be sure to bookmark the page as we will regularly update it... Read More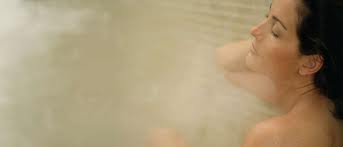 The following articles have to do with bathroom remodeling and how to include steam.
5. How To Add AromaTherapy To Your Steam Shower To Invigorate Mind And Body
Are you interested in adding AromaTherapy to your steam shower? When you add essential oils to your 'Feel Good' experience, you emerge relaxed, with your mind and body feeling invigorated. MrSteam considers aroma an important part of SteamTherapy. For that reason, we have created several ways for you to blend aroma with steam.
In case you are new to AromaTherapy, here's a little background.
Practiced for thousands of years, AromaTherapy is considered mankind's first medicine. The ancient Greeks and Romans associated many natural and soothing health benefits with different aromatic essential oils. Nowadays, AromaTherapy is often associated with holistic practices of caring for the body using botanical oils... Read More
6. Steam Showers 101: How To Turn a Bathroom Into a Wellness Retreat
Would you like to learn more about the finer points of steam? In this article, we will share with you the what, why and how associated with turning a bathroom into a wellness retreat with steam. That way, you will understand better what makes a steam shower such a critical part of feeling good... Read More
7. Steam Showers and the Science of Human Comfort
One size does not fit all. This maxim holds true for anything from shoes, to gloves, to, yes, steam showers. Anthropometry, the scientific study of the measurements and proportions of the human body, matters to the design of your home steam shower. It guides the advice we offer customers on considerations to make when designing their steam room.
Here's how anthropometry influences the various parts of a steam room... Read More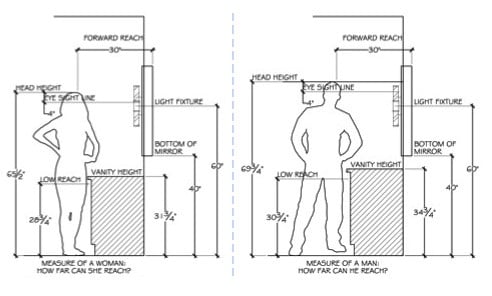 8. Space-Efficient Steam Shower Ideal Luxury in Small Bathroom Renovation
When people think of steam showers, they often think of the large units that can be found in hotels, resorts or health clubs, rather than as an amenity that can be easily and affordably installed into any home, large or small. In this article, G&G Interior Design describes a small bathroom renovation where a space-efficient steam shower transforms the space into a feel good wellness retreat... Read More
9. Time to Remodel Your Bathroom? Include a Steam Shower in Your Plans
Are you one of the thousands of homeowners who are embarking on a bathroom remodeling plan? Perhaps you've discovered that your plans to downsize are not as economical as you thought they'd be, so you're sitting tight now that the kids are on their own. Or that other homes in your neighborhood have undergone renovation, so your home will be worth more if you, too, consider some improvements. Or perhaps you simply love your current home and just want to enhance your quality of life... Read More
These articles highlight new product introductions from MrSteam in 2016.
10. Award-winning Linear SteamHead from MrSteam Blends Seamlessly into Shower
Have you noticed that many of our devices and appliances—from televisions to tablets—are "thinning out" and becoming more space-efficient? Now, the award-winning Linear SteamHead from MrSteam is bringing this trend into steam showers.
Unlike conventional square and round steamheads that protrude into the shower, the sleek and unobtrusive Linear SteamHead is discretely set flush to the wall for a clean and uncluttered design. After all, today's showers are loaded with multiple showerheads, body sprays and shelves, so the Linear SteamHead's minimalist aesthetics represent an entirely new option for you.
You'll find stylistic similarities in this new product that will remind you of other contemporary American shower trends: clean, symmetrical grid lines; rectangular glass enclosures; and linear drains... Read More
11. New Wireless Steam Shower Control is Easy to Install; Easy to Use
Wireless technology has come to steam. The new, user-friendly AirTempo Control from MrSteam offers users exceptional functionality and flexibility, while also providing substantial time- and labor-savings to installers... Read More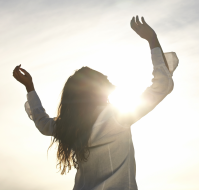 This last group of articles focuses on how steam showers contribute to feeling good, living well and making the most of steam.
12.
Dear MrSteam: How My Steam Shower Changed My Life
Every so often, a customer reaches out about a technical issue and we get to hear firsthand and in detail how a steam shower can change a person's life. This testimonial sent October 1, 2015 is one such priceless example...
Read More
13.
Six Creative Uses for Your Steam Shower
If you already own a personal steam shower, you don't have to be convinced of the amazing benefits it brings in terms of your health, well-being, and lifestyle. You know that your daily steambath can reduce stress, help you relax, enhance your appearance, and contribute to overall wellness.... Read More
14.

Try Movement, Moderation and Steam Per 96 Year-Old Trainer Moe Carson

Feeling good and living well go hand-in-hand with movement and moderation - and especially with steam - according to 96 year-old personal trainer Moe Carson who shares with us his secret to health and wellness in this #TrainerTellsAll article.

Many people give advice, but Carson has nearly a century of proven results to support his claims. Born in 1919, he has lived through the roaring 20s, the Great Depression and World War II. For nearly all of that time, he has done what he continues to do today: exercise... Read More
15.

The Science Behind the Health Benefits of Steam Showers

You may remember your mother telling you to take a hot shower or bath whenever you got sick. It turns out that these motherly words of wisdom may have substance based on studies suggesting that soothing steam may be an effective means of treating cold symptoms, especially a runny nose.

An experiment performed by the Medical Research Council Common Cold Unit at Harvard Hospital tested whether cold sufferers who inhaled fully humidified, warm air would feel relief from their symptoms... Read More
16.

Top 10 Steam Bath Benefits You May Not Have Considered

Did you know that home steam showers offer dozens of benefits that range from improving health and wellness to achieving glowing skin to supporting a natural health routine? Imagine feeling more relaxed thanks to better breathing, improved blood circulation, rejuvenated skin and more... Let's explore ten of these steam-related benefits that you may not have considered as part of living a healthier lifestyle... Read More

For steamy and historical perspective, here's what caught your attention in 2015: 15 Top SteamTherapy Articles of 2015 So You Feel Good For 2016.
From all of us at MrSteam, we wish you a Happy, Healthy and Feel Good 2017!