Eddie Glenn, owner of My House Plumbing and Hardware based near Los Angeles, can attest to an increased demand for steam. Customers are aware of the health and wellness benefits of steam, but water conservation is also a top concern locally.
Wellness And Environmental Benefits With Steam Showers
"With all the restrictions on what you can put into a shower these days, steam adds that custom spa luxury look and feel that many customers desire, but without exceeding water restrictions," explains Glenn, whose 5,000-square-foot Tarzana, California, showroom is on the front lines of the state's drought zone. "You can no longer, for example, simultaneously operate a rain head and body sprays, but you are allowed to take a shower while enjoying the healing benefits of steam," he adds.
Glenn says that a typical steam shower consumes only two gallons of water for a 20‐minute session, compared to 60-75 gallons for a whirlpool bath. Likewise, the energy used to heat that water is much less with a steam generator than with a conventional water heater. (According to MrSteam, the energy cost for an average steam shower session is less than $1.)
>> See Home Steam Showers: Responsible Alternative to Luxury Shower Systems
"The environmental benefits of steam showers only make this personal wellness retreat more attractive for our clients," he says, adding, "where else can you indulge while saving natural resources?"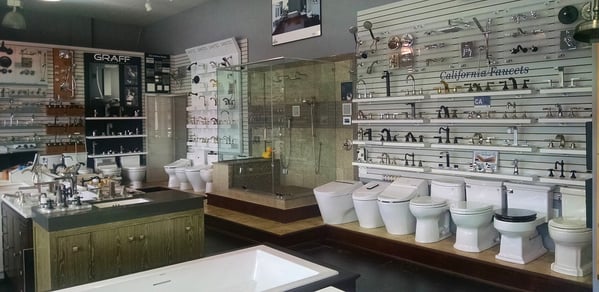 According to Glenn, having a working steam shower display with the latest touch-and-swipe iSteam controller helps his showroom consultants demonstrate how steam can transform walk-in showers from dull to delightful.
"Most customers first encounter steam showers at a health club or spa, but don't think that they can afford such a system in their own homes for as little as $1,500 for a basic starter system," says Glenn. "And, this is the same technology that is used in the very best high-end hotels and hospitality establishments from Alabama to Wyoming and from Aruba to Vancouver."
>> Experience MrSteam around the world!
Although his clientele tends to be very well-to-do, Glenn maintains that many people are willing to buy on credit just because they love the product so much and want to experience the pleasure of steam.
Recreate Intense Steam Relaxation In Your Home with the iDream Package
"Steam is very much an emotional purchase," continues Glenn. "Once you've experienced the relaxation and indulgence that steam sessions in a club or spa can bring, you want to recreate that feeling of contentment in your own home."
Customers turn to steam technology not only for the 44 health and wellness benefits it offers, but also for the intense relaxation it provides. Optional features that enhance the experience simply add to the appeal, like the AudioWizard, which enables users to listen to their favorite tunes.
>> See Hear the Benefits of Steam with AudioWizard™
Glenn's best-seller is the iDream Steam Shower Package, which comes with all accessories, including the ChromaSteam and AromaSteam systems. (Generator sold separately.)
MrSteam Provides Steam And Unfaltering Technical Support
One of the hallmark qualities of MrSteam as a company, according to Glenn, is its strong commitment to providing the best technical support to all of its customers.
"I've had homeowners hire an unqualified contractor to install a steam shower, and MrSteam's technical support group is always at the ready to go on location and make fixes and adjustments," says Glenn. "I've even heard of cases of MrSteam arriving at a customer's home, only to discover that they had installed a different steam shower brand. They still tried to help the customer out, regardless."
In business since 2004, My House Plumbing and Hardware has sold only MrSteam products from the very beginning, never even contemplating a switch. "We've had the opportunity to carry other steam companies over the years, but we have always declined because we really feel that MrSteam is the best company in our industry," concludes Glenn.