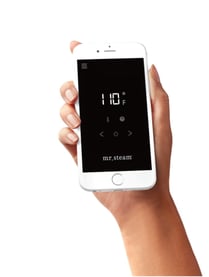 LONG ISLAND CITY, NEW YORK (August 29, 2017) — SteamLinx is the most recent example of MrSteam reimagining what home steam showers can be. The latest in mobile steam shower technology, this innovative system puts simple, convenient control of home steam shower functions in the palm of your hand. SteamLinx turns any smartphone into an intuitive steam room remote control.
SteamLinx is a wireless interface that consists of a smart phone app, and two small transmitter modules: one connects to any MrSteam E-series generator, and the other to the home Internet router. The two transmitters communicate with each other, allowing the user to control steam room functionality wirelessly through the app on their smartphone.
By harnessing the powerful technology of the SteamLinx System controlled through a mobile app, the user can easily activate their steam shower remotely in advance from anywhere within range of their WiFi signal. The touch of a finger is all it takes to preheat the steam shower while preparing morning coffee in the kitchen, finishing a workout in the exercise room or pulling into the garage after a long day. With SteamLinx, the steam shower can be ready and waiting on demand for the user.
The simple-to-operate mobile experience of the SteamLinx system is compatible with all MrSteam home steam shower controls, the new iSteam3, wireless AirTempo, iTempoPlus and iTempo. It is also included in all MrSteam Dream and Butler packages.

SteamLinx has a suggested retail price of $400. Locate an authorized dealer at mrsteam.com.
ABOUT MRSTEAM
For nearly a century MrSteam has innovated, invented, and reimagined steam. MrSteam® provides the finest quality steam showers and towel warmers for residential and commercial use. MrSteam products such as iSteam®3 help support a healthy lifestyle with innovative accessories, including AromaSteam™ oil delivery system, ChromaSteam3 mood lighting system, MusicTherapy® with AudioSteam3 system, and in-shower seating to enhance the steam bathing experience. For more information, please visit www.mrsteam.com or call toll-free: 1-800-76-STEAM.
IMAGE GALLERY
To download an image file, click on the desired resolution under the image below.

Compatible with all MrSteam controls, the new WiFi-enabled SteamLinx offers convenient, seamless control of essential home steam shower functionality through the user's smartphone.