MrSteam, the industry leader in steam, garnered two silver ADDY® Awards in the category of photography campaigns showcasing a wide variety of MrSteam products at this year's Charlotte American Advertising Awards (AAAwards). The campaigns, designed and photographed by MrSteam's agency of record Wray Ward, showcase two different minimalistic, luxurious bathroom designs that highlight the MrSteam home steam shower experience through the use of light, color and materials. Shot with the wellness-oriented customer in mind, the imagery captures the discerning, refined spirit of the MrSteam brand through calming neutral colors and the stunning fixtures in designer finishes that MrSteam offers its customers.
Featured in the campaigns and complementing the refined minimalist style are smart technologies that simplify daily wellness lifestyles. Keeping the spaces simple and uncluttered, accentuating the features in the room was key to the designs of both sets.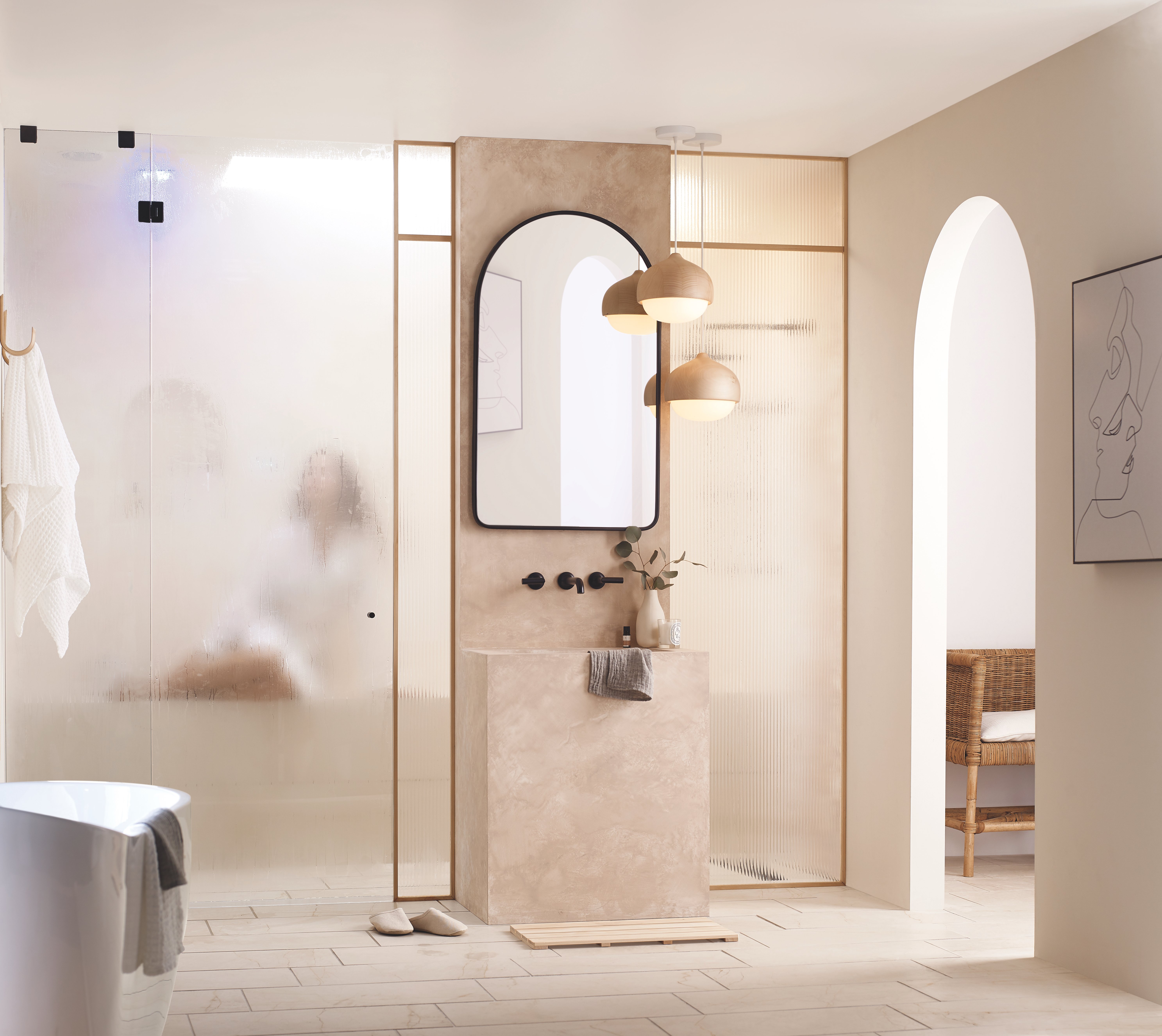 The first set featured the sleek yet bold Linear SteamHead® along with bright, feminine touches like blush-colored tadelakt textured walls inspired by early Moroccan design, arches, an open-air skylight, panels of fluted glass and matte black finishes. Fresh eucalyptus, MrSteam aroma oils, premium pottery and femme art added authenticity to the space. MrSteam featured products like the iSteam®3 steam shower control, audio speakers and the ChromaSteam3® system were all finished in white and were complemented by recessed lighting in a polished aluminum finish.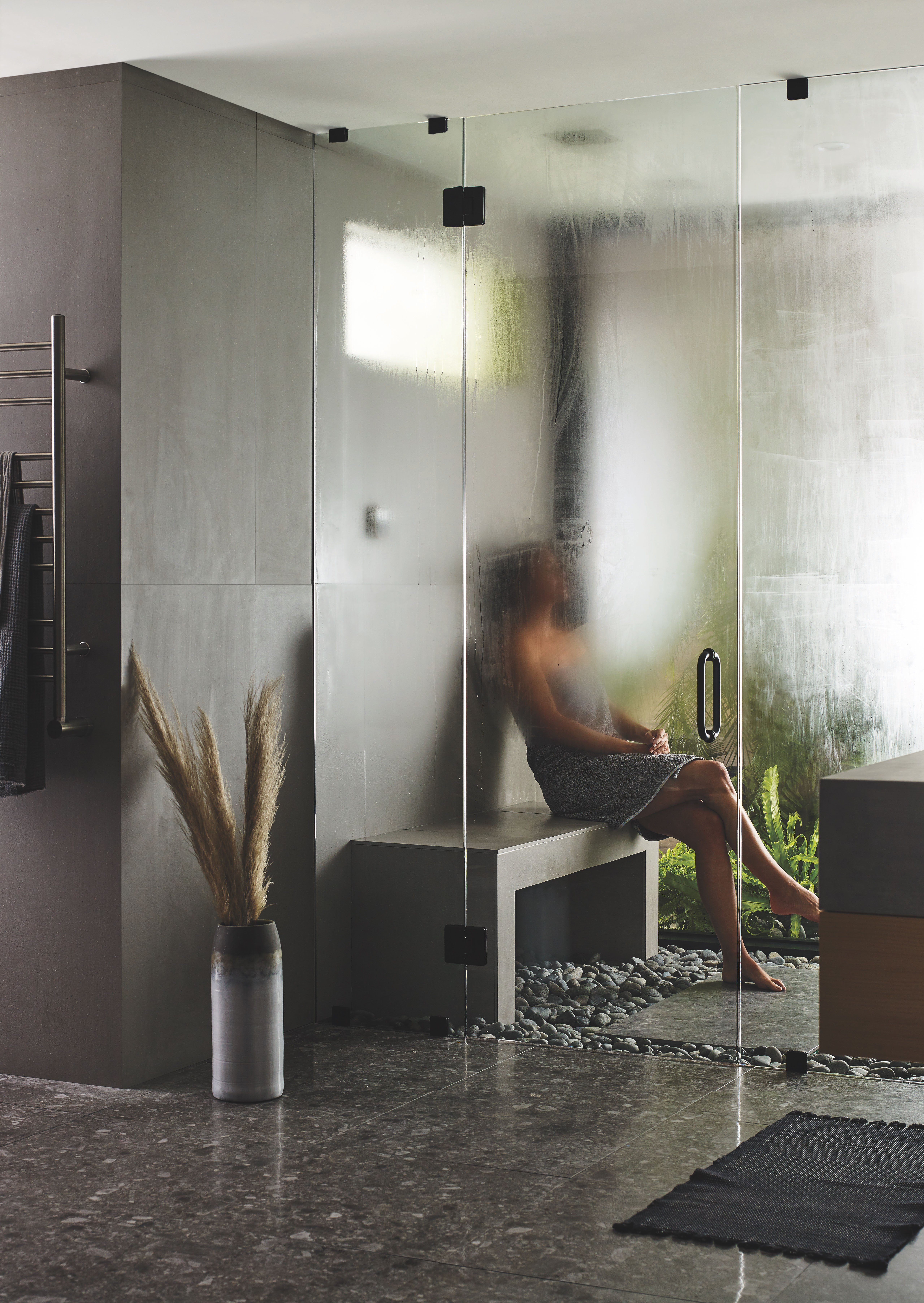 The second set offered a different approach to minimalism and was a slightly more masculine, spa-like environment. Graphic lines and geometric shapes pulled through materials used like oversized slate tile and black river rock flooring, and textured concrete tile on the walls. The set featured a floor-to-ceiling glass window looking out on an atrium filled with live greenery, pulling through biophilic design at its best. These natural elements were complemented perfectly by sleek black glass and satin brass finished MrSteam Aroma Glass SteamHead, the black glass AirTempo® steam shower control with satin brass trim, the brushed stainless-steel finish of the contemporary MrSteam Metro Collection Towel Warmer and black square audio speakers.
The awards were presented at a virtual gala hosted by the Charlotte chapter of the American Advertising Federation (AAF) and represent the first of a three-tier, national competition that celebrates artistic achievement in creative marketing communications.
The Charlotte AAAwards, programmed by the Charlotte chapter of the American Advertising Federation (AAF), recognize creative work from the Charlotte region and were judged by The Marketing Store's Michael Rivera, HLK Agency's Blaine Loyd and Tinsley Advertising's Giovanny Gutierrez.
###
ABOUT MRSTEAM
MrSteam® provides the finest quality steam showers and towel warmers for residential and commercial use. Mr. Steam products such as iSteam® help support a healthy lifestyle with innovative accessories, including AromaSteam™ aromatic oils system, ChromaSteam™ mood lighting system, in-shower MusicTherapy® speakers, and in-shower seating to enhance the steam bathing experience. For more information, please visit www.mrsteam.com or call toll-free: 1-800-76-STEAM.