Sleek new styling coordinates with exclusive iSteam home steam shower control.
Long Island City, New York (MARCH 13, 2015) — Enjoy a transporting home spa experience that is not only the ultimate in tranquility and relaxation but the epitome of sleek, contemporary design with a Mr. Steam control package featuring newly restyled iSteam steam heads.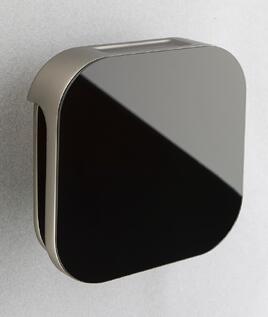 Offering lustrous good looks and smooth glass facia, iSteam steam heads perfectly coordinate with the revolutionary iSteam control. The high-grade, cool-to-the-touch steam heads are also available with a built in oil reservoir to add the soothing experience of aromatherapy to each steam session if desired.
Characterized by a stunning graphic interface and design, the iSteam control is simple and intuitive to use while offering unrivaled functionality and options for personalization. Delivering perfect swipe-touch simplicity in hot and humid environments, iSteam 2.0 effortlessly controls a wide array of features, including temperature, duration, aromatherapy, chromatherapy and music.
The new iSteam 2.0 with WiFi also integrates mobile accessibility so users can control functions of the steam shower remotely through a free smartphone app. To provide the ultimate in customized luxury, iSteam 2.0 can store settings for up to two users.
Both the iSteam control and the new steam heads are available in white or black. The iSteam 2.0 control and matching steam heads are sold together for $1,300.
Learn more about the new iSteam steam heads and locate an authorized Mr. Steam dealer at www.mrsteam.com.

ABOUT MR. STEAM
Mr. Steam® provides the finest quality steam showers and towel warmers for residential and commercial use. Mr. Steam products such as iSteam® help support a healthy lifestyle with innovative accessories, including AromaSteam™ aromatic oils system, ChromaSteam™ mood lighting system, in-shower MusicTherapy® speakers, and in-shower seating to enhance the steam bathing experience. For more information, please visit www.mrsteam.com or call toll-free: 1-800-76-STEAM.


IMAGE GALLERY
To download an image file, click on the desired resolution shown below. For hi-res images, a zip archive automatically downloads to your computer. Due to how various browsers handle downloads, you may have to expand the zip archive manually. Low-res images open in a separate window and can be saved to your computer (either through the "Save As..." command or with a right-click). Larger sizes may be available upon special request.

---

New from Mr. Steam, the iSteam cool-to-the-touch steam heads coordinate beautifully with the iSteam touch control and feature an integral aromatherapy oil reservoir.

Design-matched to the revolutionary iSteam swipe-touch home steam shower control from Mr. Steam, these newly restyled steam heads bring contemporary good looks to any shower.