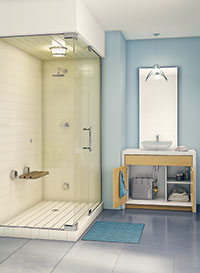 LONG ISLAND CITY, NEW YORK (MARCH 2, 2012) — Sized to fit smaller baths and smaller budgets, the new Steam@Home™ from Mr. Steam is 20 percent more compact than regular Mr. Steam generators. Mr. Steam has introduced three Steam@Home models designed for 3'x4' or 3'x5' tile showers and for existing acrylic units with list prices ranging from $1,250 to $1,450.
"Homeowners now have the affordable luxury of enjoying a steam spa in their first home, or adding one to a guest bath," says Martha Orellana, vice president of sales and marketing, Mr. Steam. "And with Steam@Home, builders can now offer an added amenity of a residential steam shower in their starter homes."
Steam showers are increasing in popularity for their wellness benefits, as well as the low water use and energy requirements. A 20-minute steam bath uses less than one gallon of water, compared to 75 gallons for a typical whirlpool bath and even more for a basic multi-headed shower system.
Steam@Home units feature a 20-minute timer, polished chrome in-shower control. It also comes standard with a cool-to-the-touch AromaSteam™ steamhead that can hold essential oils to infuse aromatherapy into the steamroom. Aromatherapy enhances the steam experience by offering wellness benefits associated with various scents. For example, eucalyptus may help open air passageways and lavender may help soothe anxiety with its calming and restorative properties.
Steam@Home 208-volt and 240-volt single-phase generators come in three sizes: SAH3000 (3 Kw), SAH4500 (4.5 Kw) and SAH6000 (6 Kw).
Mr. Steam offers a one-year warranty on both the steam generator and the control.
For more information, please visit www.mrsteam.com or call toll-free: 1-800-76-STEAM.
IMAGE GALLERY
To download a hi-res image file, click on the desired image and a zip archive automatically downloads to your computer. Due to how various browers handle downloads, you may have to expand the zip archive manually. The zip achive expands into a .tif file (details shown below each entry below).

The Steam@Home™ steam shower generator from Mr. Steam is an affordable luxury for starter homes or guest baths, and works with tile and acrylic shower surrounds.

File Name: Mr-Steam-Steam-At-Home-Blue.tif
Image Size: 4.4" wide x 6" high
(1320 x 1800 pixels) x 300ppi; CMYK
About Mr. Steam
Making Wellness a Way of Life®, Mr. Steam® provides the finest quality steam showers and towel warmers for residential and commercial use. Mr. Steam products help support a healthy lifestyle with innovative accessories, including AromaSteam™ aromatic oils system, ChromaSteam™ mood lighting system, in-shower Musictherapy® speakers, and in-shower seating to enhance the steam bathing experience. For more information, please visit www.mrsteam.com or call toll-free: 1-800-76-STEAM.