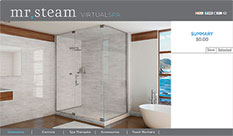 LONG ISLAND CITY, NEW YORK (FEBRUARY 13, 2012) — Mr. Steam's new Virtual Spa System™ makes it fast and easy for website visitors to create and visualize a personalized home steam shower. From generators to controls, decorative finishes, lights and options such as chromatherapy or aromatherapy, the Virtual Spa System™ enables visitors to select and preview every element of a home steam spa in a simple step-by-step guided process.

"Homeowners and professionals including showroom personnel, designers, remodelers and builders, will appreciate the convenience of the Virtual Spa System, which takes users from a simple bathroom to complete steam spa," says Martha Orellana, vice president of sales and marketing.
"The Virtual Spa System takes the guesswork out of the process of creating a residential steam shower. Now users can see the spa come together right before their eyes. All the options are clearly spelled out in a logical process," she explains.
Another benefit is that by using the Virtual Spa System, homeowners or professionals can quickly compare a number of steam shower options to meet different budget levels.
Visitors begin by entering their steam shower dimensions and materials, either natural stone or porcelain/ceramic tile. It is important to note that steam shower size alone is not enough to accurately determine the optimum generator model.
For example, marble, glass walls and other factors require a generator larger than one based only on the room's cubic volume. Mr. Steam's sophisticated sizing tool takes materials into account so that the Virtual Spa System calculates the most efficient generator size.
After determining generator size, users select a control from each of the Mr. Steam systems. With features and benefits clearly explained on the page, comparisons are easy. When users specify one of 10 finishes, it appears instantly in color on the steam spa photo.
Users can opt for steam bath accessories such as aromatherapy, chromatherapy and music. They can also select from Mr. Steam exclusives such as the Steam Genie™ remote control; AutoFlush®, a feature that automatically flushes the generator and empties the tank after each use, delivering fresh steam every time; and the HomeWizard™ that allows easy connection to home automation systems or any computer or smart phone home automation interface applications.
Options are available on a la carte basis or visitors can select from a package of components. Each package is summarized on the page as the user clicks through the choices.
To complete the steam spa, visitors can add accessories, such as a seat or shower light, as well as a towel warmer from one of three Mr. Steam series, and specify one of four finishes. Each selected item appears immediately on the spa photo in color, giving the user a visual preview of the room.
The final summary page provides a list of all components with names/model numbers, photo, finish, tech specs, and price. The summary can be printed and emailed along with the tech specs.


About Mr. Steam
Making Wellness a Way of Life®, Mr. Steam® provides the finest quality steam showers and towel warmers for residential and commercial use. Mr. Steam products help support a healthy lifestyle with innovative accessories, including AromaSteam™ aromatic oils system, ChromaSteam® mood lighting system, in-shower Musictherapy® speakers, and in-shower seating to enhance the steam bathing experience. For more information, please visit www.mrsteam.com or call toll-free: 1-800-76-STEAM.
###
IMAGE GALLERY
To download a hi-res image file, click on the desired image and a zip archive automatically downloads to your computer. Due to how various browers handle downloads, you may have to expand the zip archive manually.

The Virtual Spa System™ lets visitors to the Mr. Steam website easily and quickly create and preview a personal home steam shower.

File Name: Mr-Steam-Virtual-Spa-3.tif
Image Size: 6" wide x 4.1" high (1800 x 1230 pixels) x 300ppi; CMYK