Should you move or improve your home with a steam room design? Many folks these days are calling a remodeler rather than a real estate agent, having decided they prefer to stay in their current home and add a few feel-good amenities - such as a steam room - for the future.
Steam showers fit right into the healthy, affordable, low-maintenance lifestyle so many homeowners want today according to Ric Carpenter, a steam shower expert with more than 20 years experience at Wolff Bros. Supply, Medina, Ohio. Now one of the largest independent plumbing, electrical and HVAC distributors in America, Wolff Bros. has 12 locations in the Buckeye state. Their three extensive showrooms in Akron, Sandusky and Medina are part of an elite nationwide group of Mr.Steam Premier Showrooms.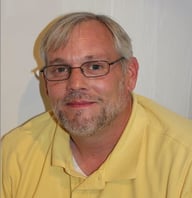 "A lot of people in this area who built a house in the '90s thought they'd sell and build their dream house when they began looking ahead to retirement," Ric observes.
Now they are discovering they really love the home where they have made so many memories. Since it is already paid for, people are willing to put money back into their current home versus taking on a mortgage for a new one at this stage of their lives.
"People here are remodeling for aging in place, which often means redoing the bath," Ric notes.
Interestingly, Ric says he has sold more bathtubs in the past six months than in the past six years. The tubs are a bit deeper than normal, but not as deep as a soaking tub, so they are easy to get into and out of.
"I think boomers are doing this now because they have the time to kick back and enjoy a tub," Ric says.
This doesn't mean foregoing a wonderful shower experience, however.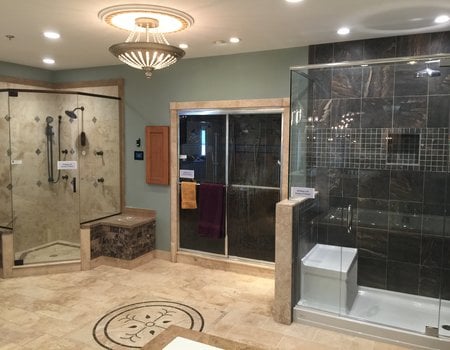 The Wolff Bros. Showroom has working steam and shower displays
"They are taking out large whirlpool tubs and expanding the showers. Or leaving them the same size but upgrading with tile, getting back to a classic look, and often adding steam," Ric notes.
Boomers who have experienced steam showers in hotels and health clubs know how steam soothes aching muscles and relieves sinus congestion, among many other health and wellness benefits. They also appreciate the total relaxation that comes with spending time in a luxurious steam spa.
"I have bad sinuses and love to use the steam unit we feature in our showroom with eucalyptus aromatherapy. It really helps," says Ric.
>> See Steam Showers Cure Winter Ills and Dry Air!
Steam spa showers are a cure for the winter blues. "Clients who aren't snowbirds find an affordable escape from winter in their steam units," notes Ric. "Here in northeast Ohio, our lives have two halves of the year: winter, where nobody's going outside, and then from the first of May when no one's spending much time inside."
That's why boomers, who appreciate a worry-free lifestyle, appreciate Mr.Steam's exclusive AutoFlush self-cleaning system that automatically and electronically flushes the generator of sediment two hours after every steam bath.
"It's a no-brainer. You don't have to flush the system out," says Ric. "You're supposed to drain a steam generator occasionally just like a water tank but no one does. And you don't want your steam shower smelling musty or moldy if you don't use it for a while. That's not really good for you."
>> See Why Bother with Steam Shower AutoFlush Technology?
For homeowners considering a steam, Ric recommends visiting a showroom with a working steam shower. "You can see it, touch it, feel it, and even smell the aromatherapy. You'll see that the generator is about the size of a small briefcase, not a huge thing like some people think. And you can see for yourself how simple the mechanics are," he points out.
>> See A Visual Guide To Install a Steam Shower Generator with iTempo/iSteam
Plus, a trained expert will be sure you get the right steam generator for your needs.
"People may think they can open a book and choose a steam shower. But it's not like pointing at something in a catalog and saying 'I want that.' You can get yourself in trouble if you undersize or oversize a unit," Ric warns.
"There's a reason there are sizing charts and tools like Mr.Steam's Virtual Spa and SmartSizing were created. Experts know the calculations to deliver the right experience, taking into account the shower material and other factors," he points out.
>> See How to Size a Steam Shower Generator? Try Our Virtual Spa System
>> See Tile Steam Shower? Marble Steam Shower? What's the Difference?
In conjunction with this expertise, it's just as important for a showroom to rely on knowledgeable reps and a reputable company standing behind them, which Wolff Bros. says they experience with Mr.Steam.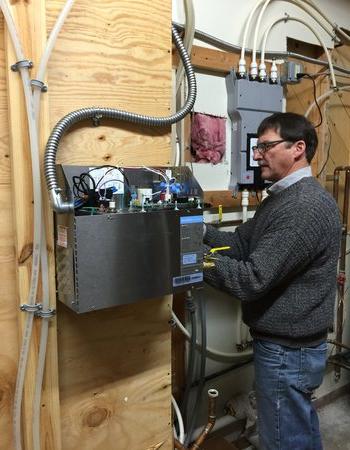 Ric Carpenter with Wolff Bros. Supply Inc. adjusts the wiring on a Mr.Steam generator.
Even though a steam shower is not complicated, each bath project is a bit different and therefore questions often arise as the installation progresses. "We typically get half a dozen questions from the trade on any job, like the kind of wire to be used or the location of the floor drain and so forth," Ric says. A knowledgeable showroom expert is an essential part of the behind-the-scenes-team that gets a job done right. "I can provide a plumbing schematic or an electrical diagram in 35 seconds," adds Ric.
For anyone still on the fence about adding a steam room, Ric recommends trying one out at a hotel, spa or health club nearby.
"Of course, having a personal steam shower is a different ballgame than sitting in one at the Y. At home, you're not sharing it with a lot of other people. You can personalize your steam shower with aromatherapy or chromatherapy or music and have an enjoyable 20 minutes in your own little world," he says.
Isn't it time to start enjoying that daily experience of relaxation and wellness?