The MrSteam Linear SteamHead has proven its design excellence yet again by winning a 2016 KBCULTURE Award. Now in its seventh year, the annual competition recognizes the best of the kitchen and bath industry's aesthetic and technological innovations.
Linear SteamHead: Unique F
lush-to-the-wall Design
The sleek and innovative Linear SteamHead was singled out for its unique flush-to-the-wall design, which distinguishes it from other steam shower heads that protrude into the room.
Expressing the timeless philosophy of the Bauhaus school of design, its clean, narrow, one-piece opening emits a thin, undulating ribbon of steam that flows upward in an even, gentle pace. This "reverse waterfall" naturally distributes steam throughout the room, providing a theatrical focal point for the steam room bather.
>> See How To Install the Award-Winning Linear SteamHead in your steam bath
Clean, Minimalist Design
At its core, the Linear SteamHead is a major design step forward in often fixture-crowded bathrooms and steam showers. Its clean, minimalist design makes the innovative unit felt, but not necessarily seen.
Made of corrosion-resistant anodized aluminum, its horizontal opening delivers three times the cross-sectional, or slot, area of a standard single-point steamhead. This larger opening and one of a kind steam dispersion engineering creates up to 80% less noise as it facilitates the distribution of steam throughout the room at a much lower velocity.
Inside the Linear SteamHead you'll find an array of alternating and intersecting vanes that move the incoming steam around--expanding it, slowing it down and changing its direction. What emerges on the other side of the steam room wall is a rich fluffy cloud of steam, whose soft, billowy surfaces envelope the space and warmly embrace the skin.
What better way to experience the many health and wellness benefits of steam?
>> See Award-winning Linear SteamHead from MrSteam Blends Seamlessly into steam shower room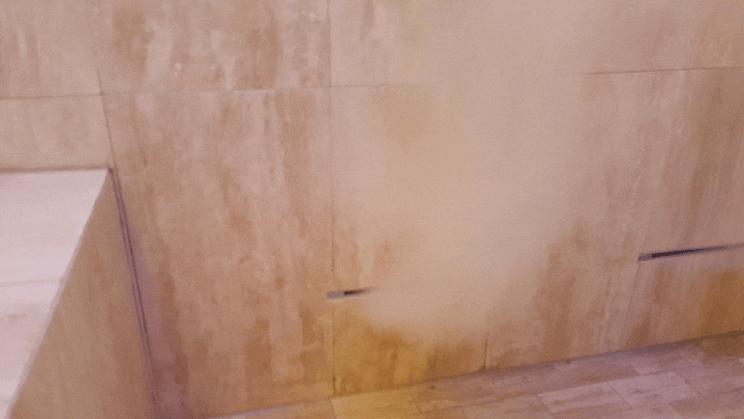 About the 2016 KBCULTURE Awards
The 2016 KBCULTURE Awards were judged by KBCULTURE editor and industry expert Leslie Clagett, who is a passionate observer of the international kitchen and bath industries and author of The New City Home, among other books. You won't meet anyone with as much respect for quality design and the people who labor in its pursuit.
The 2016 KBCULTURE Awards include the following 14 categories:
Kitchen Cabinets
Cooking
Refrigerators
Dishwashers
Kitchen Fittings
Sinks
Bath Cabinets
Bathing Vessels
Toilets
Bathroom Fittings
Lighting
Surfacing
Hardware
Outdoor
This is not the Linear SteamHead's first time in the award spotlight. Last year it was recognized with a Architizer A+ Special Mention in the Bath Fixtures & Fittings category, an Accessory Product of the Year Award from The Decorative Plumbing & Hardware Association (DPHA), as well as a Best Product Design Award from Connecticut Cottages & Gardens magazine.
For more information on the Linear SteamHead, please visit MrSteam Launches Sleek New Linear SteamHead With Unique, Flush-to-the-Wall Design.