It's often said that good things come in pairs, and MrSteam couldn't agree more! We are honored to announce that the Linear SteamHead recently won two distinguished awards for its efficient performance and clean design.
The Decorative Plumbing & Hardware Association (DPHA) named the MrSteam Linear SteamHead Accessory Product of the Year for 2016. Judged by an independent panel of design industry editors, DPHA Award winners represent the crème de la crème of design and technological innovation in their respective categories.
In addition, Kitchen + Bath Business magazine has named the groundbreaking steamhead design as its 2016 Second Place Bathroom Product in the annual Product Innovator Awards based on criteria such as meeting a market need, engineering advancement, aesthetic merit and innovation.
Linear SteamHead: Seamless Design, Even Performance
Set flush to the steam shower wall, the Linear SteamHead is an unobtrusive addition to the modern home steam room, which is often cluttered with multiple showerheads, body sprays and shelves. Composed from one piece of extruded aluminum, the Linear SteamHead eliminates seams, connections and other potential leak points.
>> See How To Install the Award-Winning Linear SteamHead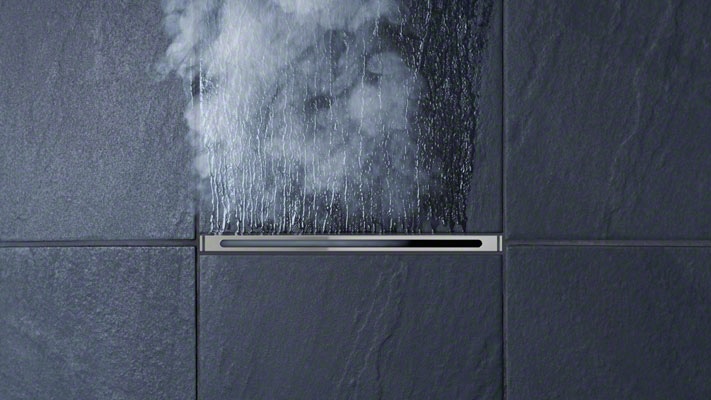 Its linear, symmetrical design allows for an even, upward-flowing distribution of steam, creating a type of soothing "reverse waterfall" in your steam bath. Paired with the industry's best steam generator, the horizontal opening delivers three times the cross-sectional, or slot, area of a standard single-point steamhead. Introducing steam along this broad flat opening facilitates its gentle, even distribution throughout the room, and at a much lower velocity, which means less noise.
Even better, the steam is already partially "pre-distributed" for you as it enters the steambath from the Linear SteamHead. Inside, there's an array of alternating and intersecting vanes that move the incoming steam around--expanding it, slowing it down and changing its direction. Remember, this all happens inside the wall, thereby reducing noise.
What emerges on the other side of the steam room wall is a rich, fluffy cloud of steam, whose soft, billowy surfaces envelope the space and warmly embrace the skin. The Linear SteamHead can thus maximize steam benefits for the user and is an innovative addition to steam showers everywhere.
>> See Award-winning Linear SteamHead from MrSteam Blends Seamlessly into Shower
A Proud Design Tradition
Since its introduction in March 2016, the Linear SteamHead has won other awards including the Best Product Design award from Connecticut Cottages & Gardens magazine and a 2016 A+ Award Special Mention from Architizer. These multiple accolades are a testament to the Linear SteamHead's ability to elevate the steam shower experience, enveloping the user in the many health and wellness benefits of steam.
>> Check out tips on installing a steam shower
For more information on the Linear SteamHead, please visit MrSteam Launches Sleek New Linear SteamHead With Unique, Flush-to-the-Wall Design.