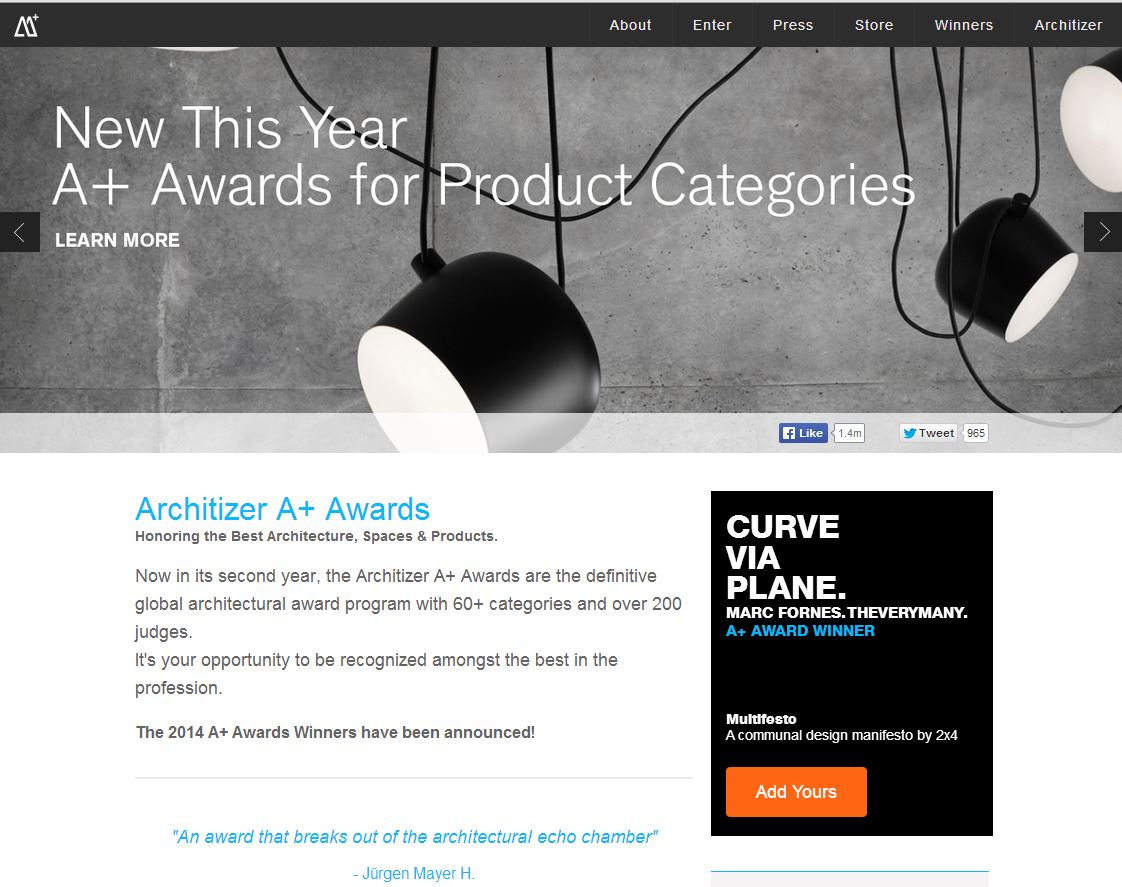 In addition to working with design professionals (e.g., during BlogTour), Mr.Steam also collaborates with architects (e.g., with CEUs and other resources).
For that reason, Mr.Steam is particularly proud and excited about being awarded an Architizer A+ Product Award for 2014!
Architizer A+ 2014 Product Award and Mr.Steam
Mr.Steam's iSteam Control was awarded the Architizer A+ Awards for 2014 in the Product +Technology category.
After all, iSteam represents the next evolution in steam showers. Its spectacular sleek touch panel gives users easy and instant control of all their steam shower options. The screen displays functions without confusing buttons or options. In addition, with iSteam, you can customize the temperature, duration and the entire steam shower SteamTherapy experience from music, to ChromaTherapy and AromaTherapy...
What is Architizer?
Architizer is an online resource launched in 2009 to "make architecture and interiors accessible to everyone. Now it is the largest platform for architecture and design online hosting projects uploaded by the designers themselves."
Architizer makes it easy for those designing spaces to explore and "browse for inspiration or search for a specific product. Stay up-to-date on the latest news and industry trends," collect and track ideas by "build(ing) your own source-book by flagging projects that inspire you and products that you might want to use later," and sourcing products because "Architizer takes the guesswork out of specifying products. You can see who used what products in which projects."
As of the writing of this article, Architizer boasts over 54,000 projects, a community of 1+ million users and fans, and over 1.5 million visitors per month. Impressive!
What are the Architizer A+ Awards?
According to Architizer, the Architizer A+ Awards are "the definitive global architectural award program with 60+ categories and over 200 judges." Furthermore, it is "designed to break architecture out of the echo chamber."
"Tonight feels like the Oscars of architecture - and architecture needs this. #ArchitizerAwards" - Julien de Smedt, Architect & 2013 Winner
The first ever Architizer A+ Awards - launched in 2013 - managed to attract over 1,500 entries from over 100 countries with support from its partners, the Wall Street Journal Magazine and The Webbys and media partners Cool Hunting, Gizmodo and GOOD. It was "the biggest award program for architecture in the world." The awards process attracted 80 million viewers and 200K+ public votes.
How the Architizer A+ Awards Work
Architizer assembles an international group of over 200 architects, developers and thought leaders to judge the entries.
The judges nominate 5 finalists per each award category.
The finalist entries are listed online.
Design enthusiasts vote for their favorites.
Jury and Popular Choices are both recognized when winners are announced.
Submissions must have been completed three years ago - for projects - and be commercially available - for products.
Three Architizer A+ Award Categories
The Architizer A+ Awards program includes three categories: Typology, Plus and Product.

Typology focuses on traditional building types.
Plus "recognize(s) the link between global issues and the structures that society builds."
Product explores the "symbiosis between products and building."
Given how Architizer prides itself on taking architecture and design outside of traditional boundaries, it's fascinating to observe what's included in the various categories.
Typology celebrates buildings and spaces in residential, office, commercial, transportation, cultural, institutional, landscape, and student projects.
Plus honors "architecture's relevancy through categories that highlight the issues confronting the world. The newness of these issues means that these awards are open to built and unbuilt projects conceived in the past three years." It looks at how architecture is used in Aging, Art, Branding, Collaboration, Communication, Engineering, Fabrication, Learning, Light, Living Small, Materials, Mobility, Technology, Preservation, Photography, Self initiated Projects, Sound, Sustainability, Urban Transformation, and the Workspace.
Product represents a new category for 2014 and recognizes that "every architect and designer knows that it takes spectacular products to bring their designs to reality." It looks at 15 innovative product categories that "address the issues that architects care most about." Product entries fall into the following subcategories: Access, Acoustics, Apps, Bath, Health Care, Kitchen, Landscape, Lighting, Living, Materials, Facades, Sustainability, Partnerships, Technology, Work.
Product +Technology is where you'll find iSteam from Mr.Steam.
iSteam + Architects + Designers and an A+ Product Award from Architizer. What a way to bring designs to reality!
Thank you, Architizer! We're very proud of this honor.
We hope you'll explore all of the winning entries and let us know what you think.