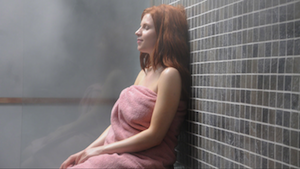 Are you buying a steam shower? If yes, we recommend the following 18 questions to ask to help you select the perfect home steam shower for you, so you truly experience the luxury of steam at home...
With these 18 questions, you'll be able to evaluate not only the right steam shower for your needs, but also all of the different choices available.
1. What is the right steam generator size for your bathroom and have you taken into account wall materials and other construction factors to obtain the correct true size? Not all bathroom materials behave the same under steam and it's important to consider this before buying a steam shower. For more perspective, read 5 Tips For Buying a Steam Room Generator.
2. Will the steam generator deliver an uninterrupted flow of steam, or will it cycle on and off? A continuous flow of steam means that your steam bath experience won't be negatively affected by pauses and cold spots. We recommend no cold spots during your steam shower experience! You'll thank us.
3. How long will it take for steam to start when you're ready for a steam shower?
4. Do steam generator components have self-diagnostic LED indicators? What's nice about LED color indicators is that they provide visual feedback for easy-to-navigate self-diagnostics.

5. If service is required, can it be done in the home, or will you need to ship the generator to a service center?

6. Are all the steam shower products USA and Canadian UL listed, CE and NOM certified?

7. Is there an automatic cleaning system available so you don't have to remember to activate the cleaning system after each steam session? You might be interested in Why Bother with Steam Shower AutoFlush Technology?
8. Are the steamheads cool to the touch?

9. Is the system compatible with SmartHome technology?
10. Is a wireless control option available for your home steam shower? (Check out Mr.Steam's iGenie!)

11. Does the manufacturer offer a simple plug-and-play platform to easily add on components during steam shower installation?

12. Are the steam shower controls and steam heads innovative, technologically advanced, attractive and in a finish that matches the rest of the bathroom? Here's one example you'll enjoy: Stylish Controls for Your Home Steam Spa with iTempo from Mr.Steam.
13. Where is the generator made? In the US or elsewhere? (See The History of Steam and Steam Showers in New York City.)

14. How experienced is the manufacturer of the steam shower generators and components?

15. Does the manufacturer have a clear warranty written in plain English for its steam shower products? Here's a link to Mr.Steam's steam shower warranties.

16. Does the steam shower generator manufacturer have fully staffed, convenient, U.S.-based customer care offices? Here's a link to Mr.Steam's customer service representatives.

17. Does the manufacturer have a network of carefully selected authorized dealers where you can see actual steam shower units, or even working units? Here's how to locate Mr.Steam premier dealers. For each one, you'll also find a separate page with detailed information.

18. Are there well-known spas or hotels where you can experience one of their steam shower products personally? Here's where to find Mr.Steam around the country and the world so you can experience a steam shower for yourself!
With these 18 questions, you are equipped to successfully buy a home steam shower. If you think we missed anything, please don't hesitate to leave us a comment.
Be sure, too, to read Buying a Steam Generator? Look For These 13 Features! since the right steam generator goes hand-in-hand with the perfect steam shower!