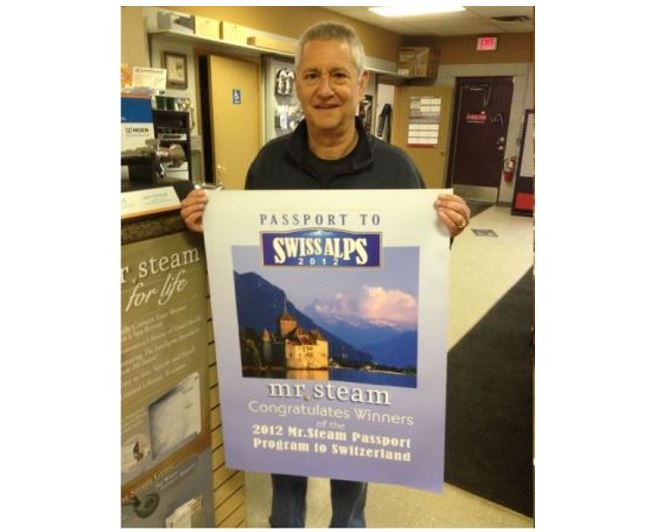 Mr. Steam manufactures a complete line of high quality, beautifully designed home steam shower generators and accessories, all of which are backed by helpful customer service and extensive warranties. Even though the products may speak for themselves, Mr. Steam knows that the hard work of the dedicated showroom staff across the country who sell Mr. Steam products is invaluable to the success of the company.
Passport to Rewards is one way that Mr. Steam says "thank you" to this valued network of sales reps. The Grand Prize for 2012 was a luxury trip for two to Switzerland, which was won by Barry Levine of Franklin, MI.
Barry is the branch manager of one of nine locations of Vic Bond Sales, a leading kitchen, bath & HVAC showroom, and a proud distributor of Mr. Steam steam showers and accessories. Vic Bond Sales is a family-owned plumbing and electrical supply company located in Michigan. The company is a trusted source of plumbing fixtures, HVAC equipment, and cabinetry to both homeowners and professional contractors.
Barry Levine was kind enough to share his thoughts with us about current bath remodeling trends and Mr. Steam home steam shower products.
Mr. Steam: Barry, how long have you worked in the industry?
I've been working in the building products industry in some form since January of 1970.

Mr. Steam: What do you like most about your job?
I really enjoy the opportunity to develop relationships with the people that you work with in different capacities, including the reps we work with on a regular basis, and also the showroom customers who are building new homes or working on big remodeling projects

Mr. Steam: What would you say is the biggest misconception about home steam showers?
I think the two main misconceptions are, first, that installing a steam shower is prohibitively expensive, and second, that the customer won't use the steam shower often enough to make the investment worthwhile.
I've found that steam showers are not terribly expensive to install, especially if the customer is building a new home or is already planning an extensive bathroom remodel.
I know that Mr. Steam also offers the Steam@Home designed for smaller showers at a more modest price.
Also, steam showers can't be any easier to use. It's right in your shower, and all you do is hit a button to turn it on. Why wouldn't you use it?
Mr. Steam: Are you seeing more demand for home steam showers these days? If so, why?
In 2012 we had our best year in that category, by far, partly because we had our staff talking about it on a more regular basis, and customers were really listening to us. Our housing market in Michigan has started to come back fairly strong, and there has been a resurgence in new construction. I think consumers have experienced a pent up demand in this area and are trying to take advantage of new opportunities to remodel their current homes or build new ones.
Mr. Steam: What do you like most about the Mr. Steam product line?
I always recommend Mr. Steam because the products are backed by a company with people who stand behind their product and are really sensitive to making sure their customers get what they want and what they expect.
Also, the new line of iSteam shower controls are very advanced and are really going to enhance the ability to sell the product. Mr. Steam is always looking to move to the next level.
Mr. Steam: What else would you like our readers to know about installing a home steam shower?
I'm a really firm believer in steam showers, and I know from personal experience that it's a great addition to your bathroom. I have a Mr. Steam steam shower in my home and I use it every day. I'm a firm believer in all the benefits of regular steam showers. I initially installed the steam unit because I shave in the shower, and the steam does a great job of softening up the skin and making it easier to shave. My sinuses are also always clear when I get out of the shower – I don't know if I can entirely credit the steam, but I haven't had a cold or flu in many years. My wife sometimes gets allergies, and the steam really does help her feel better.
Mr. Steam: Barry, have you been to Switzerland before?
No, I've actually never been to Europe. We're going to expand the trip to include visits to France and Italy to take full advantage of our time there. We're still working out travel arrangements, but it looks like the trip will be in early October.
Thank you so much for your time, Barry! Hope you have a wonderful trip.