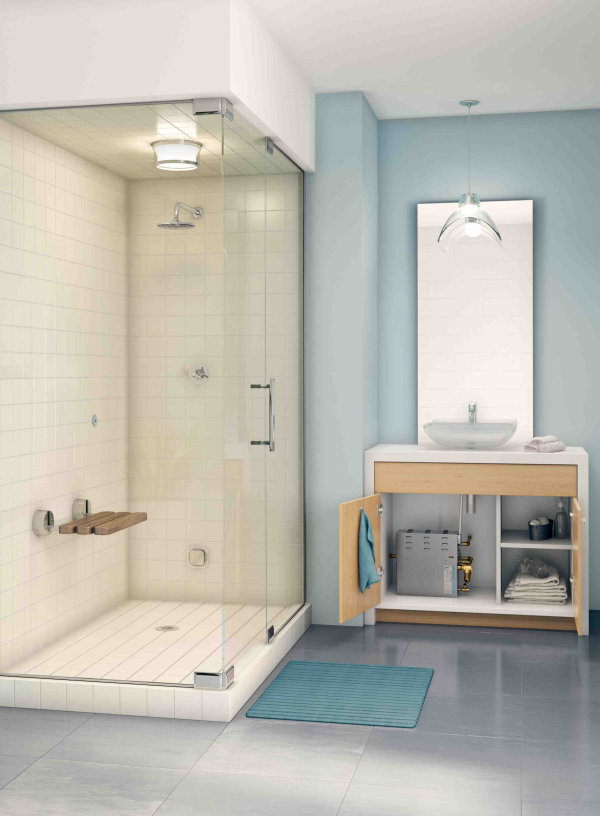 Good things do come in small packages. Ask anyone who has ever had the thrill of opening a signature blue Tiffany box.
Now the luxury of a home steam shower also comes specially designed for small spaces, thanks to Mr. Steam's Steam@Home™ package. In a shower as small as 3 feet x 3 feet, you can enjoy all the health and wellness benefits of steam.
With your own personal steam shower you can be revitalized and energized everyday in the comfort of your home. In as little as 10 minutes, you'll feel restored and look refreshed.
Aromatherapy boosts the holistic health benefits even more. The bottom line: a steam shower is a healthy indulgence, a bit like dark chocolate!
And with Steam@Home, it's easy and delightfully affordable to retrofit an existing shower enclosure, or add a steam shower to a small bath or even a guest bathroom.
The new Steam@Home generator is 23% more compact than a regular Mr. Steam generator. So it's suitable for showers that are 3 feet x 3 feet, 3 feet x 4 feet, or 3 feet x 5 feet. Your steam-tight shower enclosure should be made of quality tile, acrylic or solid surface.
A steam shower this compact uses only 1 gallon of water for 20 minutes (versus a whopping 75 gallons to fill a tub). And it costs only pennies per session to use. So it's a guilt-free way to unwind.
Ideal for smaller budgets as well as smaller baths, Steam@Home, made in the U.S., starts at a list price of only $1250. And that includes an Aromatherapy steam head, as well as SteamStart™, a 20-minute control installed in the shower.
The best way to sum up the benefits of steam: it feels so good!
Steam gives you that ahh experience, leaving you feeling great, looking good and generally living well, no matter how small your bathroom.
So, if you're wonderfing - yes, you can have a steam shower in a small bathroom!
To learn more, download Your Guide to a Delightfully Affordable Home Steam Shower.