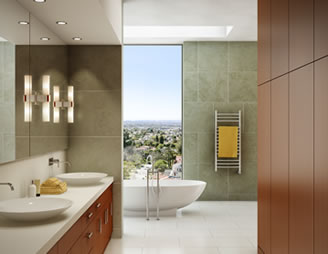 It's a legitimate question. Have you considered how a freestanding towel warmer can make swimming season and summer better?
If you're like many of us here in the New York City area, you're enjoying an intensely hot, humid summer. That means you're spending more time than usual immersed in water - in a pool or a shower - cooling and reinvigorating yourself before diving back into summertime.
Think about it: all of that water immersion means wet towels. Do wet towels dry you off effectively?
In fact, they can seem rather drippy and unpleasant. Talk about a downer after an invigorating dip.
That's why we ask whether you've tried - let alone considered - a freestanding towel warmer for swimming season.
Yes, it's true. Towel warmers tend to be associated with warm embraces during cold, harsh winter rather than summertime fun. And they are fantastic for that purpose.
Towel warmers, though, are much more versatile that we give them credit for and extremely practical for when we put towels to intense use drying ourselves repeatedly throughout the day.
Mr.Steam offers several towel warmers. The one we highlight in this article is a plug-and-play electric towel warmer, the Mr. Steam F328 towel warmer which can dry bathing suits as well as warm up and dry your towels as a just reward for completing your pre-dawn fitness swim and cooling off after an intense bout with summertime.
Now, if you're poolside and someone pushes you in fully clothed, we can't guarantee that your clothes will look the same, but they will definitely dry faster on a towel warmer. Think of it as a fair exchange: you get a fully toasty dry towel in exchange for those dripping wet clothes. When they are dry, you return the wet towel to the towel warmer and the cycle of goodness can repeat!
By the way, if you're sustainably-minded, you'll like knowing that a freestanding electric towel warmer will use less energy than a dryer...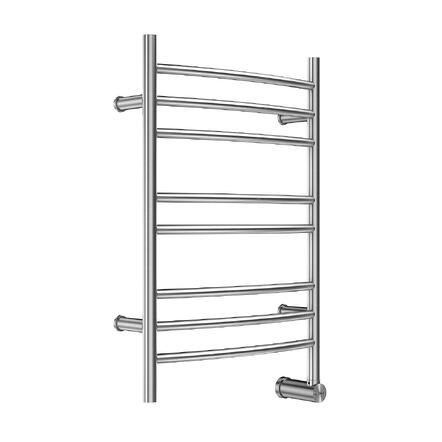 The Mr. Steam F328 towel warmer has fast-acting heating technology.
Instead of a heated glycol solution circulating through the unit, an electric wire is threaded through the cross bars. Voltage through that wire heats the metal directly, resulting in a shorter warm-up period. The entire Mr. Steam 300 Series of towel warmers is UL/CUL-Listed.
Furthermore, a built-in aromatherapy oil well comes standard in all units. As the heat circulates through the system, the scent is gently released into the towel. Perfect for counteracting any hint of an overly damp and overused towel...
Have you tried a free-standing towel warmer? If not, you should - especially now during swimming season!
You can find Mr. Steam towel warmers at an authorized dealer near you, or through authorized online stores.
A quick note - if you are purchasing Mr. Steam products online, we strongly recommend that you purchase only from a site bearing the Mr. Steam "Authorized Internet retailer" logo. Mr. Steam cannot warrant that items purchased from an unauthorized e-tailer are original Mr. Steam factory-approved products.
Happy swimming and happy summer!