Congratulations! You've made the decision to include a home steam shower in your new bathroom. You are going to love how you feel when steam becomes part of your life — the foundation of your wellness routine.
Your new bathroom requires thoughtful consideration of the space and how to make the best use of it to make your vision a reality. Invest the planning time upfront to not only ensure proper installation and operation, but also to help maximize the health and wellness benefits of a home steam shower.
The following tips will help guide your steam room construction discussion with a qualified designer, architect or contractor. Use the link below or click here to print these tips out as a checklist so you have them handy for your bathroom project planning meetings.
1. How big should my steam room be?

No space is too small to have a home steam shower — the space available is simply the starting point for your steam shower planning, so the first step is to take a measurement.
If the steam shower will be replacing an existing tub, you will have approximately 5' x 3' of space to work with.
Decide if your family will be steaming in solo sessions, or if you need room for couple's time.
If the steam shower will go into a new bathroom, you can choose the size of the shower. Just make sure the shower ceiling height is 8' or less to keep the steam where it belongs - in a comfortable cloud around your body.
>> See Yes, You Can Have a Steam Shower in a Small Bathroom
2. How do I enclose and insulate it?
To keep the billowing warmth of steam right where it needs to be, you'll want to fully enclose your shower. Install a steam-tight door. If your shower has an exterior window, make sure it is double-paned (glass on the interior and exterior window frame) to maximize the level of steam in your shower.
Plan ahead for wiring if you wish to incorporate lighting or music into your steam shower.
For venting, try a louver panel above your shower door. Its angled shutters will let air in and out of an enclosure when opened. Another option is to install a window transom, which is a horizontal window that is hinged to allow air movement and encourage ventilation.
>> See Best Practices for Using and Ventilating Your Steam Shower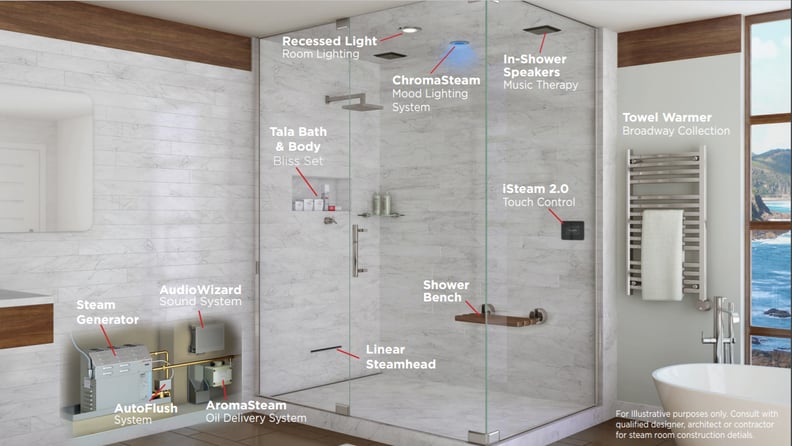 3. Where does the steam generator go?
Steam generators are quite compact, measuring about the size of a briefcase. So it will be easy to find a discrete location for yours, especially since it can be installed up to 60 feet away from your enclosure. Possible locations include:
In a closet
Under a bench
In the floor below your shower
In a cabinet
Under the vanity
In a heated attic
In a basement
In an equipment room
4. What kind of seat do I want in my steam bath?
Comfortable seating will allow your body to fully unwind and relax, so that your mind can do the same. Two options include building a bench into the shower or installing a fold-up seat. Here, too, you should consider who will use the steam bath.
>> See Steam Shower Installation Basics From MrSteam
5. What materials should I finish my shower with?
There are dozens of beautiful and customizable finish material options for your steam shower including ceramic tile, marble, granite, acrylic, fiberglass, porcelain and glass tile.
Plan your material early in the process, since the type of material will impact steam retention and, therefore, the generator size you will need. Although using more porous materials on ceilings and walls will dissipate heat more quickly, this is easily compensated for by choosing a larger steam generator to keep heat at the optimum level.
>> See Tile Steam Shower? Marble Steam Shower? What's the Difference?
6. What size steam generator do I need?
The right-sized generator ensures that you have the perfect amount of steam to fill your enclosed space so that you can truly relax in comfort.
Consider both the volume of the room and the finish materials you plan to use (as noted above, each type of material conducts heat differently). To choose the right size home steam generator, calculate the height of your space multiplied by the width and the length. MrSteam makes the calculation easy with our VirtualSpa tool. Share it with your bathroom planning professional.
>> Visit the MrSteam VirtualSpa
7. Which steam shower control do I choose?
Unlike the generator-size decision, this one is truly up to you. Your steam shower control is your command center, putting the ability to easily customize or transform every steam session right at your fingertips. Choose based on the experiences you desire, your installation needs and the designer finish you prefer.
From the touchscreen-activated iSteam® to the wireless AirTempo™ Control, each makes it easy and convenient to tailor your journey. Control packages also comes complete with the necessary accessories to make the process simple, and to save money over buying each component separately. Browse MrSteam's control offerings and decide what works for you.
>> See Discover the Best Steam Shower Control Package For You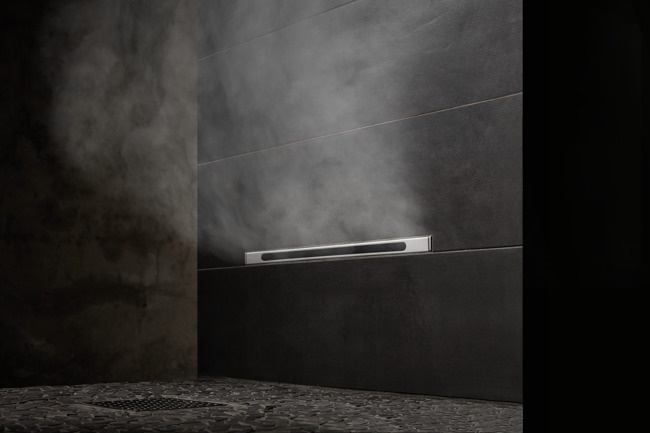 8. What kind of steam head can I select?
Choose between traditional, single-exit-point steam heads or the sleek Linear SteamHead, which is flush to the wall for a clean and uncluttered design. Both deliver a billowing, beautiful steam experience with different aesthetics.
Set the steam head on a separate wall from the control, about 6" to 12" from the floor to ensure that steam can flow gently upward to fill the room.
One thing to note: If you don't opt for a built-in aroma steam system, the MrSteam iSteam®, AirTempo™, and iTempo® Aroma Steamhead models all have integral oil wells so that you can easily add your own aroma therapies.
>> See Award-winning Linear SteamHead from MrSteam Blends Seamlessly into Shower
9. How do SteamTherapies fit in?
Steam is just one part of a complete sensory experience. Customize your home spa into a multi-dimensional experience by including one or all of the following therapies that are just a fingertip away:
AromaTherapy to infuse essential oils into surrounding steam
ChromaTherapy to integrate the full spectrum of color into your steam experience
MusicTherapy to stream your favorite music through in-shower speakers and a Bluetooth® sound system
>> See Steam Bathing 101: Seven Steps For an Effective Steam Bath
10. What about a towel warmer?
Make your spa complete with the embrace of a warm towel after a relaxing steam bath. Consider a towel warmer to extend that deep steamy experience. You can choose a design and finish to match the look and feel of your new home-wellness sanctuary.
>> See Towel Warmers: The Necessary Luxury
Download the Home Steam Shower Planning Checklist!
To help you with your planning, we've created a free SteamShower Checklist based on these ten tips to home steam shower bliss. Click on the button below to download it.
If you have any additional questions, please don't hesitate to let us know in the comments.